Understanding recovery at work as an employer
Recovering at work can be a key part of rehabilitation for an injured employee. As an employer, understand how you can help and who else plays a role in their recovery. Learn about managing payments and options for more serious injury.
Support your employee to return to work 
Your people are vital to the success of your business. When one of them gets injured, it can have a significant impact. Not only for the injured person, but on teammates, staff morale and productivity.
Research shows the sooner an injured person gets back to work and everyday life, the better it is for their health, wellbeing, and recovery.

Work can be a key part of most people's rehabilitation after an injury. Remaining connected to work provides:
structure and routine
social connection with workmates
a sense of purpose.
These all contribute to a good recovery.
Many injured employees are keen to continue working. Those who had a positive recovery at work experience say it helped them:
return to normality
increase their strength and mobility
boost their mental and psychological wellbeing.
Who plays a role in recovery at work
It takes a team effort to help an injured person recover at work. Depending on their injury, support people might include:
their family, whānau and friends
you as their employer, along with their team leader or supervisor, teammates, and health and safety representatives
your employee's health providers, like their doctor and physiotherapist
in some cases, a vocational rehabilitation provider, such as an occupational therapist
an ACC recovery team member.
As an employer, you can play your part by:
checking in with your injured employee early and regularly
talking with them about what support they need and what they can do safely
tailoring their work to their recovery needs. That might be by adjusting duties, work environment, workload or hours.
Your employee may get help from one of our recovery teams if they need more support because of their injury. They'll contact both you and your employee, and we'll work together to support their recovery journey.
Supporting resources
To help, we've created resources with practical information what you can do to support your employee as they recover at work.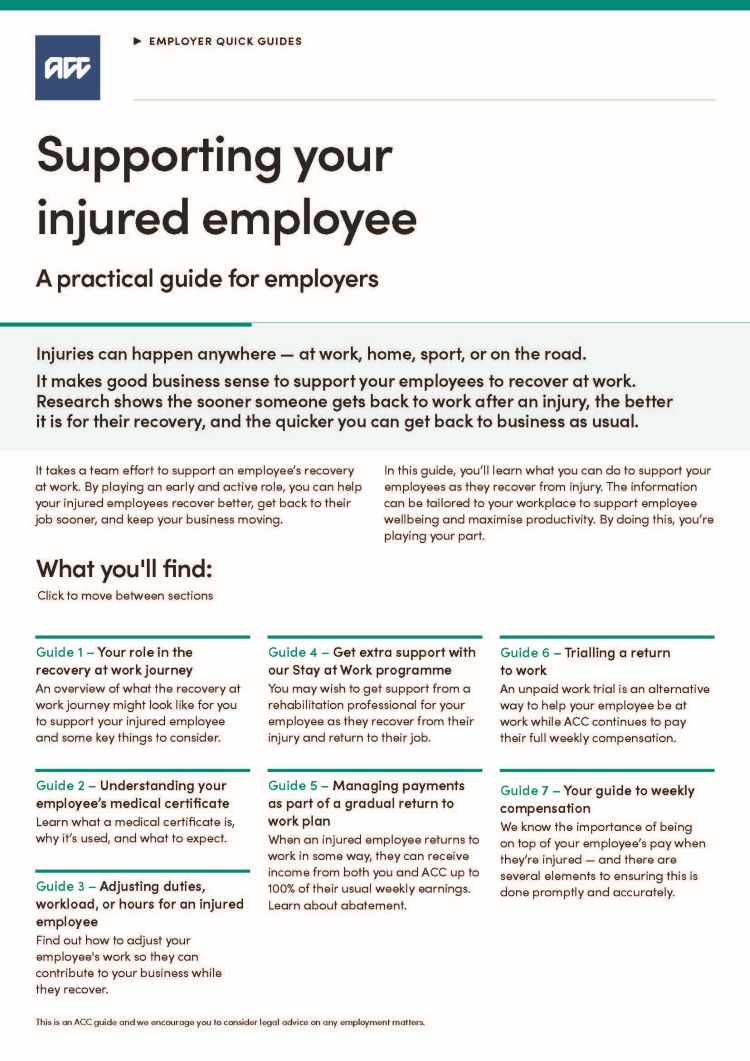 Supporting your injured employee - guide for employers
In this guide, you'll learn what you can do to support your employees as they recover from injury. The information can be tailored to your workplace to support employee wellbeing and maximise productivity.
Managing payments during your employee's recovery
Your injured employee can receive income from both you and ACC at the same time. This could mean they get up to 100% of their usual weekly earnings.
As their employer, you pay them for the hours they work. We then reduce the weekly compensation amount paid to your employee, based on the income they receive from you. This is called abatement.
Managing employee payments as part of a gradual return to work plan employer quick guide
Income for your employee while they recover
Work trials
An unpaid work trial is an alternative way to help your employee be at work while we continue to pay their weekly compensation. A work trial can be useful if:
you don't have much productive work available
you've hired replacement labour.
You don't pay the employee for the duration of the work trial. Instead you provide them with opportunities to be at work.
Work trials need to be made with the agreement of us and your employee. They are of short duration, usually up to two weeks, and no more than four weeks.
Trialling a return to work employer quick guide
If your employee has a long-term disability
If an employee has ongoing disability due to an injury, support arrangements can be more complex. They may need time off for treatment and rehabilitation before they can return to work.
If your employee can't return to work
It can be unclear with long-term injuries when your employee will be able to return to their job. If medical opinion suggests your employee will never be able to return to their role, and you can't offer them a permanent alternative job, we'll let you know what the next steps are.
In some cases, we can help them upskill to find a new job.
Last published: 25 July 2023