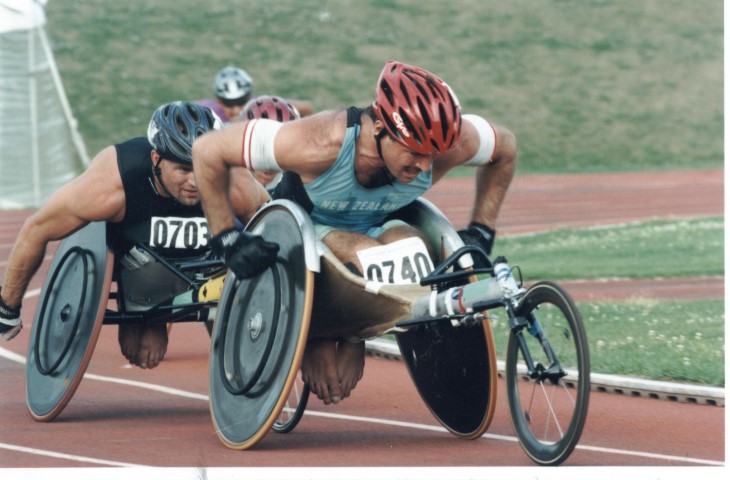 As Ben Lucas watches the Paralympic Games, he doesn't think of his accident. He looks back on his Para Sport career, and those he took to the world stage.
Ben Lucas says there is no event in the world like the Paralympic Games.
"It's phenomenal to watch what people can do, after the curve ball life has thrown them," says New Zealand's Paralympian #99.
He should know. Ben, who competed in wheelchair racing in two Paralympic Games in Atlanta (1996) and Sydney (2000), was New Zealand's Chef de Mission for Rio 2016, the team's most successful Paralympics with 21 medals.
"Sport gives people hope"
He says all Paralympians have some disability, and have had their own challenges, so the competition has a strong sense of unity.
"Life is different with a disability," says Ben, who was born and raised in Blenheim.
"This Paralympic Games is like no other because it harnesses the human spirit. These athletes have never given up and for many, sport and the goal of the competing at the Paralympics has been a big part of their rehabilitation.
"But at the Paralympic Games, they're not thinking about what they've overcome, they're only focused on winning and being the best in the world." It makes for enthralling viewing.
A record number of broadcasters will live telecast 21 disciplines from 19 sports, six more than Rio 2016. This means Tokyo 2020 is expected to exceed the cumulative audience of 4.1 billion who watched the Rio 2016 Paralympics.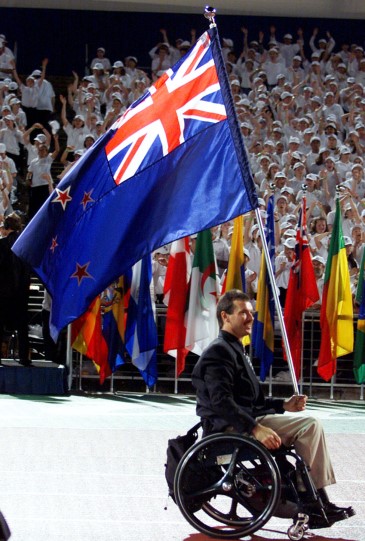 "A day I'll never forget"
In 1989 aged 24, Ben crashed his motorbike into a U-turning van and broke his L3 lumbar vertebrae which left him paralysed. He has vivid memories of that day in Newmarket.
Ben went flying from his bike and skidded down the road landing on his back. The crash blew his spine in pieces with a burst fracture. He was in agony.
"Strangely, I remember being quite calm about it." Ben thought about a couple of mates who had broken their necks in Blenheim and had fully recovered so he thought that would be his experience.
In hospital. he saw an X-ray of his spine and realised his injury was serious.
"The next day the house surgeon came around and put his hand on my shoulder and said: 'young man, you've had a nasty accident and you will never walk again'. He left. Curtains were drawn around me and I cried for an hour when the reality hit home."
"
It was a 50/50 call whether the driver had seen me and would stop, or he'd keep going. I thought he'd seen me. It was the wrong call.
"
- Ben Lucas
Ben called his good mate Mark Griffin to tell him he was in hospital with a broken back and that it was serious.
"He took some convincing and then he came in… I remember he fainted in the room, which we both had a laugh about." Ben then called his parents, in what he described as the toughest phone call of his life.
"I thought very early on there are a couple of ways I can do this; I can feel sorry for myself or I can make the most of every day and have the best possible life. I chose the second option, and I didn't look back."
Finding hope after tragedy
ACC played a leading role in Ben's rehabilitation. During his time at the Auckland Spinal Unit, Ben saw a photo of wheelchair racing and it sparked his imagination.
When he was discharged home to Blenheim, he travelled across to Nelson to play wheelchair basketball every week. He had a chance meeting with former Paralympian, Morice Hennessey, who introduced him to wheelchair racing.
"I was bitten by the bug. I loved it straight away and wanted to see how far I could go." Ben was introduced to track meets in Christchurch and made an inauspicious start.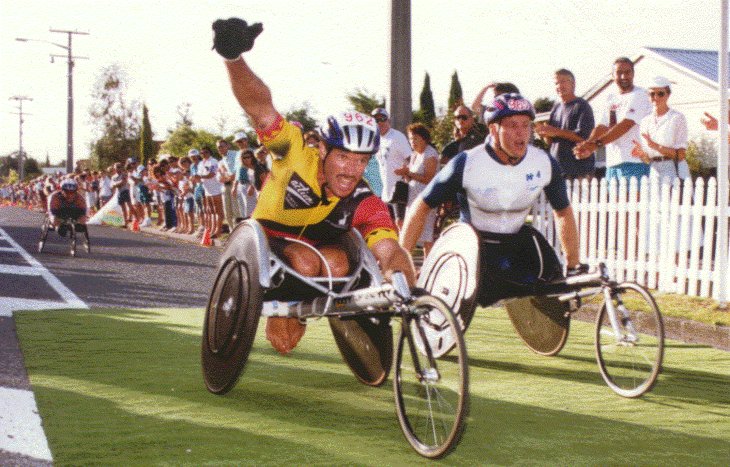 "My first meet I got lapped in the 1500m," he laughs. "It was humiliating getting the clap of shame from the whole grandstand as I came in in last place." He used that moment as a catalyst to take the sport seriously.
"I was determined to not get lapped again so I put in some work and slowly I improved. In the end, I was competing at Paralympic level." It was an "unbelievable honour" to line up for his first Paralympic Games in 1996 in Atlanta.
He made the semi-finals of the 5000m and 10,000m and finished eighth in the marathon. In Sydney he didn't get the results he wanted but it was an incredible experience.
"Competing in front of a crowd of around 40,000 people was a phenomenal feeling."
Ben was the Kiwi flag bearer for both the 1996 and 2000 Paralympic – something he never dreamed would have been possible in 1989 when he was lying prone in hospital.
After finishing 15th in the wheelchair marathon in Sydney, Ben retired from all competition. His highlights included winning a bronze medal at the 1994 Commonwealth Games in Canada and a gold medal in the 1999 World Wheelchair Games in Christchurch.
Passing on the baton
During his heyday of competing around the world, Ben began working with Parafed Canterbury where he initiated the Parafed Canterbury Elite and Development Squads and mentored athletes.
One day, Mark Inglis gave him a call and said he wanted to compete in cycling at the Paralympics. Ben had had a few people come to him with the same speech and so he told him exactly what he needed to do to achieve his goal.
Every week, Ben talked with Mark to offer advice and support. So when he won a silver medal on the track in Sydney it was an immensely proud moment.
"
He threw the silver medal on my lap and said this is just as much yours as it is mine. I don't know about that, but it was nice to play a part.
"
- Ben Lucas
Ben says it was great to establish a pathway for Para athletes in Canterbury which has delivered.
This week six Cantabrians – Sophie Pascoe (swimming), Caitlin Dore (javelin), William Stedman (400m, 800m, long jump), Scott Martlew (canoeing), Cody Everson and Mike Todd (wheelchair rugby) – will represent New Zealand in Tokyo.
Ben remembers the day Roly Crichton came across a young Sophie Pascoe. "He came pushing his chair as fast as he could out into the middle of QEII Park and said 'you have to come and see this kid'. Sophie was this wide-eyed little girl with just raw natural talent.
"To see the way she hit her straps in London 2012 and Rio 2016 confirmed that she was one hell of an athlete and our system was working." Ben has high hopes that the NZ Paralympics Team can emulate the feats of the NZ Olympic team who enjoyed a record medal haul in Tokyo.
"It's a massive challenge," he says. "They are competing against the best in the world and there is the unknown factor of competing in empty stadiums. I would say enjoy this experience. It will be vastly different from anything you do in the future."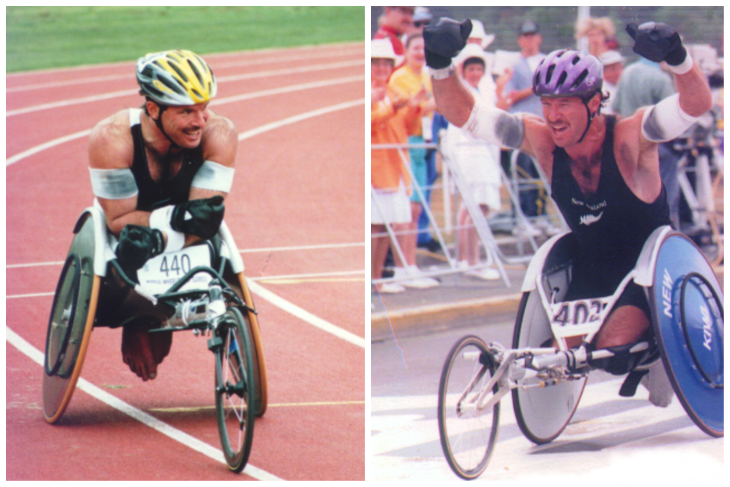 Paralympics and ACC
Ben, who works for ACC as a Lead Disability Advisor, says their partnership with Paralympics NZ is a natural fit. He says many of Para athletes and development athletes are ACC clients and the difference sport can make to someone's recovery is profound.
"Sport gives people hope. It's part of their rehabilitation. It gives them discipline, purpose and that leads on to greater things as they go on in their lives. They see others in a similar position to them doing great things and realise that they too can do this."
ACC have recognised that sport is a powerful rehabilitation tool.
"With someone like [kayaker] Corbin Hart they have given him a state of the art prosthetic knee but they have also funded a leg for kayaking. And ACC will reap the rewards of that because Corbin will move on with his life because of that opportunity. The chance to compete at the Tokyo 2020 Paralympics for someone like Corbin will be lifechanging. It changed my life."