Latest, Older people, Injury prevention
Finding balance to live free from falls with Nymbl
Te noho taurite nā te Nymbl, kia kore ai koe e taka
3 minute read
Just a few minutes a day of simple body movements can help with balance, prevent falls, and keep you doing the things you love.
It's a common myth that having a fall is inevitable as we age. But that's not true, as most falls are preventable. Keeping your mind and your body active as you age can go a long way to preventing falls.
Staying active, particularly as we get older, is important. We want to help reduce your risk of a fall so you can live confidently and independently without the worry of falling.
Research shows most falls occur when we're distracted. Getting used to handling both mental distractions and physical activity is something that a free app called Nymbl can help with. ACC and Live Stronger for Longer are trialling Nymbl for older New Zealanders because we want to help them improve their balance and live falls-free.
We've collaborated with Nymbl through Silicon Valley-based business incubator Plug and Play. It links organisations with a particular challenge – such as how to help New Zealanders prevent falls - to startups who have the technology to help.
Nymbl is used overseas by thousands of people wanting to improve their balance in their own homes. Research shows it's effective at reducing falls and can improve your balance by 30%.
Often older people say they've experienced a 'loss of balance' going about their daily lives or doing certain tasks. Simple body movements can help to improve your ability to feel that loss of balance, and help you to react to it, and then how to recover your balance.
Nymbl is an alternative or an addition to a community strength and balance class, and another way to keep you balanced, all in the comfort of your own home.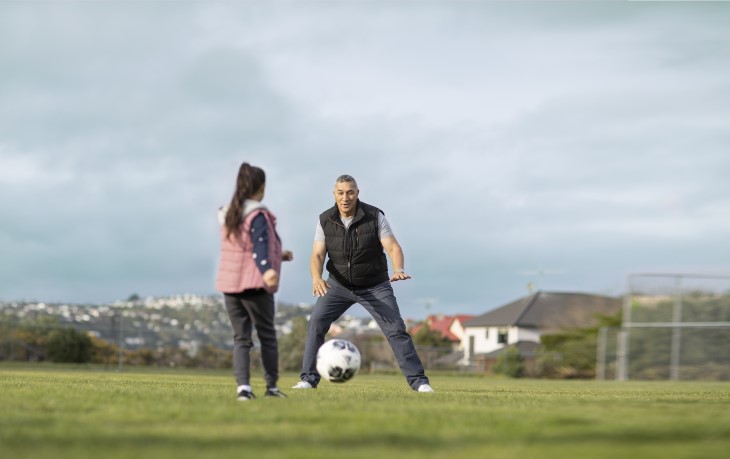 How are you keeping active as you age?
Injuries from falls
160,000
Falls in 2019 from Kiwis over the age of 65 that required medical care.
Cost of falls
$216m
Spent on helping Kiwis recover from a fall.
The app requires a smartphone or tablet, but you don't need any equipment to do the exercises. Wearing comfortable clothes and a pair of sturdy shoes, like simple running shoes or trainers, is recommended.
You'll use both your mind and body at the same time. Using the app, you complete easy games or trivia questions while doing simple balance movements, such as lifting one foot off the floor and holding it for a few seconds.
The daily routine takes just 10 minutes and requires only as much physical effort as you want to put in. You can change the level too – you can choose to improve your balance, maintain it, or test it. The more you use it, the more it helps you progress, keeping you balanced but also challenged. The instructions to register for Nymbl and use it are simple and easy to follow.
Having activities that are fun, safe, and quick mean that you're more likely to commit to doing them. And being able to do them – in the comfort of your own home also makes you more likely to fit them into your day.
Consider Nymbl as another option to keep you balanced on your feet so you can continue to do the things you love.
How to use Nymbl
Before you can download and use the Nymbl app, please visit the Nymbl registration page to register as a user of this free ACC service.
Steps you'll follow:
Choose between three options:
I want to improve my balance.
I want to test my balance.
My balance is great.
When you've made your choice, you'll register as a user of the Nymbl app.


We'll confirm your registration and send you an email with simple and easy to follow instructions on how to download and use Nymbl.