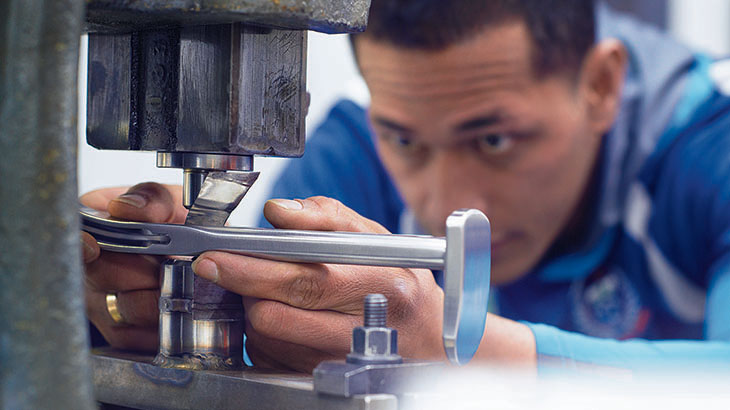 Business, Injury prevention
Helping small to medium businesses access health and safety advice
E āwhina ana i ngā pakihi iti, tae atu ki ngā pakihi waenga, ki te whiwhi i ngā tāpaenga kōrero mō te hauora me te noho haumaru
3 minute read
We're helping manufacturing businesses to improve workplace safety with a workplace injury prevention subsidy.
Too many New Zealanders continue to suffer injuries at work with manufacturing one of the highest risk sectors.
On average five people die and 4,528 people are severely injured in the manufacturing industry each year. These numbers are a combination of our claim data and WorkSafe injury data.
In collaboration with the Health and Safety Association of New Zealand (HASANZ), we've designed a workplace injury prevention subsidy for businesses to access health and safety (H&S) advisory services to improve their workplace H&S performance.
This subsidy is available for small to medium-sized businesses with around 6 to 99 employees in the manufacturing sector. This includes all sub-sectors. We'll contribute a certain amount to the cost of an advisory service from a HASANZ-registered professional, depending on the size of your business.
Helping to access health and safety advisory services
"Financial barriers to professional H&S advice can get in the way of making health and safety improvements. We're happy to see this subsidy is now in the market to help manufacturing businesses achieve better health and safety outcomes," says Philip Aldridge, executive director of HASANZ.
Getting professional health and safety advice
We know businesses want to make workplaces safer for their people. But sometimes they need a helping hand to improve their health and safety performance.
Evidence suggests that H&S advisory services would be beneficial for small to medium-sized businesses. They often need extra resources to help them improve health and safety systems and practices. Particularly if they work in risky industries or have more complicated or technical issues to deal with.
That's even more important in the case of the manufacturing sector. A varied workforce means it's hard to review practice and make changes to improve workplace H&S performance. Casual staff with many having English as a second language make it hard to keep them safe.
Manufacturing can have critical health and safety risks, and variable working conditions. These include interactions between people and machines, manual handling, and working around vehicles, to name just a few.
Whatever your line of work, whatever your business structure, having a health and safety plan is important. Putting it into practice every day will keep your team safe, reduce your risk, and may reduce costs – these are all what professional H&S advisors can offer.
Find a trusted H&S professional from the HASANZ Register
One of the many recommendations following the Pike River Coal Mine tragedy was to improve the quality of professional advice in New Zealand.
The HASANZ Register is a one-stop-shop for businesses to find reliable, quality health and safety advice and services. Funding from WorkSafe and ACC helped develop the national online register or verified workplace health and safety professionals.
You can search for professional help for the problem you're trying to solve. For example, machine guarding, ergonomic design, policies, governance, or manual handling.
The HASANZ Register puts businesses at the centre of the experience and demonstrates high standards of best practice professionals.