Youth, Sexual violence
Mates & Dates: "It's something we need to talk about"
Ngā Hoa me ngā Piringa:"Me kōrero tātou"
8 minute read
Sexual violence in New Zealand is a significant problem. We need to start talking about it to help our young people develop healthy and respectful relationships
There's no one-size-fits-all solution. We developed the Mates & Dates programme to offer one approach to combatting this issue. By teaching young people about healthy relationships early, it can have a lasting lifetime effect on them and their families.
What is Mates & Dates?
Mates & Dates is a healthy relationship programme for secondary school students – those in years 9 to 13.
Mates & Dates is not a sex education programme. It aims to reduce sexual and dating violence through teaching young people the knowledge and skills to engage in safe, healthy and respectful relationships.
Designed as a step-laddered approach, secondary school students get key messages in an age-appropriate way over their five years of high school. That's 25 sessions in total.
The sessions explore human sexuality and relationships, gender, and identity. They also discuss consent, healthy relationships and behaviours, and provide critical engagement with stereotypes and media.
The Mates & Dates programme is a small step toward countering New Zealand's sexual violence problem, but it's not a silver bullet.
"
We've educated over 37,700 students in 130 schools since it was first piloted in 2014.
"
"It's something we need to talk about"
Mates & Dates is still in its infancy.
There are about 330,000 students enrolled in secondary school in New Zealand.
From the most recent evaluation from students that have participated, 62% rate the programme as good or excellent. One student at an all-girls school said, "I always looked forward to it, because it's not stuff that we usually talk about often, but I think it's something we need to talk about."
Other observations from the evaluation included:
75% of students said their understanding of what to do if they felt pressured to take part in a sexual activity, but didn't want to, had improved
76% said their understanding of who to talk to if they were forced to take part in a sexual activity had improved
61% said the course had helped them to learn more about how to treat a boyfriend or girlfriend.
Those included in the percentages above answered 'A little bit' or 'Yes definitely' to survey questions. The other two response options were 'No, not at all' and 'Don't know'.
We want Mates & Dates to fully serve young people in this country. As we expand the programme, we'll also assess how we make the programme relevant to students of different ethnic backgrounds.
Over the next two years, we aim to make Mates & Dates available to all secondary schools who want it across New Zealand.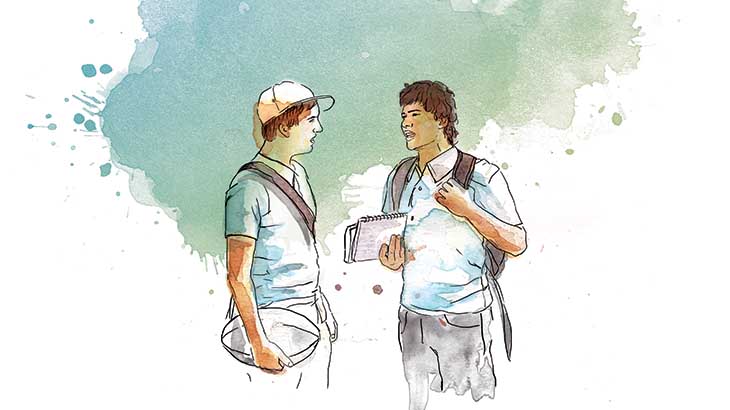 Addressing recent feedback
We agree with recent feedback that teachers need professional development and support in this area, and we are keen to explore this further.
Both teachers and students liked having external facilitators with expertise in sexual and dating violence. They brought a different perspective and some students said they were more comfortable talking about sensitive topics.
Teachers found it useful sitting in on sessions to monitor the class and help facilitate the discussions if needed. Some teachers would be effective facilitators of the programme but we need to ensure they have sufficient support to deal with sensitive issues like disclosures.
We plan to continue with the current delivery model, while an independent evaluation is conducted by the Ministry of Education of all government-funded healthy relationship programmes currently available.
This evaluation will include whether programmes are aligned to the New Zealand curriculum and Sexuality Education Guidelines. It will assess whether they meet the needs of specific cohorts, including ethnicity, LGBTQI+ communities, and people with disabilities. It will also assess whether it is suitable to be scaled, and what support the programme provides for teachers for sensitive issues like disclosures.
Co-facilitation with teachers needs to be tested before we adjust the current delivery model.
Young people are at higher risk
In the 2017/18 financial year, our total spend on sensitive claims was $129.8 million. Of this, $26.2 million was for young people aged 14 to 24.
As a country, we're ranked worst out of all OECD countries for rates of sexual violence, according to the United Nations Report on Status of Women 2011.
Women are more likely than men to have experienced one or more incidents of sexual violence – 24% compared to 6%.
Young people are at higher risk – those aged 16 to 24 – along with Māori, Pacifica, migrants, and people with disabilities.
Risks of repeat victimisation are high. At least 50% of girls and women who are sexually assaulted are likely to be sexually re-victimised.
International research shows school-based prevention activities are more likely to change sexual attitudes and behaviours over other primary prevention activities.