The winter sports season is shorter this year because of COVID-19 lockdown, so conditioning is more important than ever to make the most of it.
Now that New Zealand is at Alert Level 1, we want to get back with our teammates on the field, making up for that lost time in lockdown. But are we ready?
The short answer is 'not yet'. The lack of team training and conditioning for over two months, in what's usually the pre-season, will have a big impact on team performance. And that's even if you kept up your own fitness regime at home. You need your teammates to train with for tackling, kicking, sprinting, and pivoting skills needed for a game.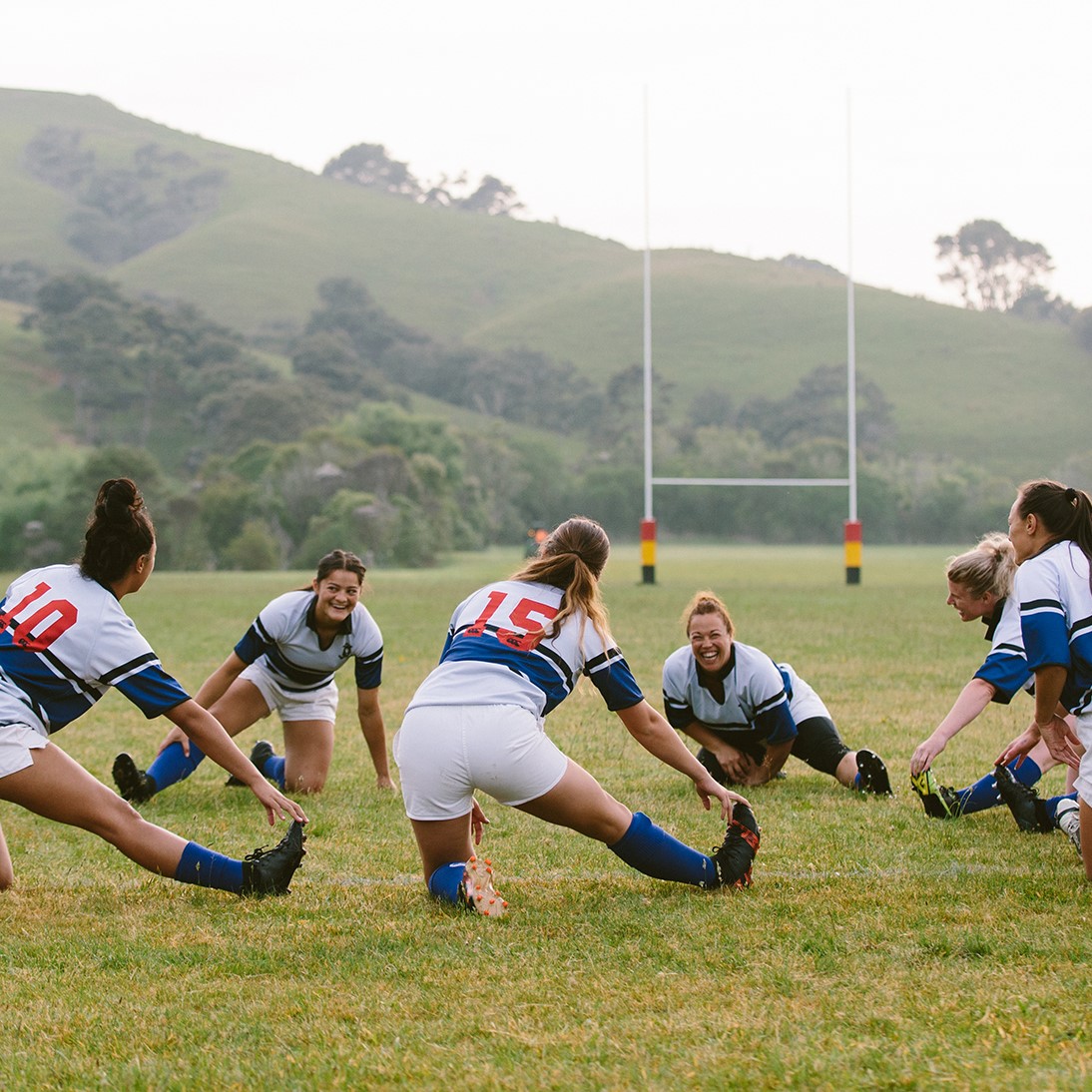 How important are warm ups for your fitness?
Being match-fit is different to being fit. Even ex-All Black great Dan Carter says so. "I'm fit but not rugby fit," he told media after signing with the Blues for this season, adding that he'll only play if his form is good.
So, how can you get your performance as good as it can be for this shortened season?
Use dynamic warm ups
Athletes will become fitter, faster and stronger when they do warm ups. The ACC Sportsmart warm up is a physical conditioning and neuromuscular training programme. Used twice a week as part of training it helps prepare the body for being match ready. 
The ACC SportSmart dynamic warm up includes a training and a game-day version. There are beginner, intermediate and advanced options for you to progress through as your condition improves.
Training warm up
20-30 minutes twice a week
Conditions your body to move in different directions, with short bursts of forwards, backwards and sideways running, plus jumping and squatting
Builds contact resilience
Builds muscle stamina and strength.
Game-day warm up
10-20 minutes on game day
Focusses on five activities to get your body ready to move in different directions relevant to gameplay
Contributes to conditioning built up throughout weekly training sessions.
Advice for players
Give yourself time to get back up to match-fitness. 
Keep these tips in mind:
recognise and accept that this season isn't normal so give yourself time to build up fitness and focus on the long game
you'll reach your potential faster and get better results if you focus on building up your sport-specific physical condition gradually
the best thing you can do for your team is to take your time to get back to your best
you've waited this long to get back into sport, don't blow your season by going too hard too soon!
Advice for coaches
When starting back into team sport, training sessions should focus on physical conditioning and developing fitness specifically for that sport. This will help reduce the chance of your players getting injured. 
Keep these tips in mind:
give your team time to build up fitness and focus on the long game
focus on physical conditioning and gradually increase training as you move back into sport
going too hard too soon will increase the risk of your players getting injured
the highest-performing teams have the lowest injury rates
think about rotating your players and options for shortened games.
More info
Find out more about how the ACC SportSmart warm up enhances performance and keeps athletes injury-free.
Sport New Zealand has information on what the alert levels mean for sport.
Fit4Football website has information for football players wanting to prevent injuries and improve performance and wellbeing.
LeagueSmart website covers conditioning, warm up and other techniques to get the most out of the games.
NetballSmart is Netball New Zealand's injury prevention website.
RugbySmart is New Zealand Rugby's website with resources for all players, including warm ups, techniques and how to improve performance.
TouchFit360 website has resources to help players improve performance and avoid injury.