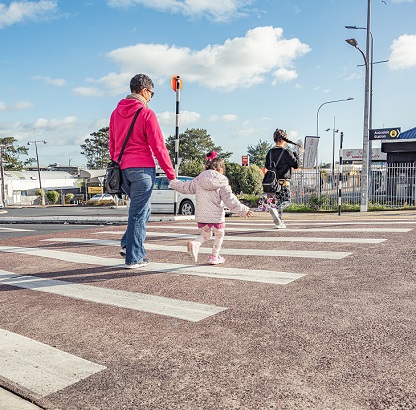 Corporate, Media release, Injury prevention
Improving transport safety in the City of Sails
Te whakapiki ake i te haumarutanga i ngā rori o Tāmaki Herenga Waka
2 minute read
We're helping fund safety programmes to reduce road trauma and improve transport safety across Auckland.
We're joining forces with Auckland Transport (AT) to improve the safety of everyone travelling on the city's roads.
Auckland is seeing rapid growth, meaning more people than ever are navigating the city to get to and from work, school and play.
30%
of NZ's new vehicle accident claims originate from Auckland
We're investing $5 million in AT's safety programmes to improve safety on Auckland's transport network and reduce road trauma.
Our investment aims to help our road safety partners in Auckland work towards the transport safety plan - Vision Zero. The vision is for no deaths or serious injuries on the transport network by 2050.
A focus on road safety
Dame Paula Rebstock, ACC Chair and AT Board member, says both organisations share a common goal of reducing harm on our roads.
"AT has the knowledge and expertise in road safety reserach programmes and is an ideal testing ground for future safety initiatives for ACC.
Last year Auckland roads saw
58
deaths
Auckland roads also accounted for
595
serious injuries last year
AT Board chair, Dr Lester Levy, says 2018 was the worst for accidents on New Zealand's roads since 2009.
"Too many people are dying or being seriously injured on our roads. We are determined to bring this number down to zero. Working together with our partner ACC is another step in reducing road trauma."
Last year 58 people lost their lives and an additional 595 were seriously injured on Auckland roads. This amounts to approximately 30% of New Zealand's new motor vehicle accident claims.
AT is focused on reducing distractions while driving, as well as improving safety for pedestrians, cyclists and motorcyclists.
A Māori focus
Part of our $5 million investment will be used to fund Māori-focused initiatives. Māori are disproportionately represented in Auckland's death and serious injury statistics.
These initiatives include AT's safety programme Te Ara Haepapa, a unique Māori road safety programme developed in partnership with marae, kura kaupapa and the community.
Te Ara Haepapa is delivered in a Māori context by Te Reo-speaking staff. It covers a wide range of high-risk road safety themes, including child restraint use, alcohol, speed and young drivers licensing.
In addition, a road safety and active transport programme is currently under development and being delivered in collaboration with nine kura kaupapa in Auckland.