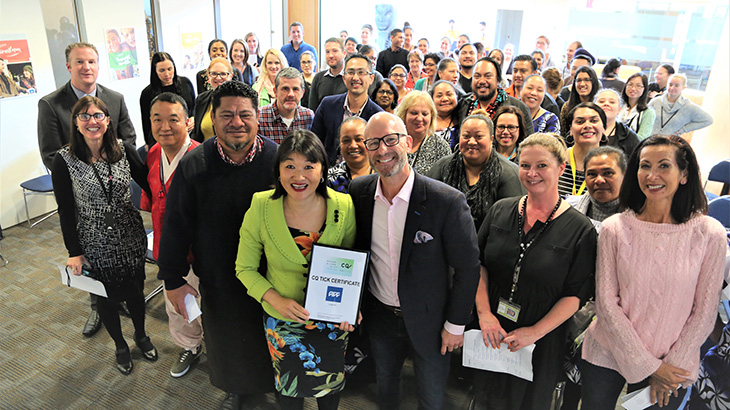 Corporate
ACC receives the Cultural Intelligence (CQ) Tick
Kua whakawhiwhia te ACC ki te tohu whakaae mō te Cultural Intelligence (CQ)
2 minute read
ACC has received the CQ Tick from the Superdiversity Centre. The CQ Tick acknowledges our progress in identifying and improving our cultural capability.
We're now amongst the few organisations in New Zealand to receive the CQ Tick. It's a formal certification in cultural intelligence and capability by the Superdiversity Centre on Law, Policy and Business. The certification lasts for a year.
About the CQ Tick
Receiving the CQ Tick reflects how much we value diversity and have the capability to work with people from all backgrounds. Most importantly, the CQ Tick provides a benchmark we can continue to measure ourselves against as we work to better meet the needs of our unique customers.
Diversity at ACC
Getting the CQ Tick revealed some interesting facts about our diversity.
Our people are fluent in over 70 different languages
We have over 87 ethnicities represented
Almost one third of us weren't born in New Zealand
14% of us have a disability, long term illness or health condition
12.5% of us identify as Māori
Cultural diversity is a priority for us
The survey results provided valuable insight into how diverse we already are and how we compare to the rest of New Zealand. Our work doesn't stop here, though.
Continuing to build our cultural diversity is a priority, so we can improve outcomes for our customers - especially Māori and people with disabilities. We're working on initiatives to support this such as creating diversity and inclusion network groups and having regular ACC-wide conversations about diversity and inclusion so we can explore and respond to issues.
Read more about the CQ Tick
Find out more about the CQ Tick and what's involved in getting it at the Superdiversity Centre's website.