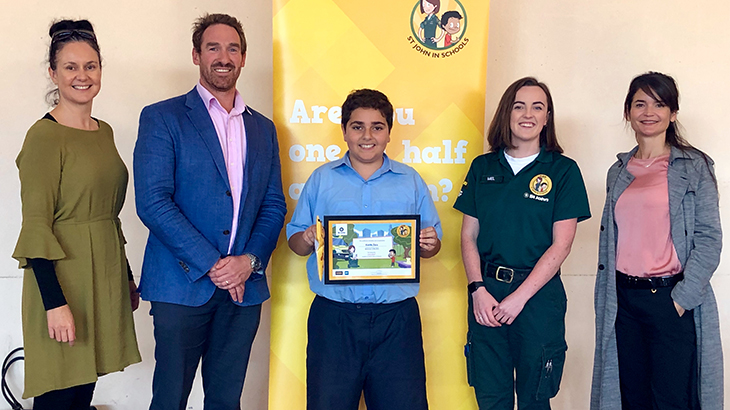 Injury prevention
Achievement unlocked! Half a million Kiwi kids trained in saving lives
Kua tutuki! Kua whakangungua te 500 mano tāngata mō te mahi whakaora tāngata.
3 minute read
Clever little lifesavers are emerging across the country with 500,000 kids now trained in saving lives thanks to the ASB St John in Schools programme.
Yesterday, with St John, we celebrated 500,000 children being trained by the ASB St John in Schools programme. It's an in-school first aid course where the experts from St John Ambulance teach kids the important first aid skills they may need in an emergency.
When the programme started in 2015, we had a goal of educating 500,000 kids over five years in first aid, CPR, bandaging, responding to emergencies, injury prevention and disaster preparedness.
It's a significant milestone, and we've achieved that goal eight months early.
It was celebrated at St Patrick's Primary School in Kilbirnie and attended by ASB, St John, members of our Injury Prevention team and two players from the Saints Basketball team.
Guests and students went head-to-head in a first aid quiz and CPR challenge. Every participant of the programme was gifted a first aid kit, and the 500,000th participant was awarded a certificate.
Improving health and wellbeing
St John receives more than 50 emergency calls from children every month. They often call in highly distressing situations for a parent or loved one who has fallen, is unconscious, or is having convulsions, says Sarah Manley, St John director of Community Health Services.
"We believe every child in New Zealand should learn first aid, so they have the courage and ability to respond in these circumstances and ultimately save a life," she says.
"We're committed to building resilient and connected communities and recognise that children of all ages can play a significant part in improving the health and wellbeing of their communities."
"
Knowing how to prevent injuries is a lifelong skill.
"
- Isaac Carlson, head of Injury Prevention at ACC
Learning skills for an emergency
We helped develop the ASB St John in Schools programme with St John, Safekids, Civil Defence and other partners. It's delivered in modules and, in consultation with the school, St John plans and delivers engaging, interactive age and stage appropriate sessions.
Modules include responding to an emergency, disaster preparedness, injury prevention, and camping safety.
With these modules, young people gain the skills and confidence to act in an emergency. They learn first aid basics and knowledge on how to prevent injuries.
The injury prevention module was introduced in January 2018 with lessons aimed at keeping kids and others safe in real-life situations on the sports field, home, school, and the playground. These areas of focus have been chosen as they contribute to the most common childhood injuries – falls, poisonings, and sport.
ASB St John in Schools Modules
We're proud to support St John in Schools
Over the lifetime of the programme, we've invested $1.15 million and provided support and injury prevention information in development of the modules.
A key aspect of the programme is to support young people to have the skills and knowledge to take responsibility for their own health and wellbeing, and the wellbeing of others, at home, at school and in the community.
The St John in Schools programme is part of our wider commitment to:
reduce the severity and incidence of preventable injuries in children aged under 12
reduce the disparities of regional child injury rates
increase awareness of services funded by ACC.
Isaac Carlson, head of Injury Prevention at ACC, says, "This programme is a wonderful example of our community partnerships. Knowing how to prevent injuries is a lifelong skill and now half a million Kiwi kids know how to keep themselves and others safe."
Each year around
180,000
children injure themselves due to a fall, burn, poisoning, or drowning.
St John receives more than
50
emergency calls from children every month.
From 2013 to 2017, there were
940,200
children injured by a fall, burn, poisoning or drowning.
A new goal
With St John, our goal is to now get one million students from pre-school through to intermediate trained in life saving skills by the end of 2020.
We also aim to get a minimum of 33,500 students through the Injury Prevention module this year, so kids can recognise potential risks at home and school, and how injuries can be avoided.
Schools interested in rolling out the St John in Schools programme can contact St John online.