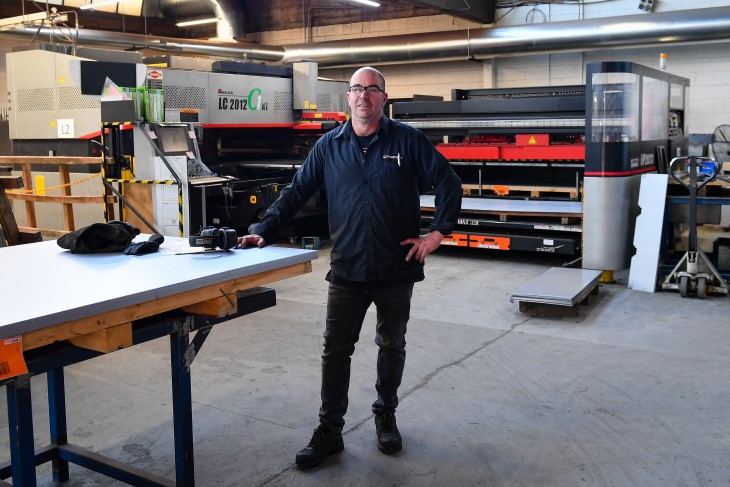 Starting his sixth decade with a nasty back injury, Christchurch factory manager Adrian Reid was worried about his future and becoming frustrated with the health system. But an innovative injury management programme being piloted by ACC saved the day.
A week after celebrating his 50th birthday, Adrian Reid could hardly walk.
It wasn't how he imagined marking that milestone.
"I can think of better birthday presents," he laughs.
"I couldn't breathe properly, I couldn't stand up. But I couldn't sit down for longer than 20 minutes either – I just couldn't get comfortable."
Still awaiting a specialist appointment, Adrian was beginning to fear the worst.
"I was in constant pain, it was really bad," he recalls with a grimace.
"It was scary – I had no idea what was going to happen to me."
A few weeks earlier, Adrian had been helping move a wooden desk at work when he felt a pop in his back.
He soldiered on for a few days but the pain got worse – until his back went into spasm and he collapsed.
That would mark the start of weeks of frustration and suffering.
"I was getting depressed because I couldn't see an end to it all," he admits.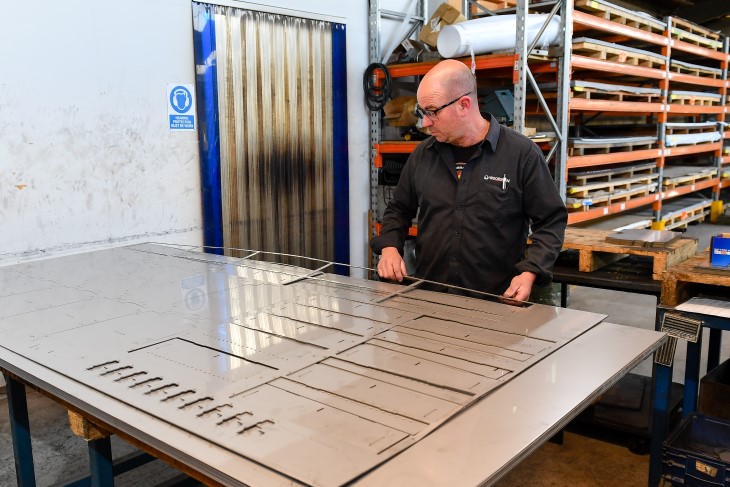 Turning a negative into a positive
Adrian was becoming increasingly frustrated with the delays around medical appointments and a lack of communication between each party.
He felt he was being pushed from pillar to post and in danger of being swallowed by the system.
But all that changed when he entered the Escalated Care Pathway (ECP), which was introduced by ACC in 2019 as a four-year pilot. ECP is an innovative injury management option for people with injuries that require multiple rehabilitation services.
The pathway's main benefit is that it wraps a team of health professionals around an injured person, who all work together to provide the right type of treatment, at the right time.
It also helps the patient stay engaged by using a 'health navigator' – a person who helps the patient with queries about their treatment and understanding the options available to them.
Adrian entered the Escalated Care Pathway via Habit Health, who provide occupational health, personal welfare and physiotherapy rehabilitation services.
"
Adrian exited our programme back at work, stronger and healthier than when he had his accident.
"
- Jane Harding - ECP Health Navigator for Habit Health
His health navigator was Jane Harding, who immediately picked up on Adrian's dissatisfaction.
"When I contacted Adrian initially, he was very frustrated about his journey," she says.
"So, when I explained the ECP programme, he was excited and said he had never had anything like this with previous injuries."
From that point on, Jane would check in regularly with Adrian to make sure everything was going well, talk through any problems and plan the next steps.
"That gave us the opportunity to move goals back or forward and get him the right services when needed, including support for his return to work," Jane says.
"We helped turn a negative event into something positive and, by using everything we offered, Adrian exited our programme back at work, stronger and healthier than when he had his accident."
Physio plays key role in recovery
Before entering the pathway, Adrian was referred to physiotherapist Cameron James – a lead clinician for Physiosouth.
It proved to be a big turning point.
"Adrian came to us after a bit of a whirlwind of appointments with his GP and a specialist," Cameron recalls.
"Due to the nature of his symptoms, we applied for the Habit Health ECP pathway and Adrian was eager to make the most of it," he adds.
"We discussed lifestyle changes, strengthening and eventually ongoing prevention exercises that he could continue with once the pathway finished.
"Part of the pathway included a worksite assessment and Adrian was able to show his diverse job in detail to us. From there we could discuss with his employer the appropriate plan to get him back to work."
'It was more than just getting back on my feet'
Returning to work was important to Adrian as he was worried about letting down his colleagues at Harris Home Fires, for whom he acts as a Factory and Maintenance Supervisor.
"Basically, I fix computer-controlled machines and I can run every machine in the factory. I'm the only one who can do that, so if something was to break then these guys would be in trouble," Adrian explains.
"So having to go on a back-to-work plan scared me but my boss was actually over the moon about it. He said I should give it a go and even he's been impressed by how well I've done – he can see how this programme has transformed me."
As well as helping him recover, ECP inspired Adrian to adopt a healthier lifestyle – including giving up smoking and improving his diet.
He now feels better than he has in years.
So Adrian believes the ECP programme is one of the best things that's ever happened to him.
"It's really turned my life around," he says.
"I probably wasn't heading down a great path before and now I'm out there enjoying life again. Without ACC and without this programme, I wouldn't be where I am today."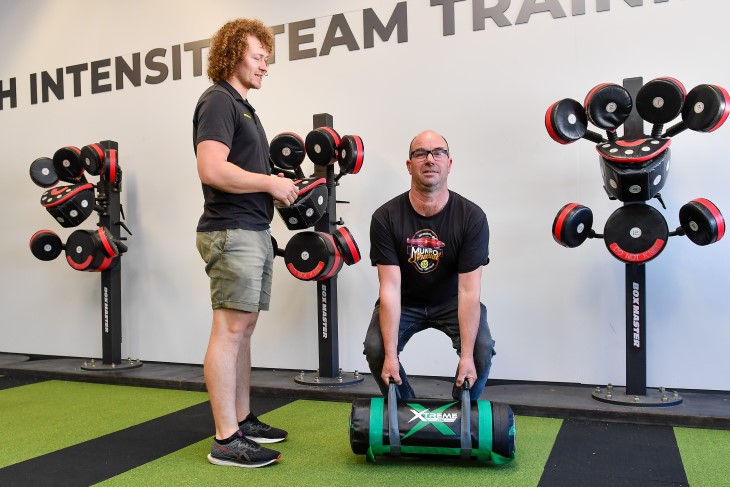 Using passion as a motivational tool
Aside from the expert medical support provided, the key to Adrian's recovery has been his personal motivation – a fire Cameron feels is stoked further by the Escalated Care Pathway.
"One of the strengths of this pathway is it being patient goal-oriented," he says.
"For example, one of Adrian's great loves is getting on his motorbike and riding across from Christchurch to Akaroa. When we highlighted these goals, it motivated Adrian to push into his rehab and aim to get back on his bike."
Having recently turned 50, Adrian was determined to do all he could to future-proof his health.
This was the third significant injury he had suffered to his back in his lifetime, and he was acutely aware that it was taking him longer to recover each time.
"It came into my mind very quickly that, when I was 40, this was a three-day event. Now I'm 50 and this has turned into a four-month event. So when I turn 60 would it take years for me to come right?
"That's why I made the decision to make a bigger change. I just thought to myself, 'Here's the opportunity of a lifetime, so I'm going to go above and beyond'.
"If these guys could see that I'm worth giving the effort to do some work on, then I knew I had to do my bit by eating better, doing my exercises and stopping smoking.
"I'm just a completely different person now, I stand differently and everything. I'm feeling better than I ever have and I'd sing it from the roof tops if I could.
"This has been an absolute life changer for me – I'm the happiest man in the world."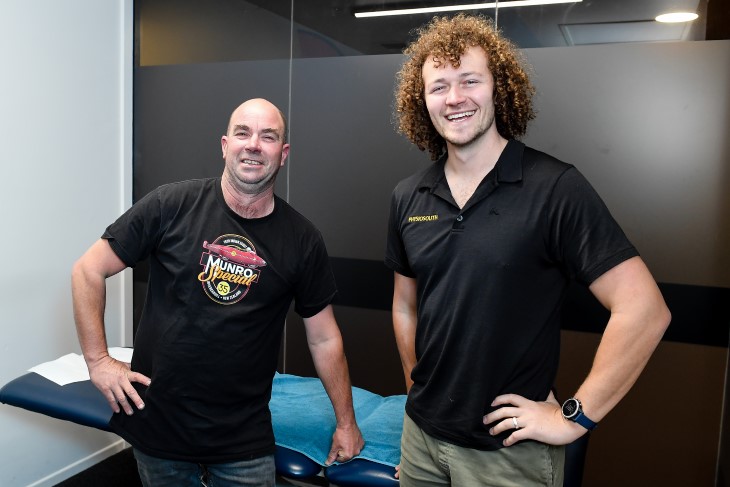 Helping more New Zealanders
The Escalated Care Pathway is currently available to eligible patients in certain regions with complex shoulder, hand and wrist, knee and lower back injuries.
To find out if you're eligible for ECP treatment, please talk to your health provider.
The Escalated Care Pathway is a four-year pilot.
At the end of the pilot, we're looking to introduce Integrated Care Pathways for Musculoskeletal injuries. This service will be the result of the learnings we've gained from the pilot.
If you're a health provider and would like to know more about the incoming Integrated Care Pathways for Musculoskeletal injuries programme, this information is available on our website.