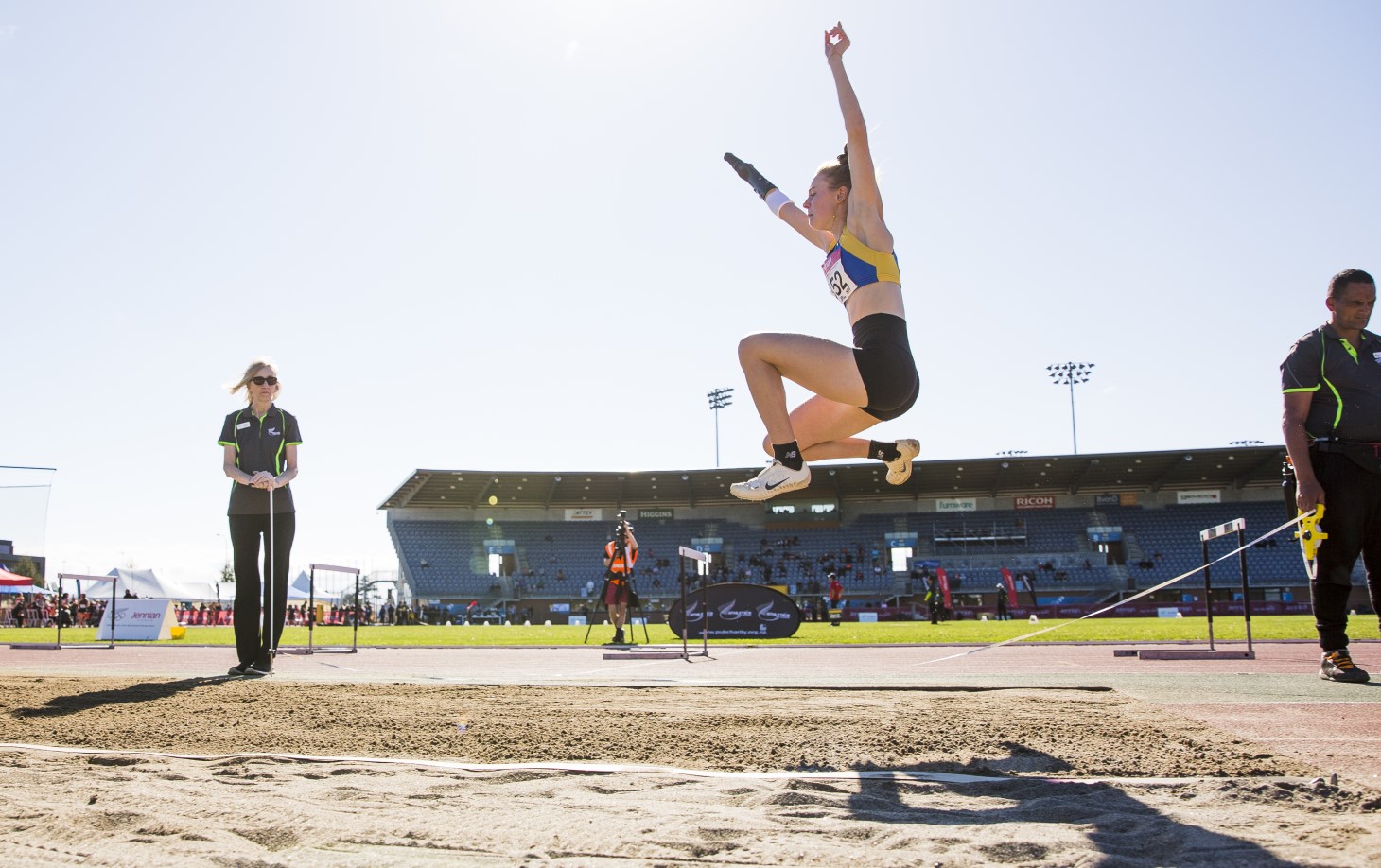 Paralympian gold medallist Anna Grimaldi has overcome two years of injury woes to get back to her best and defend her title in Tokyo.
Anna Grimaldi is standing at the top of the long-jump runway at the 2017 World Para Athletics Championships in London.
Her heart is pumping with adrenaline but her foot is pounding with pain. Grimacing, she pushes through the pain barrier and charges down the runway as fast as she can. As she plants her left foot to launch into the jump, yet another jolt of pain shoots up her leg. She does her best to ignore it as she flies through the air and comes down on the sand with a thud.
Turning to the scoreboard, she sees she has jumped 5.21m. Considering the circumstances, it's a heroic effort and puts her within one centimetre of winning a medal.
Yet Anna feels totally deflated. One year earlier, she had jumped over 40 centimetres longer to win a shock gold medal at the Paralympic Games in Rio de Janeiro.
Now, she can't even walk without limping. And just the thought of launching herself nearly six metres brings a tear to her eye.
"It was such a tough time, physically but also mentally," she admits. "It was hard going from a career high to a career low, all in the space of a year. The hardest part was my lack of confidence, I was meant to be a gold-medallist long-jumper but I could hardly do anything."
Light at the end of the tunnel
On her return to New Zealand, Anna went for a scan and found out she had suffered a stress fracture in her foot at some point. Anna, who was born without her right hand, was relieved to know why she was in so much pain.
But she still had months of recovery ahead of her and it would prove far from smooth sailing.
"The process was crazy long and I couldn't see the light at the end of the tunnel for a while," she says. "I did question if I'd ever get back to jumping again. The time to get back to competition was meant to be six months but it ended up being closer to two years."
The key to recovery
Anna's inspiration was provided by the support network around her in Dunedin. Along with friends and family, this included coach Brent Ward and strength and conditioning expert Mikey Jacobs.
"If it wasn't for them, I don't think I would've come back," she says. "I was lucky I had people able to dedicate as much time as I was willing to dedicate."
The assistance provided by ACC in her rehabilitation was also a big help. The likes of physio, podiatry and orthotics were all taken care of, allowing Anna to focus on getting back to her best.
"I really relied on the knowledge from specialist people to get me through," she says. "Having that help from ACC was imperative to my recovery process."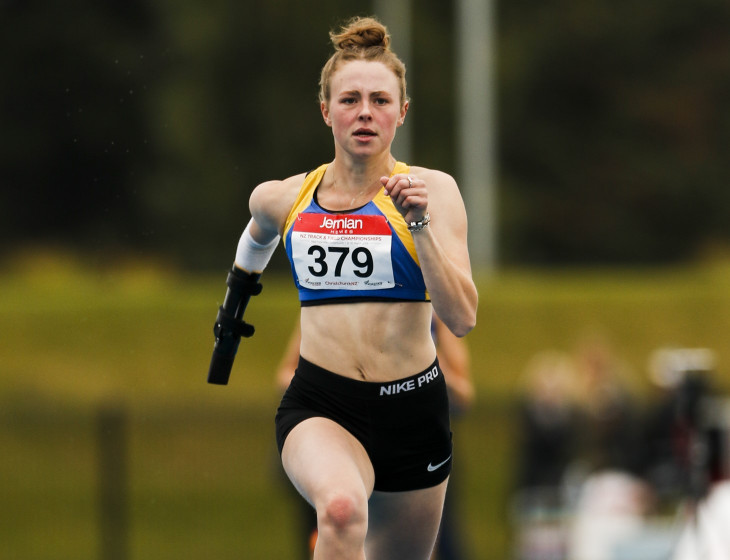 Coming back better
The 24-year-old has now not only returned to the long-jump runway – she is jumping further than ever. She marked her comeback by claiming silver at the 2019 world championships in Dubai with 5.50m, missing out on gold by just 2cm.
Like athletes all around the world, Anna then endured a frustrating 2020 as the COVID-19 pandemic hit home. Her training programme was torn to shreds by lockdown and the Tokyo Paralympics were eventually postponed. But she has made the most of the extra time.
The 2021 summer season in New Zealand was the best of her career. It resulted in four personal bests and an improvement of 29cm, and her biggest leap is now 5.91m. That puts her within touching distance of the world record for her classification.
Knowing her limits
Remarkably, Anna is now ranked second overall in the country, able-bodied athletes included.
"We've worked really hard over the last five years, constantly learning about what works and what doesn't," she says. "We've pushed my body to its limits and I'm loving where we've gotten it to."
But Anna and coach Brent now take even more care with her preparations and training load. Having done so well to bounce back from a career-threatening injury, she has no plans to return to square one.

"I have so many exercises now in my toolkit that help my body prepare and recover from training and competition," she says. "This injury has really made us aware and we're always looking for ways to make my body move more efficiently and in better form."
"This will not only help me jump better but also help my body in the long run and reduce my injuries."
A champion effort
Her coach is full of admiration for how Anna has bounced back from such adversity.
''The lead-up to Tokyo has been a roller coaster of pain, challenge, emotion and then success after success," Brent says.
"Anna has risen so strongly from the lows through a positive focus on what makes a difference. It has been a journey of total determination – an all-in jump to reach the highest levels.
"She is a champion."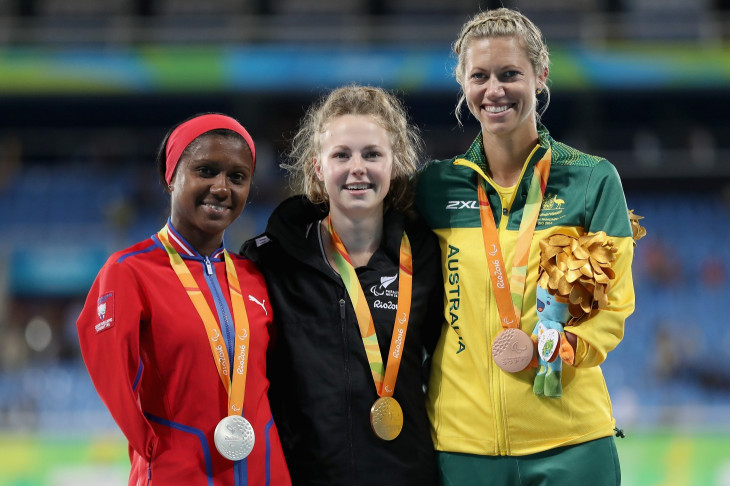 The silver lining
For Anna, some good did come from her months of anguish.
"I would never want to go through it again," she says. "But, in saying that, I don't think I would be jumping these distances without going through that period of injury.
"It really allowed us to focus on some areas of training and body imbalances that we didn't have time for or that we didn't realise were holding us back. I think my advice would be to find a way of making that time productive, use it to work on other things or focus on things away from sport too."
Peaking for Tokyo
Now pain-free and in the form of her life, Anna can't wait to return to the Paralympics next month and defend her gold medal.
"It's been a long five years and so much has happened in that time, so I'm unbelievably stoked to be on my way to Tokyo," she says. "I'm so happy I'll get a chance to prove myself on the world stage again – just being there will be a huge achievement in itself. But I want to perform at my best and, whatever happens out there, I'll know I've trained the hardest I can and left no stone unturned."
Getting the most out of your sport
Anna is far from alone in her injury battles. Each year, we receive on average of 448,000 sport-related injury claims. This is an overall cost of over $570 million. We also spend around $80 million each year on injury prevention.
We believe in the benefits of physical activity and, if you do have an injury, we want you to recover well, avoid re-injury and get back to what you enjoy doing. From competitive athletes to weekend warriors, ACC SportSmart is there to help everyone get the most out of their sport and stay injury free.
ACC and Paralympics New Zealand
We're proud to be a community partner of Paralympics New Zealand.
We believe participation in Para sport has a positive impact on wellbeing and rehabilitation.
Our aim is to motivate and inspire people to lead active lives, through positive role models and opportunities to try Para sport – at any level.
There are several regional disability sport and recreation organisations around New Zealand, which are called Parafeds. Some national sports organisations also offer Para sport.
More information and a full list of Parafeds and other Para sport providers is available on the Paralympics website.
We wish New Zealand's Para athletes every success as they work towards the Tokyo 2020 Paralympic Games, which take place from 24 August to 5 September 2021.