Latest, Injury prevention
Building a treehouse? Or rebuilding your life?
E whakatū ana i te whare rākau, e whakarauora ana rānei i tō oranga?
2 minute read
Injuries can happen wherever we are - at home, in the community and at work. We help prevent injuries and provide care and support if things go wrong.
New Zealanders love mucking around in the backyard when the weather warms up. Like Grandad. He was having a great day building a treehouse for his grandchildren. He grabbed a piece of wood his son passed up, thinking they could get the walls of the treehouse done by lunchtime.
But as he pulled up the plank, he felt himself start to topple backwards with the effort. He was closer to the edge than he realised. His son called out: "Careful, Dad." The children spun round to look. Everyone held their breath.
His feet shifted. He reached for a branch. And managed to steady himself. Everyone breathed again. An inch further back, and he would have fallen flat on his back on the lawn.
Preventable injuries can happen anywhere in the home. That includes being up a tree, in the kitchen, the lounge or the driveway. And we're here to provide care and support if an injury happens to you or your whānau.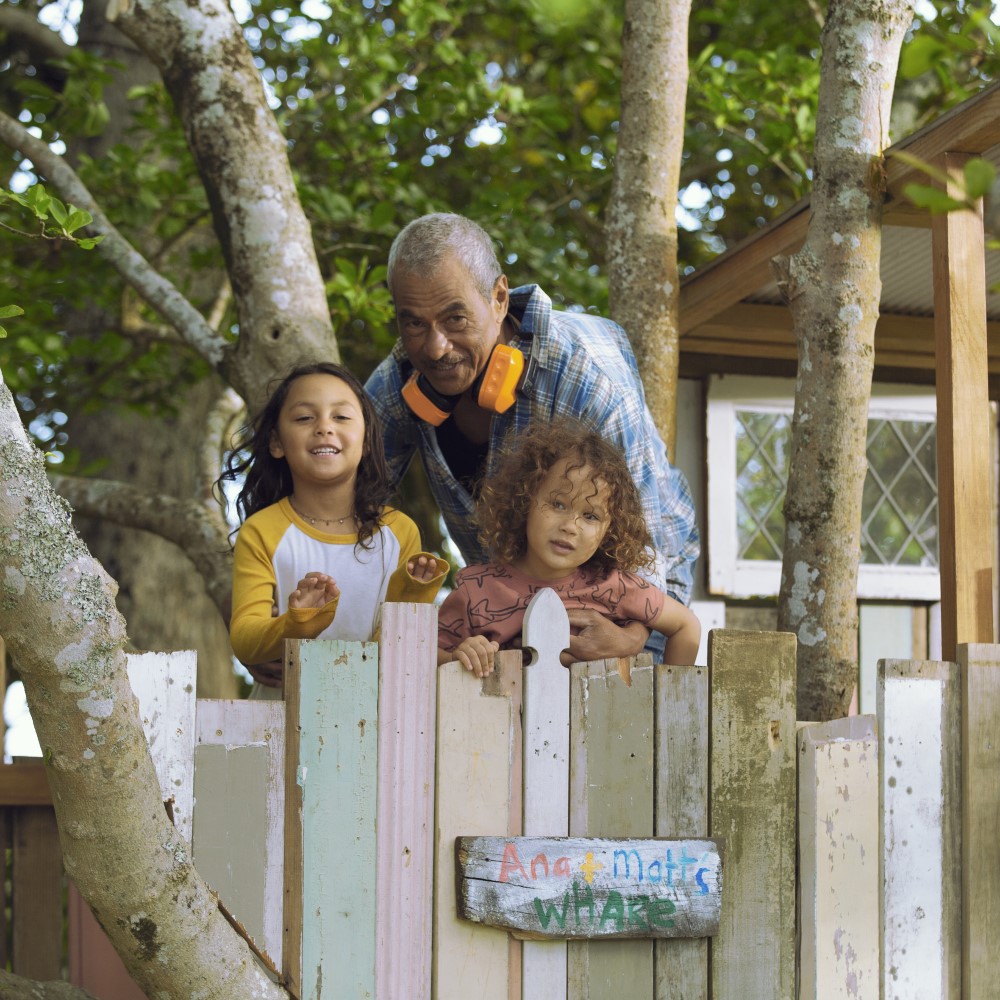 What's your approach to small projects round the home?
We help prevent injuries and get New Zealanders and visitors back to everyday life if they've had an accident. Most people just need a little bit of help and they're quickly back to living their lives.
And it doesn't matter how old you are. That means if you're retired like grandad, or your children are at pre-school, or any age in between, we can help with care and recovery if you get injured.
For many New Zealanders, the home is where the most injuries happen.
Last year, we supported 1.5 million people injured at home or in the community, and just over 270,000 people injured at work.
We supported 57,731 people who had an animal-related injury which happened in the home last year.
All kinds of injuries can happen at home, such as injuries from DIY, gardening, even playing. Lifting and carrying stuff around the home led to 186,055 people getting injured, and we helped them with care and recovery.
Falls are the most common way of injuring yourself in New Zealand and the home is the most common place to fall. Injuries from falling represent 39% of all ACC claims and cost around $1.1b per year. The more we can help New Zealanders, like Grandad, prevent these significant injuries, the better.
Apart from working to prevent injuries at home, we invest in programmes to prevent injuries in other areas, including:
on the roads
at work
on the sports field
in the water.
Every injury is unique, because every person is unique. No matter who you are, if you're injured in an accident in New Zealand, we're here to provide care and support to get you back to everyday life.
Many injured New Zealanders might not even realise that we're involved in their care. That's because 94% of people we help simply visit their doctor, a hospital or a physiotherapist for treatment and don't realise that we're working in the background to help pay for the treatment.
Whether your injury is minor or life-changing, we'll work with you to find the best solution and put that plan into action. We need to tailor our support to each individual who needs our help.
Some of the things we help with include:
doctor visits
equipment, eg crutches
help around the home
weekly compensation of up to 80% of your income
counselling
support for victims of sexual assault
surgery for more serious injuries.
Find out more about us:
Our homes are quickly becoming the place where we work, as well as relax, exercise, socialise, and look after our whānau.
We cover all kinds of injuries, even if they happened when you were doing a hobby or just playing. Last year we supported 318 people who got injured in a water fight in the home. And though lots of New Zealanders are keen gardeners, it wasn't always a safe place: 71,656 people were injured in the garden last year.
Check out these tips to keep you and your whānau safe.
Slowing down and assessing the risks before you do a job around the house can prevent injuries. These tips were written earlier this year, but are still useful, particularly if you're getting into DIY this summer:
SafeKids has practical advice to help keep children safe from injuries like falls and drowning, and incidents on the road.
Live Stronger for Longer has practical advice on how to stay active, well, and independent for people aged over 65, including a checklist for safety round the home.
Mates and Dates teaches young people about healthy relationships.
Water Safety New Zealand has advice on keeping safe around water, including around home pools.
SportSmart is a warm up programme to enhance sports performance and keep players injury-free.
Drive is an online learning tool to help young people become safe, skilled and capable drivers.
Ride Forever aims to increase the performance and passion of every motorcyclist in Aotearoa, supporting riders with the skills and knowledge to get the most out of every ride.