Young sportsman Campbell Gray came close to losing his life after being hit by a hockey ball. Our support helped him recover and he's now taking on multi-sport events.
Campbell Gray will never forget his 19th birthday. But, at the same time, he can't actually remember much of it.
The Waikato premier hockey representative suffered a traumatic brain injury during training, which meant the day of his birthday is just a blur. It proved to be a life-changing moment.
"My last memory was going out for lunch and everything after that was recollected from others," he says.
That afternoon, Gray went out for a round of golf with some mates. He came home for dinner and then went to hockey training.
His team were running through attacking drills when a shot on goal went astray and hit Campbell flush in the head.
"It hit me on the right temporal bone," he says, pointing above his ear. "I went down pretty hard."
He was behind a couple of defenders, and they got out of the way in time. But Campbell saw the ball late and there was nothing he could do.
The impact fractured his skull, optical bone and jaw. He suffered a brain bleed (aneurysm) which could have been fatal.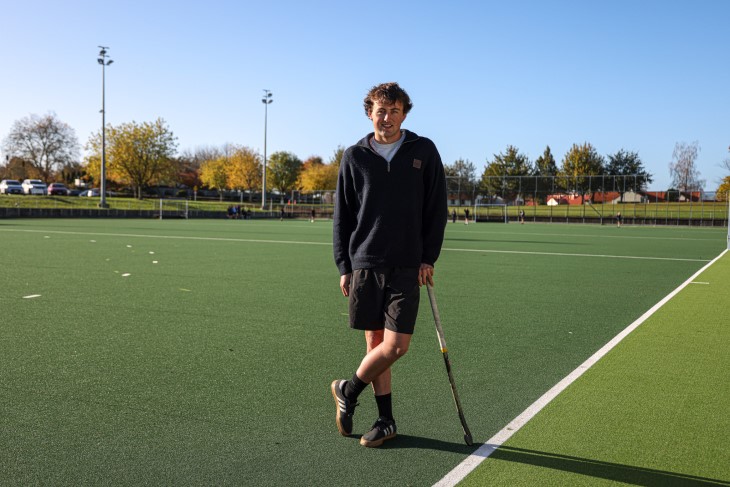 'It was a terrifying time'
Campbell had no idea what was going on and was fortunate that his girlfriend at the time, Brianna, who had experience in first aid, was 'extremely onto it'.
One of the boys in his team had called her to say Campbell couldn't drive home and asked for her to come pick him up.
He never lost consciousness but knew he wasn't right.
"I struggle to wrap my head around it, how you can get that much damage and not lose consciousness is beyond me," he says.
He was drowsy and had normal concussion symptoms. His girlfriend brought a few friends, and they were planning on going out to have some drinks after training to celebrate Campell's birthday.
But his condition deteriorated quickly on the car trip and Brianna recognised the signs early.
She took him straight to Waikato Hospital and, by that point, he was nauseous and vomiting. She alerted the emergency department team that things were critical, and he soon had a CT scan.
"They discovered a bleed that was putting a lot of pressure on my brain. I was in a bad way," he says.
Campbell underwent brain surgery to save his life.
"It was a terrifying time for my family and I."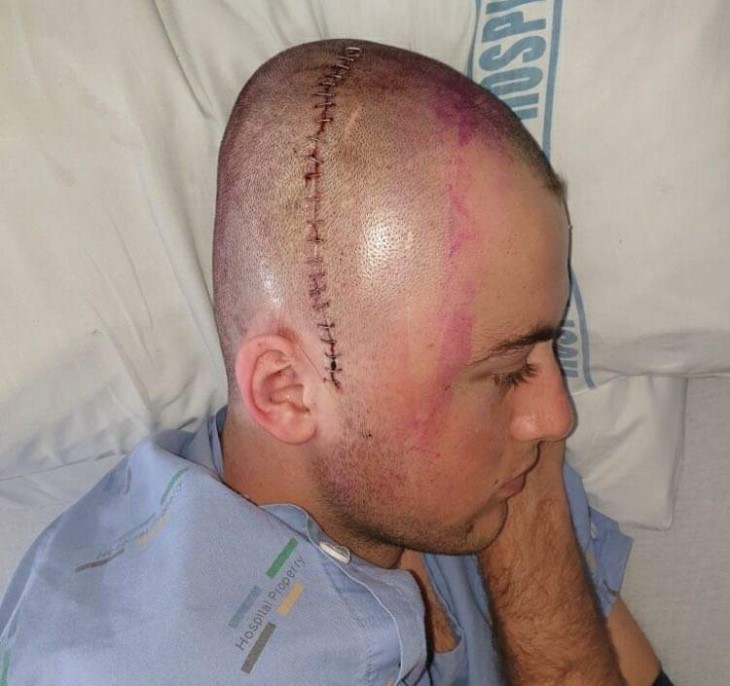 A phone call no one wants to receive
Campbell's parents, Dave and Louise, had heard the news in Napier and drove straight to Hamilton.
"We were in total shock when the phone call came through from the neurosurgeon," Louise says. "I kept thinking, 'This can't be happening'."
A million thoughts were running through their minds on the journey north.
"We had a huge fear of losing Campbell," Louise says. "We were also really worried about the long-term effects of the injury. Would he have the same life he had before?"
Campbell was placed in an induced coma post-surgery for two days to allow the swelling to subside and ensure there were no complications. He doesn't remember the first week of his recovery.
He spent two-and-a-half weeks in Waikato Hospital before he was transferred to ABI (Acquired Brain Injury) Rehabilitation in Auckland.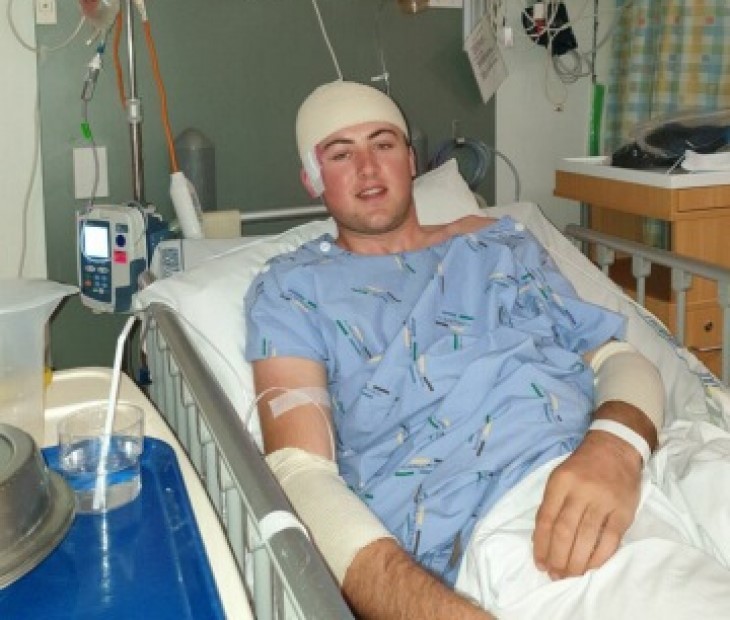 "
We were really worried about the long-term effects of the injury. Would he have the same life he had before?
"
- Louise, Campbell Gray's mother
A life-changing experience
ABI Rehabilitation is the only ACC-contracted intensive rehabilitation provider for traumatic brain injury in the North Island.
Campbell says his experience at ABI was life-changing.
In many ways, he had to start his life again. His balance was shot. He couldn't get anywhere without holding onto something. And his speech was compromised.
"You would say something to me and I'd take five-to-10 seconds to process it and another five seconds to process what I was going to reply to you. And by then it's all a bit slow."
His mum stayed with Campbell for a month at ABI, living in an apartment to support him in his long road to recovery.
"It was fully catered and everything, which was super handy because all you had to worry about was rehab," he says.
His mum says it was a huge relief to see him making progress with his cognitive function.
"We both learned a lot about the brain and brain injuries," Louise says. "You could see Campbell progressing well and also his perspective on his injury and outlook improving. He had a very positive attitude right from the outset."
ACC leads a helping hand
ACC played a leading role in Campbell's rehabilitation and his recovery partner assisted with the transition home in Napier.
The visits to the physiotherapist continued for four months post-injury.
Campbell says that enabled him to achieve his rehabilitation goals. But he was frustrated with the slow progress.
"I was really naïve and said, 'Yeah, I'm going to crack back into it in a couple of weeks' time and I'll be good to go again'. So it was good having someone there to bring me back to earth and help me realise it's not going to be a fast recovery, it's going to take some time."
He wrote down three goals: to get back to work, to return to university fulltime and to get back into his exercise.
He got back into the university classroom, battled anxiety and his memory was poor.
His occupational therapist taught him to be organised and write everything down to help with his memory. In the times when he felt he had too much going on, he took a step back. Sometimes that meant having an afternoon nap or being in a quiet, dark place.
"That's the awesome part about ABI," he says.
"Not only are they rehabbing you to get back to your way of life, they're also equipping you with the strategies to help you. And you're learning about the brain and why you're having these symptoms."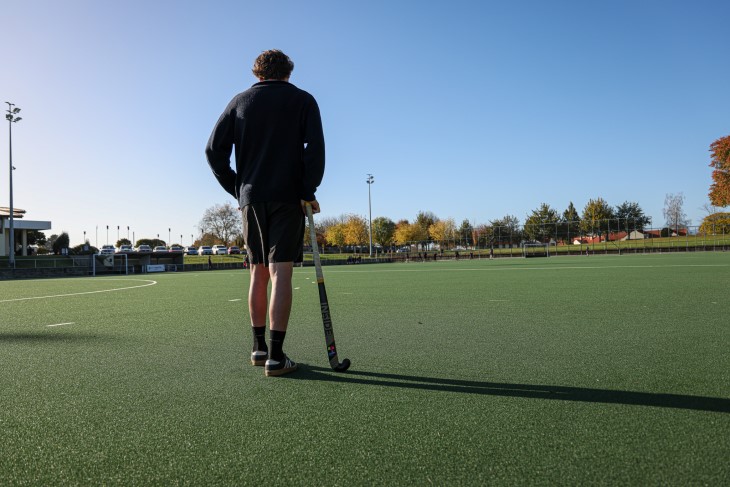 "
It was good having someone there to bring me back to earth and help me realise it's not going to be a fast recovery, it's going to take some time.
"
- Campbell Gray on his recovery from concussion
Getting back into sport
Campbell wasn't allowed to play contact sport for two years – which ruled out hockey – but he got into doing multi-sport events.
It wasn't easy – he struggled with fatigue and high-intensity exercise gave him bad headaches.
"So I said, 'I'm just going to take my time and gradually build the intensity until it no longer causes a headache'."
And that's just what he did.
In December last year, he competed at the Mount Monster, a surf lifesaving event in Mt Maunganui. And now he's signed up for the two-day event of the Coast to Coast in 2024.
"It's a true test of yourself and it will be a cool milestone to complete," he says.
"Prior to this, it was just that I wanted to say I'd done it. Whereas now, I want to smash it out of the park because it takes on extra significance."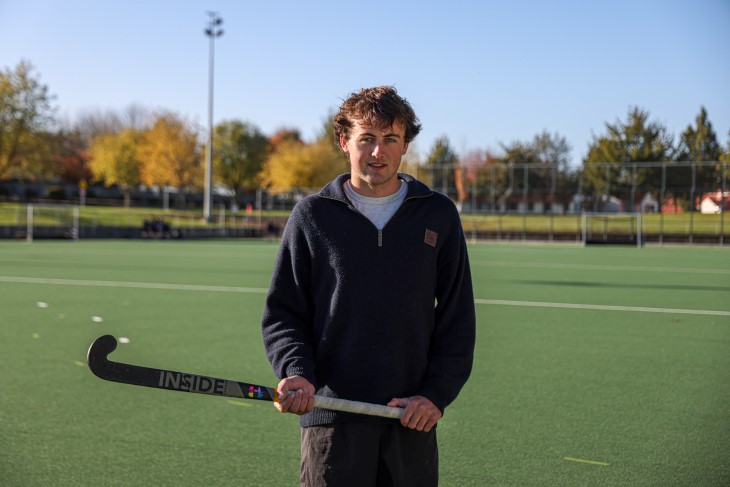 Putting things in perspective
Campbell has lived by a simple mantra this past year – 'the roughest roads lead to the most beautiful places'. That's been the catch cry for his training.
He says his injury has put things into perspective.
"As a person, it's definitely changed me for the better," he says.
"That might sound weird, but I didn't bring it upon myself and that's what I learned at ABI. There are accidents where people have made silly decisions, hugely regret them and then find themselves in a dark place.
"As much as I was in my own dark place, I knew it was just a freak accident and there was nothing I could've done about it.
"I had to motivate myself to keep going and now I look back on it and I'm actually so stoked it happened because I'm a different person in all aspects. It's a challenge to get back to where you were, but I live for that challenge.
"I know it could've been a lot worse, it could've been a lot different. But you've just got to say yes to some things, and make the most out of life, because things can change just like that."
The Four Rs of Concussion Management
Recognise (the signs and symptoms of concussion)
Remove (the person from play)
Refer (to a medical doctor to confirm diagnosis and provide treatment)
Recover (before returning to school/work and sport)
More information about concussion is available on the ACC SportSmart website.