Health and safety advocate Darren Guard has lost many mates to the sea and has also come close to losing his own life. So he's used funding from ACC to set up MarineSAFE – an online training programme to help fishers stay safe at sea.
Former fisherman Darren Guard is no stranger to the pain of losing a mate at sea.
Darren, who hails from New Zealand's oldest fishing family of European heritage, lost 11 people he knew in the space of one year.
So whenever he hears about a tragedy in the fishing industry it hits him hard.
"If a fisherman gets badly injured or disappears, it doesn't really matter where they are in the country, the whole industry feels it," the 52-year-old says.
"I get emotional when I think about it, even if I didn't know them, because it's such a close-knit family."
Darren has also come close to losing his own life during many years in the seafood industry.
"Fishing is recognised as one of the most hazardous industries on earth," says Darren, whose family has been fishing since 1827.
"Up to 100,000 commercial fishermen a year die, globally. It's quite a number and I've certainly seen a lot of friends and family injured and lost."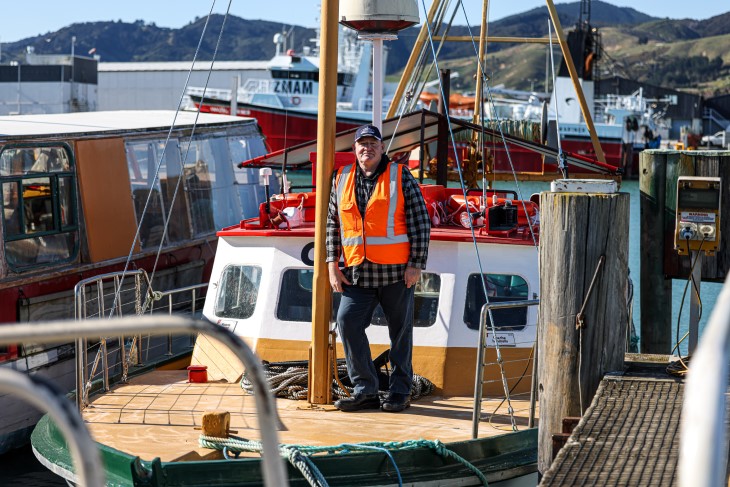 'I rang my wife to say goodbye'
Darren's family nearly went through that ordeal when a boat he was skippering began taking on water in the Cook Strait during the hoki-fishing season in 1996.
"I rang my wife at one o'clock in the morning to say goodbye – that's how serious I thought it was," he says. "It was pretty scary."
Wife Karen was shocked to be on the receiving end of such a traumatic phone call.
"It's not how you'd like to be woken up in the middle of the night," she says.
"But I spent a few hours praying and then all of a sudden had this feeling of peace – I thought, 'He's either safe or he's gone'."
Experienced skippering and a bit of luck helped Darren finally return to shore safely that night.
"You just go into robot-mode and all your training and education kicks in," he says.
"We took a bit of time, we thought things through, we implemented the steps – and now we're here today."
Enough is enough
His own harrowing experiences and the sad stories of lost friends led Darren to decide "enough is enough".
So the Nelson resident teamed up with the NZ Federation of Commercial Fishermen to apply for a workplace injury prevention grant from ACC.
"It was something we talked about collaboratively after hearing there was some funding available from ACC," says Doug Saunders-Loder, president of the NZ Federation of Commercial Fishermen.
The application was successful and the funds provided by ACC were used to create MarineSAFE, an online health and safety programme for people working in the fishing industry.
"We thought it would be really important to deliver those types of messages in a different form," Doug says.
"Darren's suggestion that we did it through video was gold. Fisherman don't have a lot of time so that really seemed to fit the bill."
MarineSAFE – Health and safety training for the fishing industry
"
Fishers spend so much time at sea. When they're home, they don't want to be sitting in a classroom – they want to be spending time with their family.
"
- Former fisherman and MarineSAFE founder Darren Guard
Making a difference with an online approach
MarineSAFE is a series of online training videos that show how to work safely on fishing vessels. The modules focus on a wide range of relevant topics, such as machine safety, wharf safety, knife safety, risk management and life-saving equipment.
The MarineSAFE team also works with FirstMate NZ – the Seafood Sector Support Network – to cover mental health and wellbeing in the training.
In putting together the programme, Darren felt an online-based learning option would work best for the fishing community, rather than in-person training.
"Training is so difficult for fishers because they spend so much time at sea. When they're home, they don't want to be sitting in a classroom – they want to be spending time with their family," he says.
"So that's where I thought, 'Well, online has to be the answer'."
It's filling a great need. Despite commercial fishing being such a hazardous industry, only half of all workers in the industry report having gone through health and safety training within the past year.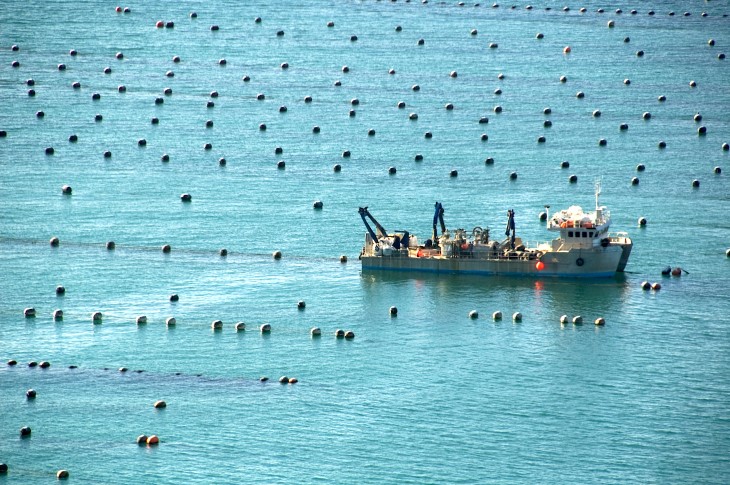 The modules have proved popular so far with nearly 800 people completing the training, which is free of charge.
Darren is well-placed to lead the MarineSAFE content. Aside from his first-hand experience as a veteran fisherman, he also runs Guard Safety – a Nelson-based business that helps drive safety culture change across New Zealand workplaces.
"The beauty of MarineSAFE is that you'll be emailed a certificate that you can just add to your CV," he says.
"Then you can go from one workplace or vessel to another and you've already got that training pathway with you."
"
Lost at sea is every family's fear because you don't get them back quite often and that's really hard to deal with.
"
- Former fisherman and MarineSAFE founder Darren Guard
Paying the price for a poor decision
After seeing the impact of so much tragic loss on families he knows, Darren is hugely passionate about saving lives and preventing whānau from losing a loved one.
"If I can stop one person making some of the mistakes I made, then it's job done," he says.
"Lost at sea is every family's fear because you don't get them back quite often and that's really hard to deal with."
Darren says his own near miss all those years ago highlights the importance of health and safety training, and making sure you're ready for the sea – whether as a commercial fisherman or a recreational boatie.
"Just ask yourself, 'If I don't come home, what does that mean for my friends and family?'
"Those you leave behind will pay the price of your poor decision for the rest of their lives."
Saving lives this summer
Darren is far from alone in knowing many people who have gotten into trouble in the water.
We experienced our worst drowning year in a decade in 2022, with 94 people losing their lives across the motu.
With over 60 lives lost already this year and Kiwis about to flock to the sea as the weather gets warmer, the need to be aware of water safety is greater than ever.
Projections from Water Safety New Zealand (WSNZ) show we could be about to experience our most devastating year of drowning fatalities this century with a predicted 100 lives to be lost.
"It's imperative for every New Zealander to approach the water with respect," WSNZ chief executive Daniel Gerrard says.
"It's up to each of us to take collective responsibility and make sure our loved ones get home safe."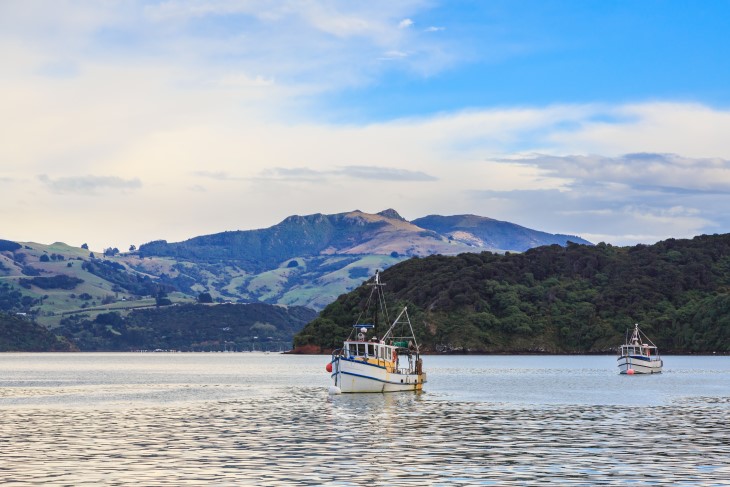 Water Safety Code
Be prepared – Check the weather, your gear and the water conditions
Look after yourself and others – Adults, not children or teenagers, should always supervise little people and children around water
Be aware of the dangers – Check for rips and currents, snags and rocks, and don't consume alcohol before a swim, dive or going fishing
Know your limits – Do you know how to swim? If not, stay out. Remember, you will never be able to swim in the ocean as well as in a pool and cold water will make you tired
Maritime NZ advice for safe boating
Ensure everyone wears a life jacket that fits for the whole trip, even the skipper
Always take two waterproof ways to call for help
Check the marine weather forecast before heading out on the water