This week, rentable e-scooters hit the streets of the capital. What does our injury data say so far? And how can you avoid becoming a statistic?
For the past eight months, headlines about e-scooter injuries have filled newspapers and screens nationwide.
In that time our data on e-scooter claims has overwhelmingly been our most frequent media request.
As they launch this week in the capital city, we take a closer look at the data so far and offer a few tips to promote good e-scooter safety. We also show you how to avoid the most common e-scooter injuries.
E-scooters: The stats
E-scooters have been readily available for private purchase and use. But since the launch of rentable e-scooters in October 2018, public opinion has been polarised. Some love the convenience, while others see them as a menace.
From October 2018 to May 2019, we've received a total of 2,432 injury claims for e-scooter related injuries.
There have been
2,432
e-scooter injury claims between October 2018 and May 2019.
Meanwhile, the total cost for e-scooter related claims to May 2019 is $1,458,133.
The graph below shows claims received for e-scooter related injuries, broken down by week, since their launch. This shows an overall decrease in injuries throughout winter, but injury rates may rise again in spring.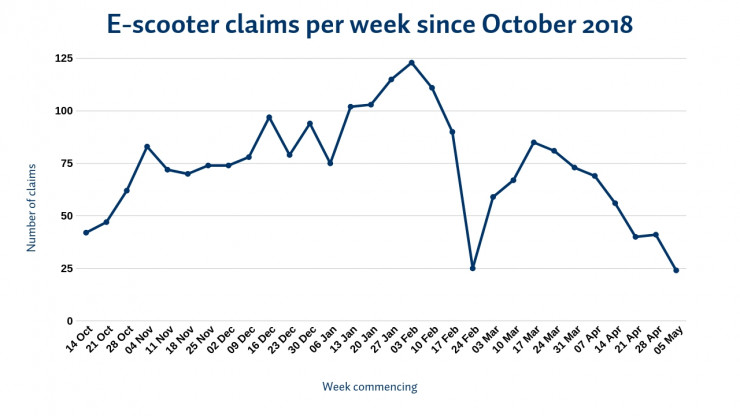 Note this doesn't reflect actual accidents in a week, but when we received the claim.
Not all accidents on e-scooters will result in an injury or a claim made to us.
Top three injuries by body site
The top three injury sites since October for e-scooter claims are:
knee at 332 total claims
hand/wrist at 261 total claims
upper and lower arm at 258 total claims.
Age groups
The age group with the most injuries since October were 20 to 24 year olds with 516 claims. Followed by 25 to 29 year olds with 440 claims.
| | |
| --- | --- |
| Age group | Total claims |
| 0-14 years | 109 |
| 15-19 years | 255 |
| 20-24 years | 516 |
| 25-29 years | 440 |
| 30-34 years | 266 |
| 35-39 years | 191 |
| 40-44 years | 134 |
| 45-49 years | 108 |
| 50-54 years | 131 |
| 55-59 years | 105 |
| 60-64 years | 58 |
| 65+ years | 119 |
Claims by gender
Claims for males and females are a relatively even split. There were 1,226 claims from males and 1,206 claims from females.
What do you think about e-scooters?
E-scooters versus other modes of transport
To put some perspective on the numbers, let's compare e-scooter injuries with other ways of getting around.
Since October 2018 we've had 8,131 claims for the foot-powered version (ie push scooters) nationwide. Note this includes regions where rentable e-scooters have not launched.
Our data shows that injuries from e-scooters have increased since the launch of rental services last year, but remain low in number and cost compared to other micro modes of transport.
In Auckland specifically, since the arrival of rentable e-scooters, we've received an average of 22 e-scooter related claims per week.
Over the same period in Auckland (average per week):
We received
29
push scooter claims.
We received
19
skateboard claims.
We received
73
cyclist claims.
Looking at the big picture, in 2018 alone for all of New Zealand we had 2.3 million active claims at a cost of $3.6 billion. This includes claims for sport and recreation, home and community, work, and road.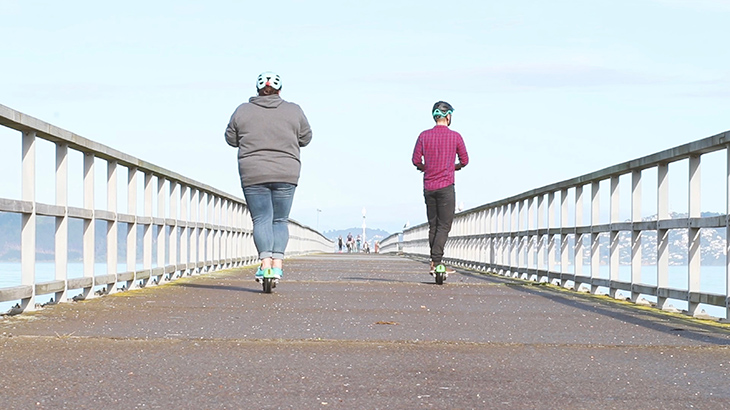 Scooting safely
Rentable e-scooters are new and shiny, and everyone wants to have a go. But when something is unfamiliar, the likelihood of having an accident can increase.
"E-scooters are a convenient way to get from point A to B, and if you keep safety in mind then you'll be more likely to stay T-side up," ACC's Head of Injury Prevention Isaac Carlson says.
"Be a considerate rider by sharing the space, and ensure you're putting your safety first by starting slow, and by wearing a helmet."
To keep your wits about you and ensure you're practicing safe scooting, follow these simple tips:
share the space: respect the people around you by allowing space when passing, and if on the road, follow the road rules
wear a helmet: it should fit nice and snug, and have two fingers of space from your eyebrows. If you do fall off and have a serious knock to the body or head, see a doctor
start off slow: if you've never ridden a scooter before, get a feel for it first and find your balance before you go racing off down the waterfront
have fun: most of all, enjoy being out and about, and trying something new.