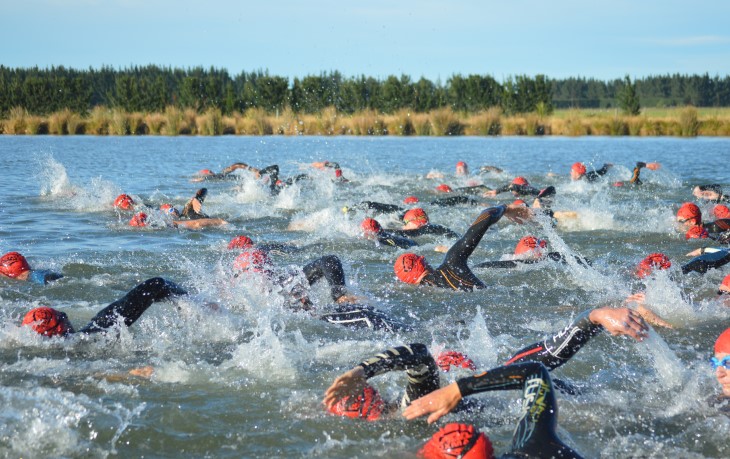 North Canterbury dairy farmer Geoff Spark has held the second annual OxMan on his farm, helping farmers stay on top of the stresses of farming.
First thing on a December Sunday morning dairy farmer Geoff Spark was shoulder deep in his irrigation lake. It's a key part of his wellbeing and he wasn't alone.
More than 400 people competed in the second annual OxMan long-course triathlon, so named because it begins with a 1.9km swim on Geoff's Eyrewell farm.
The North Canterbury farmer didn't break any records, but training for the race has helped the locals stay on top of the stresses of farming. Exercise is the way Geoff 'refills his cup'.
Wellbeing tools crucial for all farmers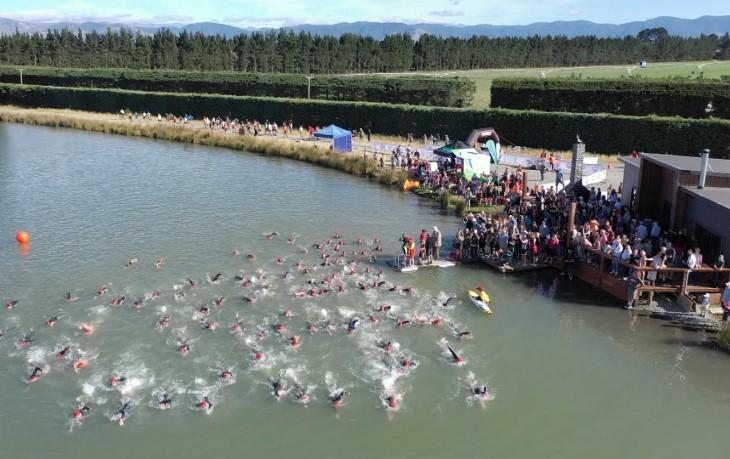 Experts say all farmers need to find ways to keep their lives in balance. A study released this year by rural wellbeing programme Farmstrong found that 60% of injured farmers linked their accident to diminished wellbeing. That includes things like fatigue, isolation and stress.
"If you've got some activity in your life off the farm, you tend to be more positive," Geoff says.
"I believe in live well, farm well. If you get your life in balance, you're in a far better space to cope with all the things we face as farmers."
While most Kiwis were confined to their bubbles during the COVID-19 lockdown, 2020 was pretty much a regular grinding year for farmers. They slogged on as an essential industry, coping with drought, the threat of more regulation, and global market disruptions caused by the pandemic.
The fact that farmers didn't go into lockdown is already registering in ACC workplace injury claims. Overall workplace injuries for all sectors are projected to fall almost 13% in calendar 2020 but in agriculture, they're projected to rise 4%.
Agriculture is one of New Zealand's higher-risk industries with about 13,500 injuries a year and annual claim costs of about $50 million.
"Farmers tend to be good at looking after their animals and their crops but not so good at looking after themselves," says Virginia Burton-Konia, from the Levy and Workplace Safety team at ACC who co-fund Farmstrong.
"We know from the work Farmstrong has done that poor wellbeing plays a big role in an increased risk of injuries so it's great to see these farmers coming together to support each other."
Geoff is a big fan of Farmstrong and some proceeds from this year's race will go to the programme.
During 2019, more than 18,000 farmers and farm workers participated in Farmstrong. Some 20% of those surveyed credited Farmstrong with improvement in their wellbeing and 11% said it helped them to cope with the challenges of farming.
A key to Farmstrong's success has been sharing farmer-to-farmer stories on social media channels and rural media about what works for them.
Getting the Oxmen together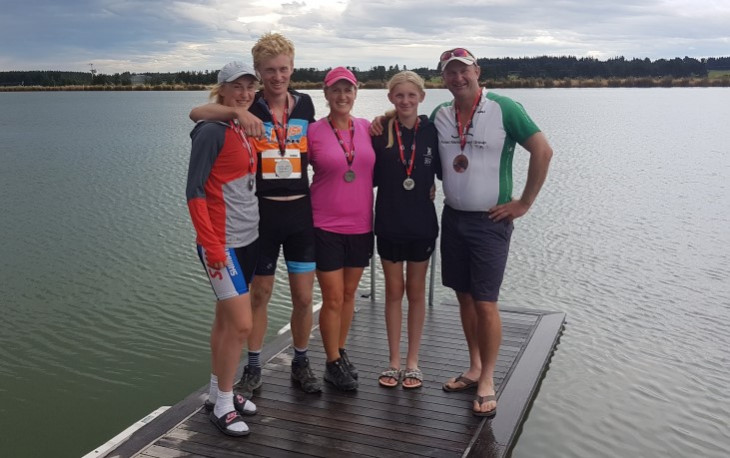 To train for Oxman 2020, Geoff and 10 to 15 of his rural mates went out on their bikes on the roads around Oxford after work on Mondays. Some are very fit, but Geoff says there are also a few 'Clydesdales' like him.
The cycling crew ticks several wellbeing boxes. They're getting fit but they also socialise and have a yarn about all sorts of stuff, Geoff says.
"We face similar pressures. We're all juggling balls in the air and this is creating an opportunity to talk. We all come out of it feeling really good."
The race attracts quite a few farmers and some farms have entered teams this year. "Which is a great thing for staff culture," Geoff says. The race also strengthens family bonds. His son and daughter are also competing.
His strategy this year was to just go out and be part of Oxman and enjoy the race.
"Everybody is pretty keen to get to the end of the year and say goodbye to 2020," he says. "It's a year that's been full of uncertainty and it will be good to put that behind us."