We want Kiwi kids to be active and enjoy sport without getting injured.
We want Kiwi kids to be active. Whether it's through play or organised sport, it's suggested that at least one hour of moderate to vigorous exercise is ideal for our tamariki.
But on the other end of the spectrum is early sports specialisation and overloading. You can read more about that here:
One myth about pro athletes every parent should know
Enjoying sport without getting injured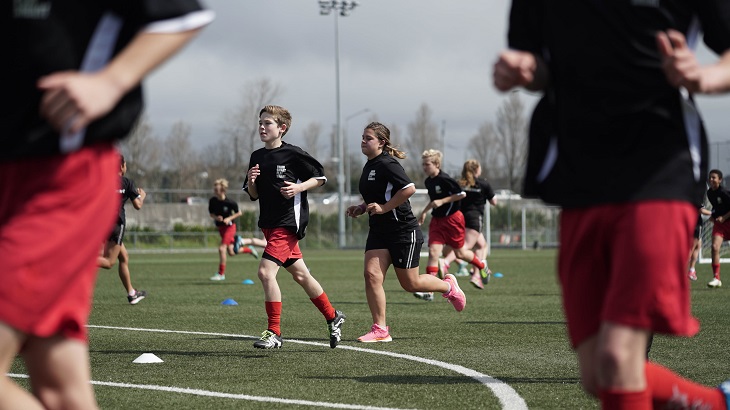 To help kids and teens enjoy sport without getting injured, be sure to encourage fun, variety and free play.
Here are five things to keep in mind:
Do the numbers – the number of hours per week of structured sports training and competition should be less than their age, eg less than 10 hours per week for a 10-year-old
Encourage variety – have them try lots of different sports and playing positions. This helps build transferable skills and keep them engaged and enthusiastic. Avoid training in a single sport for more than eight months per year
Play for enjoyment – are your kids smiling? Take the focus off winning and 'success', and help grow your kids' love of sport and activity
Free play – allow kids time to be just kids and play. They develop many skills by simply playing with their mates, which can also help them in their sport
Allow time for rest, recovery and sleep – sometimes doing nothing is doing something.
Use the Sport and training schedule to calculate the total number of hours of organised sport your child is doing:
A word from the experts
As parents, you want the best for your kids. Here's some advice from our panel of experts on what you can do to encourage your children to play sports in a healthy and balanced way.
Be a sampler – Dr Dan Exeter
Being a sampler means kids are going to develop a healthy relationship with sport long-term. They're less likely to burn out or develop early indicators of things that are detrimental to their mental health.
"Get your kids doing enough, try a wide range of sports, and understand how much is too much. Rest assured, if your kid is exceptionally talented in a sport, choosing lots of sports at an early age may actually enhance their chance of going on to have a successful future in sport."

Have the courage to say no – Nat Hardaker
Parents need to be brave enough to go against the myth that more focus on one sport automatically equals success. They need to have the courage to know that their kids aren't going to miss out.
"Have the courage to say no and keep a cap on structure and training and competition. They're not going to miss out on opportunities. Those will still exist in the future."

Step off the pressure and listen to your kids – Alex Chiet
Ensure physical activity is a regular part of our everyday lives. But for kids that are in sports, parents need to think about the long-term future of what's involved, and what's best for their child in the long run.
Chiet recommends listening to them, asking them questions and making sure they're having fun.
"If kids don't enjoy their sporting activity, they're going to vote with their feet and they're not going to be engaged."

Know what you're praising – Dr Natalie Hogg
As a parent, you need to think about what you're praising – are you praising single-mindedness and dogged determination? Or are you praising balance, and knowing when your body needs a rest and taking a break?
"For parents that think 'I don't put any pressure on my children', think about how you praise them because we know that praise also reinforces behaviour."

Don't over-coach your kids – Ross Kennedy
Support your kids, be proud of them, but don't over-coach them.
"The number one reason for young people dropping out of sport is a lack of enjoyment and pressure. What you can do is help them to become resilient, reliable and consistent. Those traits will help them be successful in sport and life."

It's good for the mind – Roger Federer
Tennis legend Roger Federer credits playing badminton and basketball while growing up to his hand-eye coordination skill. He also played squash, table tennis and football. But his passion was with the racquet.
In a television interview, he reflected on his early years:
"I would tell all the juniors and kids out there, do other sports too, for fun. Go play squash, ride your bike, go play basketball, go ski, or whatever it is until everything becomes a bit more serious. Until you're in the mid-teens, you can really do everything.
"I think it's really good for the mind to play different sports."