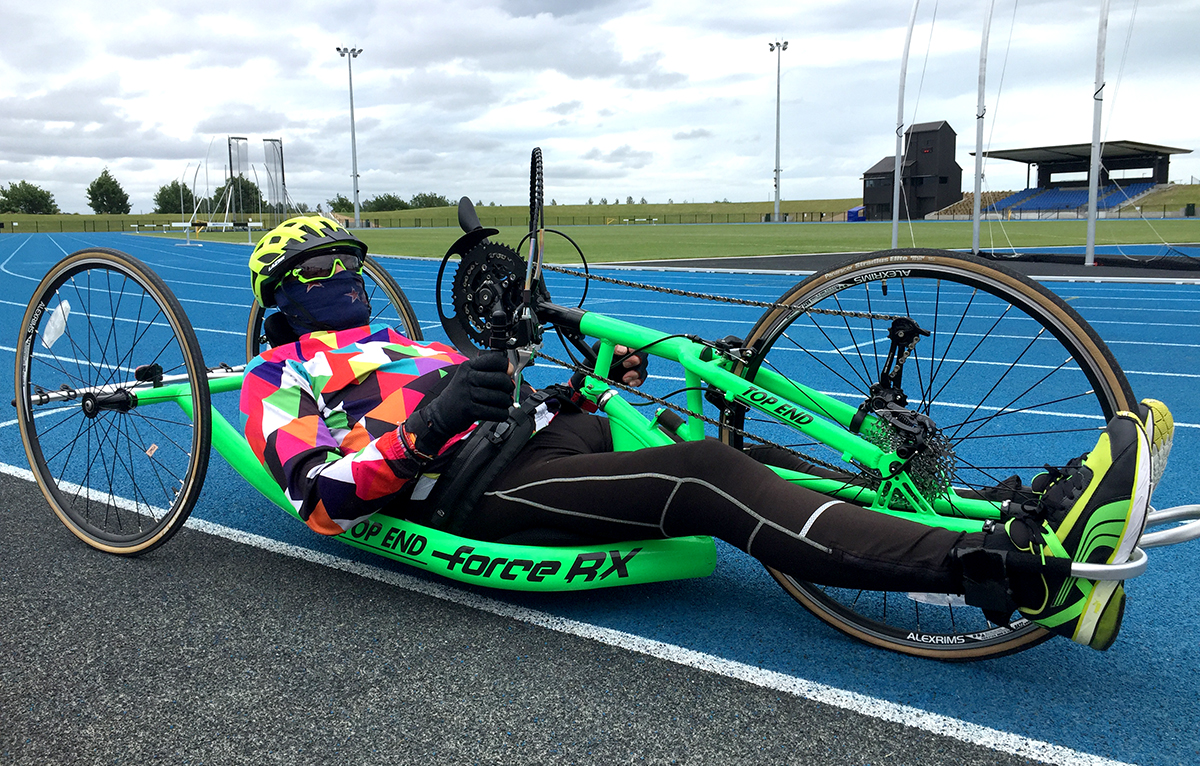 After suffering two life-changing cycling accidents Ian has achieved what once seemed impossible.
There were no tears, just a quiet moment of proud reflection for Ian Walker as he crossed the finish line of the Christchurch Marathon on Sunday.
The 58-year-old local, who sustained a spinal cord impairment in 2006 when his bicycle collided with a truck and trailer, was involved in a second serious accident in 2019 when he was hit by a car during a 40km ride on his hand-cycle.
He was lucky to survive.
Life changed in an instant
Ian can't remember the accident that changed his life.
He was riding his hand-cycle when a 4x4 vehicle looked to overtake him and clipped his back wheel which spun the bike in front of the car's path.
The bike tipped over and Ian was underneath the 4x4 as it pushed him along the road for about 15m.
"I was held under the car because I had two chest straps and I stayed with the bike as it was pushed along the road, which probably saved my life."
The list of his injuries was extensive.
He broke his right ankle, right tibia, left tibia, left femur, both hips in two places, right shoulder, lost eight teeth, shattered the disc between his sixth and seventh cervical vertebrae, he had abrasions over his face and his head, he sustained a traumatic brain injury, and fractured almost all of his ribs.
Paramedics worked for 30 minutes at the scene to stabilise him, giving him a 1% chance of surviving the night.
"
I stayed with the bike as it was pushed along the road, which probably saved my life.
"
- Ian Walker
As a result of Ian's many injuries, the medical team at Christchurch Hospital put him into an induced coma to keep him alive while his partner was in Scotland.
"She was told: 'we don't know if Ian is going to live or die, it is really up to him now'."
The call heard around the world
Ian was in a coma for 13 days with the medical team trying to wake him up, but nothing worked.
In the background Radio Sport was playing and host Jason Pine was talking about Liverpool Football Club.
"Apparently, there was an obvious physical reaction to what was being said on the radio… I clenched my fist and from there I started to wake up."
Seven days after he woke from a coma, Ian, who has supported Liverpool since he was five-years old, called Jason on-air to thank him.
"I can honestly say it was one of the most memorable moments of my 30-year radio career," says Jason who knew Ian through football.
"I think this story is a great reminder of how sport can bind us together in ways we are not aware of."
"
There's not much that can hold Ian back
"
- Joe Evans, Case Manager, ACC

A tower of strength
Ian's recovery from his two serious accidents has been supported by ACC and over the past three years he's formed a good friendship with his Case Manager, Joe Evans.
"He's brilliant, he always gets things done and asks for other ways in which he can help."
Joe says Ian has been an inspiration to many with his resilience.
"Despite suffering significant further injuries, Ian has heroically fought his way back, showing huge commitment to his rehabilitation and goals of regaining his independence and involvement in endurance sports.
There's not much that can hold Ian back."
During his first rehabilitation at Burwood Hospital, Ian read the sign on the wall: 'Never let what you cannot do stop you from doing what you can'.
"That stayed with me and it is my mantra today," he says.
Riding into a bright future
In March, Ian completed a 2km ocean swim at Akaroa and participated in the Unity Ultra - a 78km ultramarathon to commemorate the anniversary of the Mosque shootings - on his handcycle.
After his first accident, ACC provided Ian with a TriRide Raptor - a power assist attachment for his wheelchair to assist with his goal of getting back into football refereeing.
Before his most recent accident, he was provided with a Mercedes Sprinter Van with a hoist rather than having to manually transfer in and out of the car.
"It was a game-changer for me, and it has been a massive change to my quality of life."
Ian says his accidents have opened up opportunities he never imagined would be possible.
"I have completed the New York Marathon twice and have met some amazing people through Achilles. I have been a motivational speaker at schools… you never know what will happen next."
Jason describes Ian as "one of the most resilient people I've ever met, he's faced adversity that most will never understand yet he remains unfailingly positive and optimistic."
Ian has completed an amazing recovery and finished the Christchurch wheelchair marathon (42km) in 2 hours 8 minutes in the fine and cool conditions.
"It was such a beautiful day and it was so great to be part of the race day after what I've been through.
Never looking back
I've been asked a lot about what it's like to face the demons of my accidents on the roads and what that's been like.
Of course, my crashes changed my life, and a big part of my story but it hasn't really been about that for me. I'm focused on looking forward. I can't do anything about what happened but I'm determined to make the most out of any opportunity I get."
Ian's next milestone is the Auckland Marathon in November
"Both of my accidents happened in just a moment and they've changed my life forever. My advice to cyclists would be to treat drivers as if you are invisible, that they haven't seen you and because of that to err on the side of caution."
"And for all drivers, please slow down around cyclists, give them plenty of room and reduce the risk. Take your time to avoid causing someone a serious and possibly life-changing injury."
"It was awesome to cross the finish line on Sunday and just know that I have achieved something pretty special by being there. To share that with my partner was an emotional moment."
Cycling injuries on our roads
ACC had a total of 1529 active claims from cycling injuries that involved a motor vehicle in 2019 which came at a cost of over $5m to help them recover.
From 2010 – 2019 there were 16,557 active claims for cycling injuries which involved a motor vehicle, coming at a cost of over $45m.
Of the 1139 new claims in 2019, soft tissue injuries (63%) were the leading type of injury ahead of laceration, puncture wound, sting (18%) and fractures and dislocations (9.5%).
Auckland had the highest number of cycling injuries which involved a motor vehicle in 2019 with 283 injuries ahead of Canterbury (202), Wellington (143), Waikato (90), Bay of Plenty (88) and Otago (74).