After suffering a sudden crash on his patrol bike, Johnny McGrail knows how important it is for both drivers and riders to be at their best behind the wheel.
Johnny McGrail was ready to clock off for the day when he heard a call on his Police radio.
It was Sunday 19 July 2020 in Wellington City and the Senior Constable was on frontline duties on his Police motorcycle.
"It was a beautiful day and I remember I was looking forward to spending time with my family after work," says Johnny, who is one of New Zealand's longest serving Road Policing motorcycle patrol officers.
"Then a call came through and I thought 'I'll just help with this final job'."
He was riding down Russell Terrace in Newtown when he saw a car flying through the roundabout in a dangerous manner. His first thought was the car was being chased.
Without warning, the driver accelerated and swerved onto the wrong side of the road and straight towards Johnny. The 56-year-old went into survival mode.
"I realised that impact was imminent," he says. "There was nothing I could do to avoid it." He instinctively pushed down on his foot pegs and lifted himself up so he wouldn't get caught behind the handlebars and braced for impact.
"Right before impact I knew it was going to be a terrible outcome. I knew I was going to be seriously hurt or killed. I just thought this is it," he says. "The impact – it hit me like a freight train."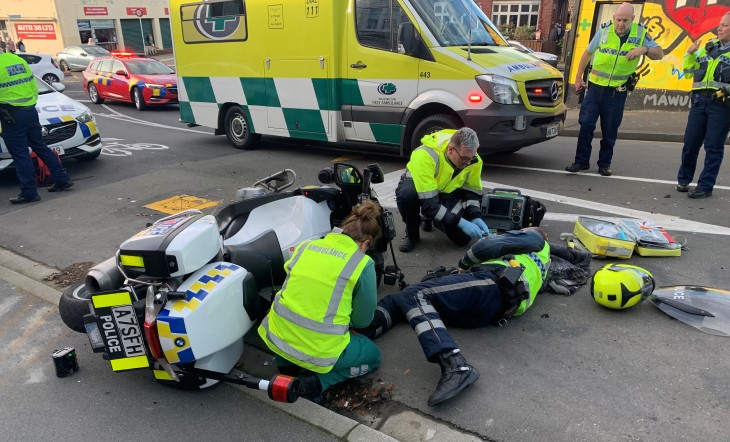 "Unfortunately, I was the main show"
The crash shunted Johnny's patrol bike up the road. He went flying over the handlebars, took out his bike's windscreen and landed in a heap on the road.
He tried to crawl to his motorbike to radio for help. "That's when I realised that my leg was badly broken, it was like a piece of spaghetti," he says.
Johnny needed urgent medical help and he also wanted Police attendance to catch the driver. The fact a Police Officer was involved in a serious crash drew a significant crowd.
People from the neighbouring houses flocked to the site. They were on the footpaths, hanging over fences and out windows, watching the aftermath of the crash.
"Unfortunately, I was the main show. I'd rather have had the privacy, but I was in no position to influence that." When the ambulance arrived, paramedics administered Johnny with a myriad of drugs.
Penthrox and Morphine had no effect on his pain, so they gave him Ketamine. "That shot me into the stratosphere. After that I didn't really know what was going on."
The father of six children believed he was going to die. "I felt it was fait accompli that I was on the way out."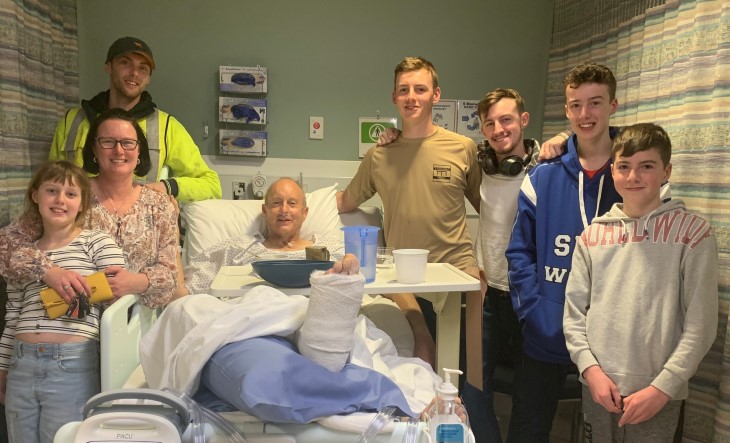 "
I remember feeling so frustrated because there was so much more in life that I still wanted to achieve.
"
- Johnny McGrail
The cost of motorbike injuries
You don't have to tell Johnny about the danger of riding a motorbike. He's seen it all first-hand, attending numerous injury and fatal motorcycle crashes over the years.
ACC accepted 7,637 claims for motorbike injuries in 2020 at a cost of $124m to help them recover. This cost was the highest in the past five years and it's on track to be around the same in 2021.
The Waka Kotahi (NZ Transport Agency) have a Crash Analysis System. It shows between 2015 and 2019 there were 4,255 injuries and 76 fatal motorcycle crashes in urban areas.
Intersection crashes account for 64 percent of urban motorcycle crashes. Of this 64 percent, other vehicle drivers are at fault 82 percent of the time.
"It's a privilege to drive and not a right and that privilege comes with responsibility," says Johnny.
"It's everyone's responsibility to keep everyone safe on our roads."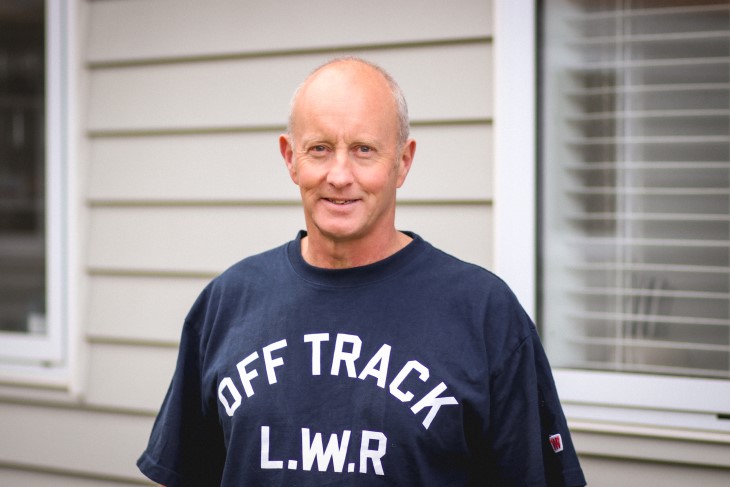 The long road to recovery
Johnny woke up in the Wellington Hospital Emergency Department in excruciating pain.
His right leg was fractured in two places and he had a prolapsed disc at L3 in his lumbar spine, amongst other injuries.
Johnny was in hospital for three weeks. The surgeon operated on his leg where they inserted a titanium rod implant into his right leg and he also had cortisone injected into his spine.
"The only constant thing was the pain," he says. "I was in agony." Johnny was heavily medicated.
"The reality set in that my mobility had been severely compromised and it was going to be a long, hard, painstaking road to try and get myself back to any form of mobility, let alone on frontline Police duties."
At first progress was slow. He started off in a wheelchair, then weeks spent on crutches with his leg in a moonboot. Johnny says ACC and the NZ Police (an accredited employer) were "awesome" in the support they provided.
The list was extensive. It included medical equipment, an exercycle, taxis for medical appointments. He also had and a gym membership and access to a swimming pool. He had a case manager, a Police Welfare Officer, Physiotherapist and an Occupational Therapist working with him.
"ACC also provided home help," he says. "A Health Support Worker helped shower me and helped my wife with domestic chores. It was all crucial to helping me get back onto the frontline and back to normal."
Throughout his rehab, his wife Debbie had to look after their six kids as well as a Police foster dog, while also carrying out fulltime employment.
"Life goes on. My injury and recovery put a huge burden on my wife and family."
Towards the end of his rehabilitation, Johnny started thinking about whether he was going to get back on the Police motorbike.
"
It's not like you've done it once, tick it off, you continually have to work on your motorcycle training so you're at the top of your game.
"
"A lot of people were saying to me 'Surely you're not going to get back on a Police motorbike, you'd be stupid to'. I did a lot of soul searching and discussing it with my wife and my supervisor. But I thought 'Yeah I have just been involved in a life changing event, but I have got to give it another go."
Johnny says there were nerves when he got back on his big Police motorbike but gradually his confidence came back.
It took six months of "painstaking work" to get back in the seat. He is patrolling our Wellington streets again as a frontline motorcycle patrol officer.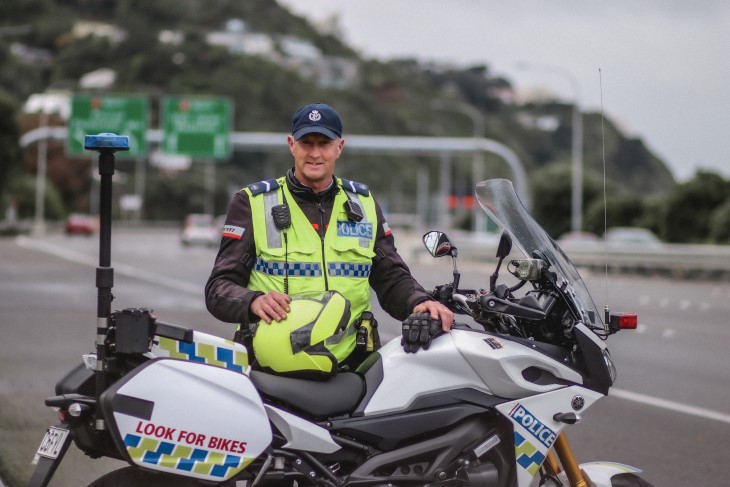 The need for Ride Forever
Johnny says there is no better feeling than being on a motorbike on the open road on a beautiful Wellington day.
But he says to truly enjoy the experience, the rider needs the right skills.
"I'm passionate about motorcycle safety because when you get it wrong the consequences can be dire," he says.
Johnny is an advocate for the Ride Forever injury prevention courses provided by ACC.
Even though he's been riding for 40 years, he completes a Ride Forever course once a year.
"It's not like you've done it once, tick it off," he says. "You continually have to work on your motorcycle training so you're at the top of your game."
Johnny says he's had near miss situations before. On one occasion the only thing that saved him was that he'd recently been practicing emergency braking procedures on a Ride Forever course.
More than 27,000 motorcyclists in New Zealand have completed a Ride Forever course.
ACC data shows riders who complete a course are 27 percent less likely to make a crash-related injury claim.
Johnny l says the need for rider training is greater than ever. The number of New Zealanders buying a motorbike or moped hitting a 10-year high in 2020.
"The most important piece of equipment on a motorbike is the rider themselves. You have to invest in your skills to ensure you ride safely and at the end of the day you get home in one piece."
Find more information on the Ride Forever website.
*The car driver pleaded guilty to Dangerous Driving Causing Injury and was disqualified from driving for 12 months.