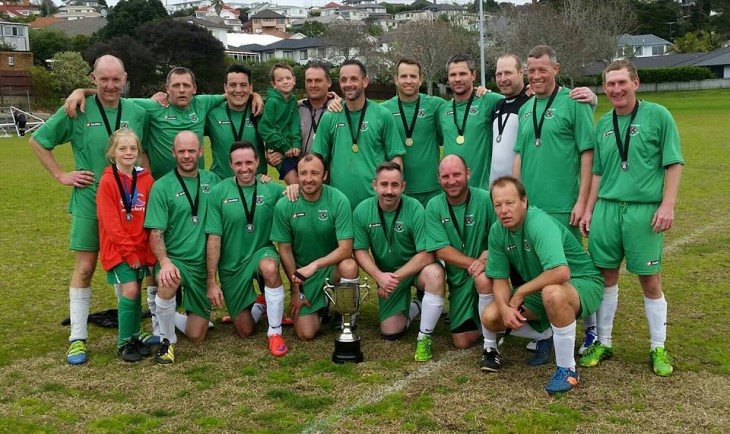 After trying to manage and cope with an injury by himself, Kenny Halliday discusses how important looking after your body on the pitch really is.
Kenny Halliday is lying on his couch, his right foot in a moonboot and he knows it's time to hang up his football boots.
The 47-year-old, who has a degree in coaching and is a qualified personal trainer, ruptured the ligaments in his ankle and damaged his calf muscle in a football tackle last season.
"Sometimes you've got to listen to the advice you give to everyone else," he says with a laugh.
Kenny can reflect on a remarkable amateur club football career.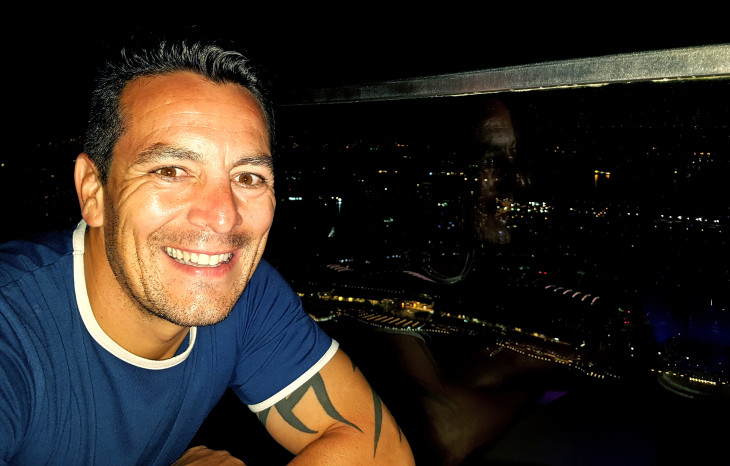 Every year for the past 42 years, the British-born Kiwi has played either club rugby or club football until last season.
"I can't remember the last year I've had off footy or rugby, it's been a good run, way back to when I was five years old. I have lots of great memories with the lads to look back on."
Kenny went from playing for Premier first teams to playing for more social sides against guys his own age group when he was in his 30s and 40s.
"I just love to compete," he says. "I love winning and I hate losing. That is what kept me playing for so long. I loved competing at a higher level when I was younger and there's nothing better than sitting around with the boys after the game with a beer and talking about how good we were or weren't."
"
In hindsight I should've sorted it out sooner. Over the years I've had quite a few niggles that I managed to walk off.
"
- Kenny Halliday
"An almighty crunch"
Kenny's football exerts came to an end at the start of last year. He was playing summer social football when he suffered a serious injury.
"This guy was running down the wing and I went across to tackle him," he remembers.
"We both went to kick the ball at the same time. The ball compressed. I flew forwards over the ball. He went the other way. Both of us went flying into the air with our legs going everywhere."
Kenny felt an almighty crunch in his ankle and he hobbled to the side-line.
"I sat down and just watched my ankle swell up like a balloon. I was in a lot of pain."
He managed the pain in his ankle in his lower leg for around a year, while he was on a regular diet on anti-inflammatory pills and pain killers.
"In hindsight I should've sorted it out sooner. Over the years I've had quite a few niggles that I managed to walk off.
"It didn't come right and I just put up with the pain, but it started getting worse. It was affecting my work life and my time with the family… I finally had enough and went for scans."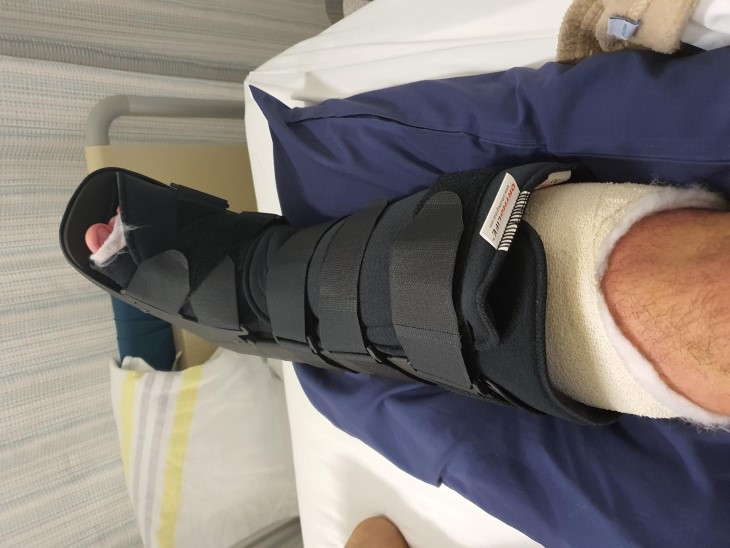 The road to recovery
Kenny was booked in for reparative surgery which fixed the torn ligaments and removed chipped bones and three spurs in his calf before his rehab began.
"I had really damaged my leg and I didn't realise," he says.
Kenny has been in moonboot for the past two weeks as he recovers from his operation and is building up to weight-bearing and walking.
ACC has played a leading role in Kenny's recovery and rehabilitation.
"I love the fact we have ACC here in New Zealand and everyone who is injured in this country is covered," he says. "It's an incredible scheme and ACC have played a huge role for me in my recovery from this injury and also keeping me playing for so long. I'm so grateful for that support."
Kenny has been a regular at his local physiotherapist who is now working with him to advance out of his moonboot full time and get back active again.
"
I'm making progress but it has been quite a process. I know I need to take my time to get it right.
"
- Kenny Halliday
Warming up properly to last the season
Kenny says another key reason why he's been able to play for so long is his dedication to the warm-up.
He and a handful of his team-mates are big advocates of the FIFA 11+ warm-up which helps prepare players for the demands of the game and builds strength over time.
"We've always had a small group of guys who were focused on staying fit and warming up properly. We would do the FIFA 11+ warm up every time we played and it was brilliant. You notice the difference, especially when you get older."
"The guys who took the warm-up more seriously were the ones who weren't injured and lasted the season. It really helped our performance as well."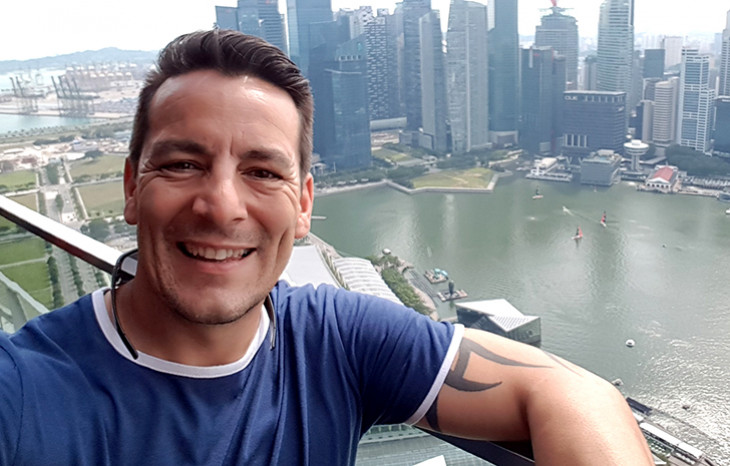 He recommends anyone at the start of their club football or rugby career to complete a dynamic warm-up and look after their bodies.
ACC Injury Prevention Partner Nat Hardaker says Kenny's consistent approach to physical preparation will definitely have contributed to the length of his career.
"Sport is so beneficial for hauora (physical, mental, social and spiritual health) and wellbeing," she says.
"Rugby and football clubs are an integral part of many people's lives. Someone like Kenny has spent a lifetime enjoying all the good aspects of competing in sport. He's been able to do that by consistently looking after his body."


Finding the next challenge
Kenny knows when Saturday morning rolls around, it will be hard to break the habit of a lifetime.
"Don't get me wrong," he says. "I'd love to play football again but the fact that I have done both ankles now and there has been quite a big cost to my injuries, it is time to find a new challenge."
Kenny has found that new challenge in CrossFit. Every morning at 6am he is there with a group of mates for an hour work out. He can't wait to get back.
"I love it," he says. "CrossFit for me is all about the social side. There is nothing like that feeling of catching up with some mates and getting stuck into a session together, coming out dripping with sweat. As soon I as I feel up to it, I will be back into the training."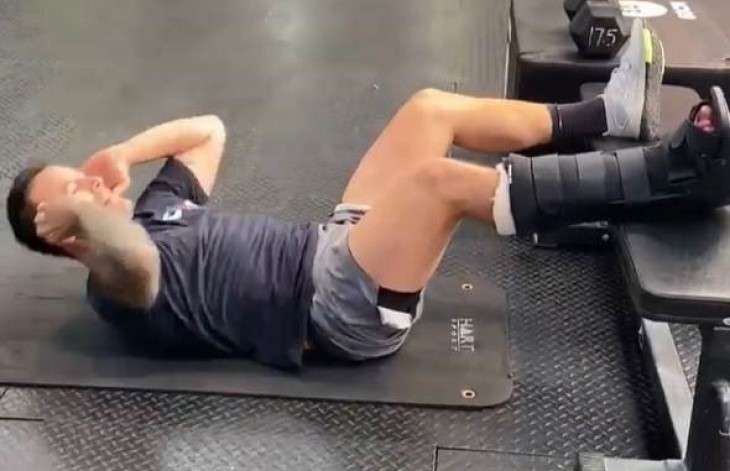 FIFA 11+ Warm-up Fact Box
The FIFA 11+ warm up is a strength and conditioning programme split into three parts of 15 exercises. The 11+ can be used in full (parts 1, 2, and 3) to start each training session, and on game day pre-match complete parts 1 and 3.
The full 11+ should take around 15-20 mins. It prepares the player and their bodies to undertake training and the rigours of the game.
For more on FIFA 11+ visit: www.fit4football.co.nz