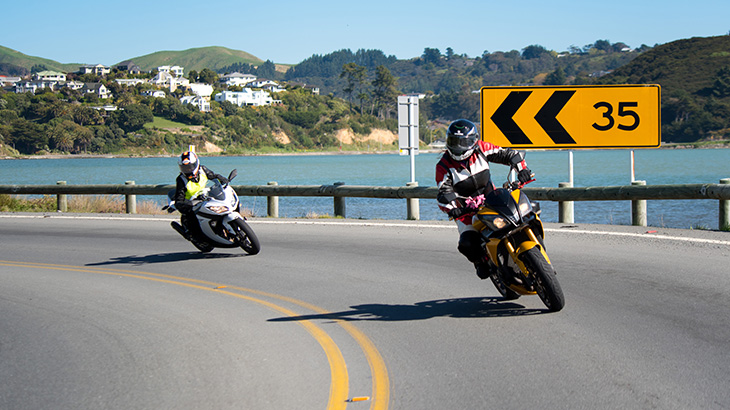 After several weeks off the road, Peter Daly has found his skills back on his motorbike aren't flash.
There was a huge drop in injury claims involving cars and motorcycles during Level 4 of the lockdown. As the roads emptied, claims from car crashes fell by 80% and for motorcycles by 76%.
You don't need to be a pessimist to predict much of that drop in accidents will reverse when New Zealand moves to Level 2 and we emerge from our bubbles and get back on the road.
I was a professional motorcyclist for 13 years, first as a Ministry of Transport patrol rider and then for the Police. Motorcycling has been in my blood for almost 40 years and from my own experience, I know that when I haven't been on a ride for a while, my skills get rusty.
This week many New Zealanders will find themselves in that position – back on busy roads in their cars and motorbikes for the first time in six weeks. ACC claims data tells us to expect more injuries. We see a spike in motorcycle accidents at the end of winter every year as warmer weather lures people back onto the roads.
It's worth reminding ourselves to take extra care because we can all actually make a difference by driving and riding more safely. We all have a role to play in keeping our roads safe as we emerge from our bubbles.
When I was on police patrol, we had to recertify every year as part of staying on the bikes. That's because motorcycling is a decaying skill. You have to use it or lose it. Anyone who hadn't been on the bikes for a while (sickness, secondment, posting etc) struggled to get back up to the high level expected of a patrol motorcyclist without spending a few days getting back into the groove.
On Wednesday last week, under Level 3, I rode my R1200RT for the first time in a while, to get its regular 30,000km service.
It was great to be back on the bike for the 20-minute ride to the workshop but I was acutely aware that my riding wasn't flash. I had less situational awareness and my reactions were just not as sharp as I expect of myself. I had lost the edge.
It'll come back. It just takes time on the bike to get my edge back - the edge that means I avoid making the simple errors that lead to close calls, or worse.
We're going to be out sharing the roads with people who haven't been driving for a while. Will they check their blind spots and look twice for bikes? Will they indicate when changing lanes?
That's why this is a timely reminder. New Zealand's road toll was 353 last year. We can always do better.
For riders who feel rusty, there's always an opportunity to brush up your skills on an ACC-funded Ride Forever course.
It's time to get back out on the roads again, but it's also time to think about how to look after ourselves and those we share the roads with.
Peter Daly works at ACC as an Injury Prevention Partner in the Roads team.