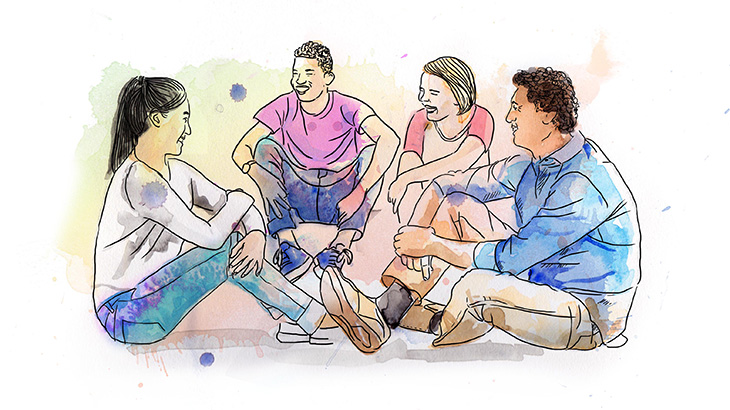 Youth, Sexual violence
Mates & Dates expanding nationwide
Kei te whārikihia te kaupapa o Ngā Hoa me ngā Piringa huri noa i te motu
2 minute read
The relationship skills programme for high schoolers is expanding nationwide with providers being named.
Our healthy relationship programme Mates & Dates is expanding nationwide.
An additional investment of $18.4 million till 2020 was announced last year, allowing the programme to be extended nationally.
"The programme is about helping young people think about and experience safe, healthy and respectful relationships. Our schools – with the support of families and communities – offer the best opportunity as a point of influence and prevention," says Becca Barrow, Mates & Dates project manager at ACC.
An extensive two-stage tender process was carried out between August and December 2018, and we're now able to announce the providers for each region.
Eighteen providers – eight existing and 10 new – were selected to deliver Mates & Dates across New Zealand for 2019 and 2020.
The successful facilitators are below:
| | |
| --- | --- |
| Provider | Location/s |
| Birthright Hawke's Bay Child & Family Care | Hawke's Bay |
| CAPS Hauraki Inc | Thames, Coromandel, Waikato |
| Challenge 2000 | Wellington |
| Changeability Inc | Wairarapa |
| Empowerment Trust | Canterbury, Nelson, Auckland |
| Far North Safer Communities | Northland |
| Korowai Tumanako | Northland |
| Living Waters - Waiora Ltd | Gisborne, Wairoa |
| Nest Consulting | Auckland |
| Rape Prevention Education | Auckland |
| Rotorua Youth Centre and Rotovegas Youth Health | Bay of Plenty |
| SASH | Nelson, Marlborough, Tasman |
| Sexual Abuse Prevention Network / Wellstop | Wellington, Hawke's Bay, Manawatu-Whanganui, Gisborne, Taranaki |
| SOS Kaipara | Northland |
| YMCA Invercargill | Southland |
| YMCA South and Mid Canterbury Inc | Canterbury, Otago |
| Youthline Auckland Charitable Trust | Auckland |
| Youthline CNI | Manawatu-Whanganui |
We're still looking for a great provider for parts of the South Island – specifically for Dunedin and the West Coast. Once in place, this will mean Mates & Dates is available in every region in New Zealand and provide young people across the country with the opportunity to explore, discuss and appreciate respectful relationships.
Helping prevent sexual and dating violence
In New Zealand, data shows sexual violence rates are highest among people in their late teens and early 20s.
In 2018, 43% of sexual harm or sensitive claims were made by people under 24 years old.
The Mates & Dates programme was first trialed in 2014 and has since been delivered in over 165 secondary schools, teen parent units, alternative education settings and Kura Kaupapa to more than 51,000 pupils in years 9 to 13.
Mates & Dates teaches young adults about healthy relationships and is fully funded by ACC.
Find out more about the Mates & Dates programme
An innovative approach
Mates & Dates is a multi-year programme, is well researched, and has safe and positive impacts for young people.
Specialist facilitators – two per class, one male and one female – facilitate 50-minute sessions each week over five weeks. They work with principals and teachers to find the best time to deliver the programme for the school. Classes have been designed to both increase knowledge and awareness of sexual and dating violence and to help to positively change attitudes and behaviours.
Young people are taught how to have relationships based on respect, negotiation and consent. It also supports students on how to get help if they are in an unhealthy relationship, and how and when to safely intervene if they see others in potentially unsafe situations.
Go to the Mates & Dates website for more information.