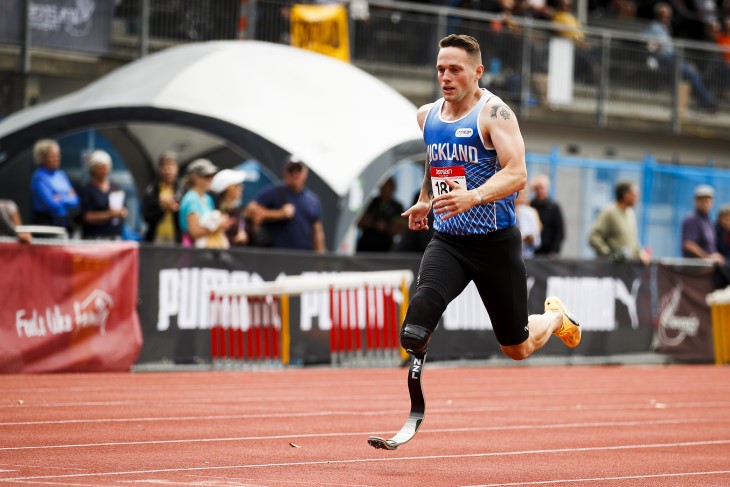 Ten years ago, Mitch Joynt's life changed in a moment. He has overcome incredible adversity and set his sights on representing New Zealand at the 2024 Paralympics.
Mitch Joynt is lying on the side of the road with his right leg crushed and severed. He knew instantly that his life would never be the same again.
The then 18-year-old was working as an arborist in Mangawhai when he suffered an excruciating injury.
The date was Monday 16 December 2013 and Joynt was on the final job for the day – raking up pieces of wood and chucking them in the woodchipper.
He threw a piece, and it bounced off the machine. Instinctively, he kicked it back in, something, he says, arborists do a thousand times a year.
But Joynt was on a gravel road and as he kicked the wood, he slid as if he was standing on marbles.
The barrels with teeth on the side of the woodchipper grabbed Joynt by his pant leg and pulled him into the machine.
"It was terrifying," says the 28-year-old, remembering the moment when his life flashed before his eyes.
A colleague was nearby and rushed over to shut the machine off.
"I was lucky that he was there to help, otherwise there was no stopping the machine. It would have ripped through my whole body."
It was fortunate that they were there, but also unfortunate as they weren't trained. A qualified arborist would have reversed the machine, rather than stop it.
Joynt hung from the machine with his leg ripped and smashed for two minutes while his colleague went for help.
The pain was unbearable.
"I wouldn't recommend it," the truck driver says in his dry manner. "You'd like to think that in those situations, your body kicks in and you don't really feel it, but it didn't really do that. I felt all of that."
Joynt looked down and knew his leg was gone. There was a lot of blood, and he was trying not to pass out.
"I don't think it ever crossed my mind that I wouldn't make it, but I knew it was a real possibility."
A helicopter was sent but then diverted due to a car crash, so Joynt lay on the side of the road for two hours. As he came in and out of consciousness, he was accepting his new reality.
"I was doing the math being like 'how's this injury going to limit me?' Like 'what can't I do, because I loved being an arborist' and that was one of my first questions was like, 'can I climb a tree again'?
"I accepted it pretty quickly. It was hard to deny because I'd seen that I didn't have a foot."
Starting again
Joynt was flown to Whangārei Hospital for emergency surgery. He stayed there for eight days and was highly motivated to get home for Christmas.
Dosed up on morphine, the surgeon gave him the options about his leg, with his foot just hanging on.
Joynt was told he could get a prosthetic foot, but it would be a lot harder rehab and he would never walk the same again.
Or he could amputate his leg halfway up and because they had a lot of his tibia and fibula to work with, they could make it the perfect length.
"I was relaxed about the whole situation. So as soon as they gave me those two options I was like, 'You're the surgeon. Just, cut it off'."
Joynt was a sports-mad teenager. He played rugby and was a talented flanker and idolised All Blacks first five eighth Dan Carter.
"That's the only thing that I never got back was rugby – and that's because it's sort of unsafe for everyone else tackling a titanium leg."
But he focused on what he could control.
Joynt was in a wheelchair and on crutches for eight weeks before he was fitted with his prosthetic leg. He fully committed himself to his rehab.
"I'm not a fan of relying on others so that was the hardest part of my rehab. I had to learn how to walk again. There have been a lot of challenges to overcome to get to where I am today."
Joynt says ACC played a leading role in every step of his recovery.
"ACC is pretty awesome," he says. "We're pretty privileged in this country to get that support."
ACC has supported Joynt with a wheelchair, artificial limbs, treatment and medication costs, travel, a vehicle, transport for an independence assessment, housing modifications, vocational rehab, and weekly compensation.
"I don't think anything has ever been an issue," he says.
"I've got multiple running blades. I've got day legs, I've got a snowboard leg. I get whatever I need so I have nothing but positive things to say about ACC."
Finding a new passion
Joynt wanted to get back into sport as soon as he could.
He was introduced to the world of Para sport by a coach, Hamish Meacheam, who spotted him doing the Auckland Marathon in 2017.
Joynt did his first half marathon in training on his daily prosthetic leg.
"I told my prosthesis, and she was furious because they're not designed for that. And the stump is not designed for that either, so that's how I've got my first running blade. And then I ran the marathon on that."
When Meacheam first saw Joynt, he was sceptical about his potential as an athlete.
"He did not look particularly athletic, and if I'm being honest, I thought the idea of doing a marathon was bonkers," he says with a laugh.
"I soon learnt that Mitch is one of those rare people who do exactly what they say they will do. Since getting into the sport, I can hand on heart say Mitch is the most dedicated and committed athlete I have ever met."
Joynt tried javelin, long jump, sprinting, rowing and even para snowboarding, eventually becoming a sprinter.
Meacheam and Joynt would become good mates. Meacheam, who is now the Community Manager at Athletics New Zealand, became his fulltime coach and they have enjoyed incredible success.
Joynt set the national record for the men's 200m T64 at the 2019 World Para Athletics Championship in Dubai, where he finished eighth. Joynt was ranked seventh in the world leading into the Tokyo Paralympics, but he wasn't selected.
"Not making Tokyo was probably one of the hardest two-month periods I have ever been through, and that includes learning to walk," he says.
"Mentally, it was draining because after all the hard work and results I felt like I deserved to go to Tokyo."
Meacheam adds: "I've been incredibly impressed with Mitch's resilience. He has come back better than ever."
Dreaming of that moment
Four years on, he is trying to qualify for Paris.
Anytime he dons the famous black singlet, Joynt says it's an honour and privilege.
He has let himself indulge that his Paralympics dream is within reach. He thinks about that moment of lining up in front of the world.
"You think of medals or records as the rewards, but they give out numbers now for Paralympians, and I think that would be the best reward I could ever get," he says.
"If I end up being a Paralympian for New Zealand, there's not many things I've wanted more than that. It's something I'd cherish for the rest of my life."
Meacheam says Joynt will only get better with time.
"Mitch is 28, but he's only into his fifth season in the sport – and amputees are typically at their best after over 10 or more years of learning to work their blade. So, we are confident we can get into the medals at future Paralympics."
Joynt says after his injury he never dreamed of competing on the world stage.
"I was never the most naturally gifted at most sports. I'm just willing to work harder than most people. I am proud of how far I have come."
He has simple advice for anyone who has suffered a life-changing injury.
"You have to make progress every day," he says. "There are going to be hard days, but you need to make sure you never give up.
"It's also good to get some perspective. I mean, my disability is so obvious and it's so visible, people often think it's like the worst thing that could've happened, but it doesn't really change anything. You can still live a great life."
ACC and Paralympics New Zealand
We're proud to be a community partner of Paralympics New Zealand.
We believe participation in Para sport has a positive impact on wellbeing and rehabilitation.
Our aim is to motivate and inspire people to lead active lives, through positive role models and opportunities to try Para sport – at any level.
There are several regional disability sport and recreation organisations around New Zealand, which are called Parafeds. Some national sports organisations also offer Para sport.
More information and a full list of Parafeds and other Para sport providers is available on the Paralympics New Zealand website.