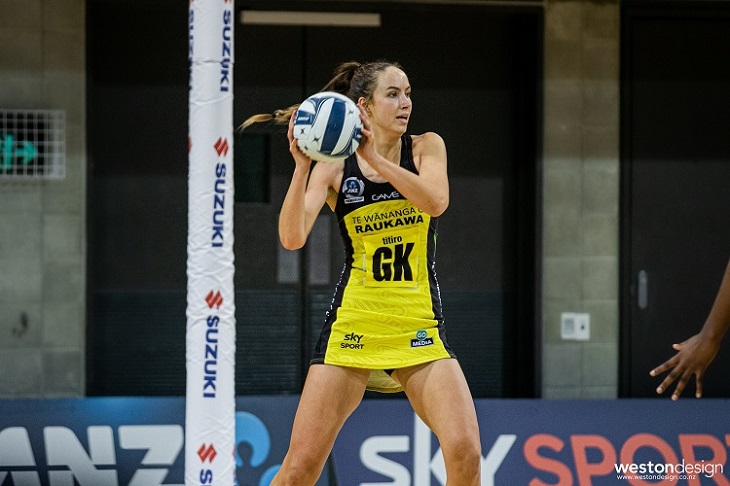 Latest, Sport
Netballer bounces back from double dislocation
2 minute read
Kelly Jury's netball career took a hit when she was injured. Now fully recovered she doesn't want the same injury happening to anyone.
Kelly Jury is sitting in her doctor's examination room and staring into space. She's in total disbelief.
The 24-year-old Silver Fern, who had spent eight months recovering from a painful shoulder dislocation and reparative surgery, has just been told she needs to go back under the knife.
Kelly completed her rehabilitation perfectly but on her first game back for the Waikato Bay of Plenty Magic her shoulder dislocated again. The defender underwent scans which showed that the labrum that had been repaired had completely torn again.
Shocked and heartbroken
From that point on all of her doctor's words blurred into white noise and she sat there in shock, heartbroken. It was back to the beginning.
"That was the lowest point of my career," she says.
"I was totally gutted. I felt I'd done everything in my power to get back to full fitness. I remember sitting there in the doctor's office saying, 'What did I do wrong? What happened?'"
The type of surgery hadn't worked and the next attempt, which was more invasive, has fixed the problem. Kelly's mind went straight to another rehab and the battle on and off the court.
"Just simple things like not being able to write, I couldn't tie my own hair up, I couldn't wash my hair properly or tie my shoelaces, it was a battle," she says with a laugh.
"But the hardest thing for me was watching netball and seeing what you're missing out on. That was tough but I guess it gave me something to look forward to and work towards."
Kelly's netball career
Injuries and overcoming adversity have been part of Kelly's rollercoaster career. Her upbringing - growing up on a farm in Taranaki - has helped her resilience.
One day after Kelly received her first contract with the Waikato – Bay of Plenty Magic in 2014 (as a teenager, straight out of school), she ruptured her Achilles tendon.
She spent her first year as a professional netballer with the Magic on crutches, rehabbing and recovering.
"I have learned a lot about patience," she says. "You can't really rush an injury like that and come back too soon. All I remember from that time is doing lots and lots of calf raises. And to be fair I am still having to do them now. My calves have never been my strong point," she laughs.
Fast forward the clock two years and the picture is much rosier. Kelly has completed an injury-free season for the Central Pulse and was at the heart of their defence as they managed to secure back-to-back titles in the ANZ Premiership.
She also played a leading role in the Silver Ferns' best performance in the final test of the clean sweep over England in Hamilton.
"We ended the series on a really positive note," says Kelly, who has played 24 tests.
"It was really nice to get back out on court together. Because I've spent a couple of years away from the squad with injury, my first game back for the Ferns two weeks ago felt like my debut all over again."
Preventing injuries like Kelly's
Kelly doesn't want other netballers to go through the pain and heartache she has endured.
She's thrilled to see a $3.6m investment by ACC into the NetballSmart injury prevention programme over the next three years.
Netball continues to be the biggest contributor to female sport-related injuries in New Zealand, with an excess of 25,000 ACC claims, which came at a cost of $30m in 2019.
Kelly says the aim of NetballSmart is to educate players on proper technique, create better habits and ultimately decrease the number of injuries we see in the sport.
"So even if we can prevent one person from having a serious injury, we're doing our job. It's a really cool partnership with ACC and NZ Netball, and it makes a massive difference to our game."
Kelly points out that staying injury free is a big part of performance and the Central Pulse is a good example.
"This year we had no major injuries which was a big part of our success. Injuries are part of the sport and sometimes they're out of your control, but the more your team can stay injury-free, the better they'll perform."
Kelly says she has no issues with her shoulder. She doesn't even think about it anymore, but she hasn't forgotten what she has been through.
"I've got a massive scar on my shoulder to remind me of it every day," she laughs.
Kelly says the hard times and her recovery have reframed her perspective.
"After being in the environment and then feeling like it was suddenly ripped away from me, and now being back in the mix, I definitely have a much bigger appreciation for being a Silver Fern.
"Just because I had to work so hard to get back in and there is lots of competition now. I don't take a single day in the Silver Ferns squad for granted."