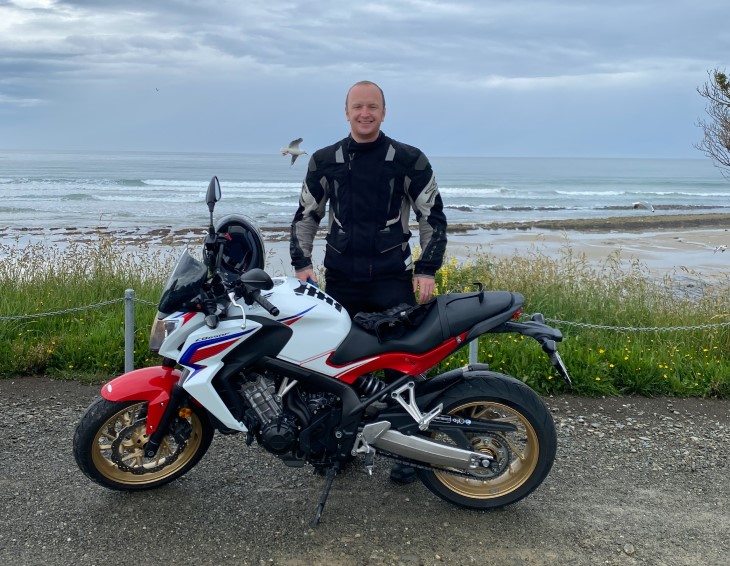 It's not easy for Nick Grant to go back to a place of personal trauma. But he wants to share his story of tragedy on the road to help others.
When treating a patient who has been seriously injured, nurse and ambulance officer Nick Grant now has a first-hand understanding of their pain.
The 25-year-old has experienced both sides of road trauma. It's been just over a year since his best mate Sean Dickey was hit and killed when riding their motorbikes together in Christchurch.
"If there's a silver lining to this tragedy, it's that I can use it to better empathise when delivering care to patients – I can put myself in their shoes," he says.
Nick will never forget that fateful day in April last year. He's thought about his friend and colleague every day since.
"It was an awful moment but it didn't hit me until we left the scene," he says.
"I started to come to terms with what had happened. The grief just hit me. It was overwhelming and heart-breaking."
Since that day, Nick has been on his own recovery journey both physically and mentally.
Losing a life in an instant
Nick and Sean, 22, had just finished a shift as ambulance officers at Christchurch Hospital. They went out for a ride to Halswell for dinner.
They were travelling at an appropriate speed in the 80kmph zone when a car pulled out from a T-intersection in front of them.
The police report from the incident said Sean had less than a second to react, while Nick had just over a second between the car pulling out and colliding with their motorbikes.
For Nick, it's a blur he's replayed in his mind a million times.
"I blacked out a little bit – I don't remember flying through the air. I just remember coming to on the road," he says.
His work experience soon kicked in. He's operated in plenty of traumatic situations and quickly assessed what had happened, as well as his own injuries.
He broke his femur in half, fractured his ankle on his left leg and suffered a concussion – but the worst was still to come.
"I knew from what I'd seen that Sean was in a bad way. That was devastating."
His friend died at the scene of the crash. Ironically, Nick was taken by ambulance to Christchurch Hospital. Sitting on the hospital bed, all the emotions finally hit him.
Finding a way through the grief
With his leg and foot injuries, Nick was off work for almost six months and it was a challenging period.
We supported him in every step of his recovery and provided weekly compensation. He also had help in winning the mental battle and trying to get back to everyday life.
He felt fortunate that ACC supported his return-to-work programme through the Laura Fergusson Trust, which provides opportunities for people with disabilities to pursue a supported and independent lifestyle.
In Nick's case, that consisted of physiotherapy and psychological support.
"It's probably the most amount of grief I've ever experienced. Trying to navigate that was hard."
Nick also had good support from his employers, Te Whatu Ora and Hato Hone St John, as he prepared to go back into potentially triggering situations.
"Trauma is a frequent event in my line of work, so I had to prepare for that," he says.
"When I'm in the ambulance and I get sent out to a car crash, it's now always at the forefront of my mind. It will always be a soft spot for me."
"
It's probably the most amount of grief I've ever experienced. Trying to navigate that was hard.
"
- Motorbike rider Nick Grant on the passing of his friend
Learning how to ride safely
Nick had been riding a motorbike for 18 months while Sean started three months before the crash.
Sean was a keen advocate for motorcycle safety and had completed his Ride Forever bronze course.
Ride Forever is an ACC initiative aimed at improving rider skill through training and resources.
Nick was booked in to do a Ride Forever course, but his bike was written off in the crash. He says the safety gear he wore in the collision saved his life.
He's looking forward to getting back on his bike and says he'll be well-prepared.
"There's nothing like it," he says.
"It's an amazing feeling but you need to have the skills to earn that right of riding safely."
The positive impact of Ride Forever
Since 2013, we've delivered nearly 53,000 Ride Forever courses and trained over 34,000 riders.
Riders who have completed a Ride Forever course are up to 50 per cent less likely to lodge a motorcycle-related accident claim than non-trained riders.
Motorcyclists make up just four per cent of the total motor vehicles on the road but made up 20 per cent of the cost of road crashes last year. We accepted more than 7,000 active claims for motorcyclists with a total cost of $117 million.
One reason for this is due to the lack of protection motorcyclists have compared to other vehicles, making riders 21 times more likely to be killed or severely injured in a crash.
From 2016 to 2020 there were 2,758 crashes involving a motorcycle or moped at urban intersections, Waka Kotahi (NZ Transport Agency) data shows.
Of those, 538 involved serious injury and there were 38 fatalities.
Drivers are at fault in 90 per cent of crashes between cars and motorbikes at urban intersections, Ministry of Transport figures show.
Spring brings Motorcycle Awareness Month
Spring is an important time of year for the motorcycling community. Many riders de-register their bikes over the winter months and store them away – but they come out again as the weather gets warmer.
That's why September is Motorcycle Awareness Month – a joint initiative run by ACC and the Motorcycle Safety Awareness Council (MSAC) to celebrate the start of the motorbike-riding season and encourage riders to get ride ready.
"All of a sudden, from a car driver's perspective bikes are everywhere, they seem to be coming from all directions, at speed and it can be quite daunting," says Dave Keilty, ACC Injury Prevention Leader.
"We've got to be more aware of the dangers at intersections – all of us. Look again for motorcyclists, not just the gap. Be aware of your blind spots."
Wise words for staying safe
Nick offers two pieces of advice to motorbike riders.
"First, you have to wear the right protective gear every time you ride. There should be no time you're hopping on a motorbike or moped without full protective gear, which includes a full-face helmet," he says.
"Time and time again we see people with devastating facial and head injuries from not wearing a helmet, or an open face which doesn't protect you as well. Invest in yourself and buy good gear.
"Second, you also need to invest in your training and strive to be the best rider you can be. Ride Forever is a great programme and the skills you learn could be the difference between life and death."
More information
For more information on Ride Forever and Motorcycle Awareness Month, visit the Ride Forever website.