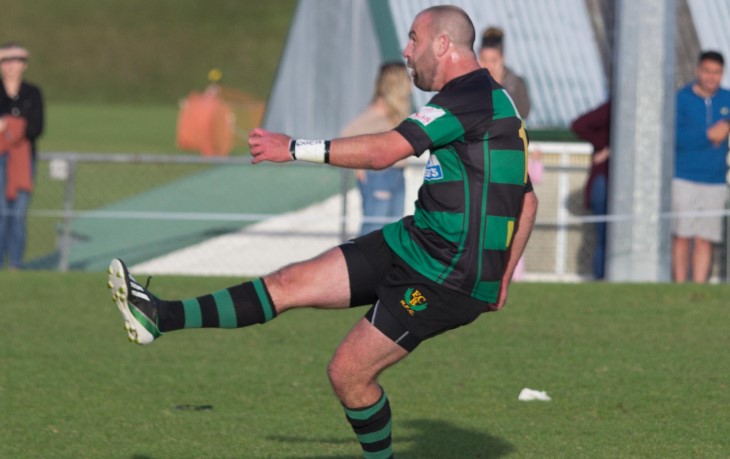 A serious rugby injury left one player in a world of pain, but through careful rehabilitation, he went on to play over 200 premier games for his club.
Rhys Bennett looks up at his name on the Honour's Board of the East Coast Bays RFC, and feels proud.
The list of Premier appearances at the club on Auckland's North Shore is topped by Ian Coley (248 games), Mark Anscombe (220), Slade McFarland (217), Wayne Hill (203) and Rhys Bennett (203).
"It felt pretty special to put my name on a list that not many players have achieved," says the 40-year-old.
The North Harbour club has produced five All Blacks in its history. At the grassroots level, Rhys has made big sacrifices since his debut for the Bays Prems as a lanky 20-year-old back in 2000.
Eighteen years later Rhys was sitting in the Bays changing rooms with a beer as one of the 'old boys'. He had bucked the club rugby trend of retiring early and played more than 200 games.
But his career wasn't without injury, including broken collar bones (twice), broken ankle (surgery), concussions, hamstring tears and many more.
"I didn't know what life was going to be like"
The injury of most significance came in 2000 when he broke his back playing for North Harbour in the COBRA 10s tournament in Kuala Lumpur.
Harbour were playing the British Combined Forces team and Rhys climbed high to catch an up-and-under, the defender took out his legs and he was catapulted onto his back.
"It felt like someone had jabbed a sharp knife into my spine," he says. "I couldn't move. I was buggered."
Rhys remembers lying in hospital with an overwhelming sense of fear.
"I was in a world of pain, not able to walk and only in my early 20s, I was pretty shit-scared," he says. "I was thinking I might not be able to walk again, and I thought of my daughter. I didn't know what life was going to be like."
He flew home and the long road to recovery began. It took him 12 months to get back on his feet.
"It was a really tough time. I couldn't run around and play with my daughter, who was still quite young. I couldn't do anything. I was flat on my back for three months and then another nine months of recovery."
"
Because of a serious rugby injury I couldn't work and I was trying to look after my daughter, sort out child support and pay the mortgage. It wasn't easy.
"
- Rhys Bennett, rugby player
Rhys worked closely with former All Blacks doctor John Mayhew and followed his rehabilitation programme precisely. He didn't cut corners or overdo it.
"I didn't want it to be the end, I desperately wanted to play again so I was focused on getting it right. I didn't want to be in my early 20s and having to retire from a back injury."
Rhys says his standout memory from his recovery was just how easy it was to get support from ACC.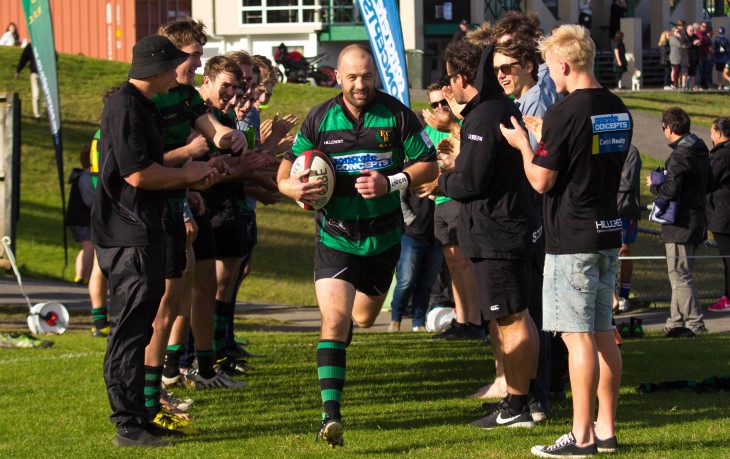 "It's an amazing system and the support of ACC has been massive for my career and also my life. It has given me huge peace of mind."
Everything he needed – the back braces, the swiss balls and a back protector for the car – was dropped to his home so he could focus on his rehabilitation.
Rhys, who works for a building company as a commercial manager, says the financial support got him through a difficult period.
"I was in a really bad way," he says. "Because of a serious rugby injury I couldn't work and I was trying to look after my daughter, sort out child support and pay the mortgage. It wasn't easy. I simply wouldn't have been able to afford to go to the doctor or physio without that support."
RugbySmart prevented
25,000
serious injuries over four years.
We invested
$9.3m
over five years in RugbySmart.
An opportunity for positive social change
Rhys says the renewal of the RugbySmart partnership with NZ Rugby and ACC, to continue to put player welfare first, is 'awesome news' for the next generation of players.
RugbySmart, which is recognised internationally as a world-leading rugby injury prevention programme, was first introduced in 2001 and over the past four years has prevented an estimated 25,000 claims and limited the number of serious injury claims to less than one per annum.
The increased investment will build on injury prevention and also strengthen the focus on creating positive social change in communities.
This focus recognises that sport is a powerful enabler of hauora (physical, mental, social, and spiritual health) and wellbeing.
"This investment will enable a significant expansion of the RugbySmart programme," says Isaac Carlson, the Head of Injury Prevention at ACC.
"While the primary focus will continue to be preventing injuries to rugby players at all levels, we'll also be supporting NZ Rugby's desire to create positive social change in our communities by addressing off-field behaviour and using the power that rugby has to positively influence communities."
New Zealand Rugby Chief Executive Mark Robinson says investment in rugby safety was more than injury prevention on the field.
"Rugby is at the heart of many New Zealand communities and plays a significant role in the lives of many of us. Through rugby, we believe we have an opportunity to help make positive social change, and our partnership with ACC helps us to do this.
"Our goal for RugbySmart is for everyone involved in our game to be safer, healthier, and more active. We're committed to achieving that outcome."
Being part of a community
Rhys says being part of a rugby club is much more than just playing the game. It's a family. It's a home away from home. It's where he belongs.
"Rugby was always a good getaway for me," he says. "You had your mates there and it took away the stress and pressure of everyday life."
As Rhys watches today's Prem players, he has no regrets.
"I remember when I was younger, one of the old boys said to me 'You're a long time retired' and I took that literally. I thought to myself 'I'm going to play as long as I can' and I'm pleased I did."