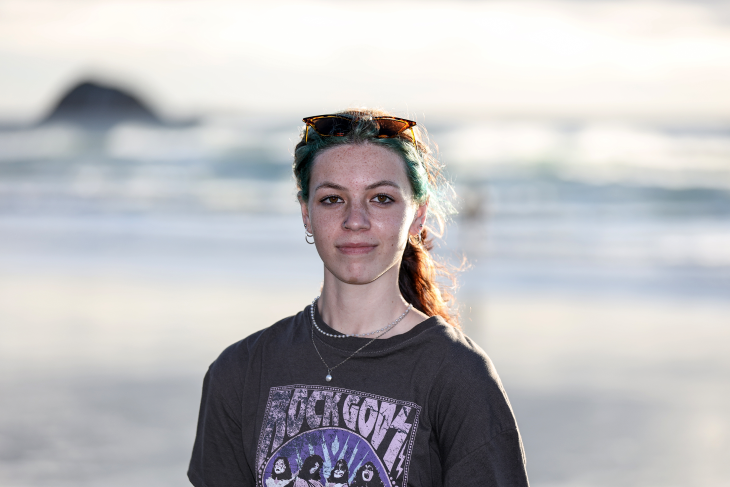 South Auckland teenager Paris Schlooz is sharing her near-drowning experience to help others.
For more than two years, Paris Schlooz was triggered by the sound of the ocean.
The 18-year-old from Manurewa nearly drowned on Muriwai Beach on 8 November 2019. It's a day that she'll never forget.
"It was a hugely traumatic experience for me," she says.
"I didn't want to go back to the beach for two years. A long time after, we went to a really calm beach. There were no waves, but I didn't want to go anywhere near the water. It's taken me some time to get over it.
"Just hearing the sound of the waves takes me back to my terrifying experience."
Paris came within a few moments of losing her life.
"I was giving up on hope. It felt like my life was going to end and I couldn't do much about it."
Paris has read about the 23 preventable drownings around Aotearoa already in 2022, compared to 15 this time last year. She is telling her story to help others.
ACC partners with Water Safety New Zealand to keep New Zealanders safe in, on and around water.
"It all happened so quickly"
It was an overcast and humid day in Auckland. Paris and her older sister Maddison made a last-minute decision to head to the beach.
The St Mary's College students had never been to the West Coast before. Paris remembers how burning-hot the black sand was when they ran down the beach. They did not hesitate getting in the ocean.
Paris was surprised by how quickly the seafloor dropped away. Before she knew it, she was in chest-deep water and getting smashed by the waves.
After only a few minutes, Paris and her friends were caught in a rip. They were pulled out to sea.
"I felt totally out of control," Paris says.
"It wasn't just that I was being pulled out by the rip. At the same time, I was getting pummelled by wave after wave, and I couldn't catch my breath. I was being thrown all over the place and I was losing energy."
Paris knew she was in big trouble.
She was a long way from the beach. Paris had lost contact with her sister and all of her friends. She couldn't see anyone. She was taking on a lot of water and coming in and out of consciousness.
"I was pretty sure I was going to die," says Paris.
"I had some dark times and I started thinking about the end. I had no hope of getting out. It was really hard to survive. I had no energy left and I felt like I had nothing more to give.
"
I couldn't catch my breath. I was being thrown all over the place and I was losing energy.
"
- Paris Schlooz
"It's a miracle they were there"
Meanwhile Paris' sister Maddison had swum back to the shore. By chance, she came across a group of off-duty lifeguards and surfers who came to the group's aid.
There were no official lifeguards patrolling the beach at the time of the year.
The surfers paddled through the waves. They collected Paris, who was still in the rip, and another friend on their board and took them back to shore.
"We were so lucky that they were there at that moment. They saved our lives. I am so grateful for what they did for us," says Paris.
She lay on the sand and was throwing up salt water for a prolonged period. "I was in a really bad way. I was so weak. I was semi-conscious and spewing for ages," she says.
She was put under a survival blanket to say warm and then carried by a quad bike to the Auckland Westpac Rescue Helicopter.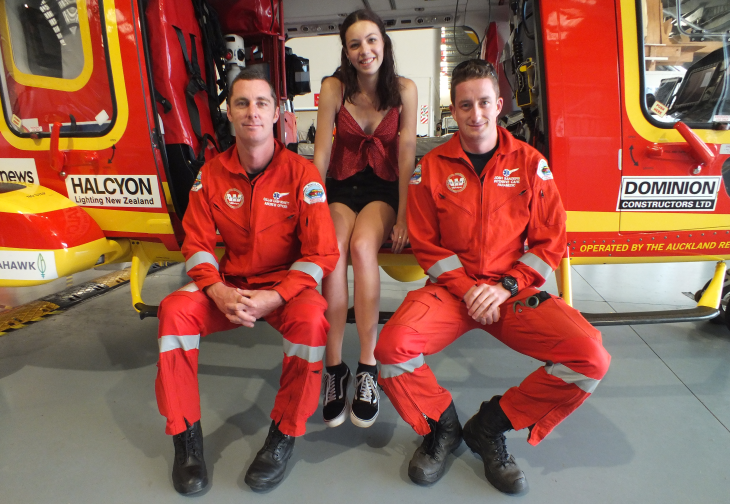 Air Crew Officer Callan Carn-Bennett and Intensive Care Paramedic Josh Sanders remember the day well. They applauded the efforts of emergency services working together.
CPR wasn't required. Paris' condition was determined to be a status two, meaning she was in a serious condition.
Josh, Callan and the team worked hard to stabilise her in the back of the Leonardo AW-169 helicopter. If left untreated, there was the very real possibility that Paris' young life could be cut short.
"We could see Paris was not taking in enough oxygen," Josh recalls, "She'd taken in a lot of salt water."
Muriwai Beach is the most frequented beach of the Auckland Westpac Rescue Helicopter service year on year.
Being overcome with relief
Local emergency services rallied around the young people in rapid fashion. Within 25 minutes of being tasked, Westpac 2, one of two 169 helicopters, was able to touch down.
"I remember sitting in the helicopter and just sobbing," she says. "The shock of what I had just been through hit me. My whole body was shaking."
On the helicopter ride to Middlemore Hospital, Maddison was pointing out the houses that had swimming pools. She was trying to distract her sister.
"When I was in the hospital bed, she joked I had ruined her first ever helicopter ride because I was crying so hard," Paris says with a laugh.
Paris stayed overnight at Middlemore Hospital. They drained the fluid off her chest. Her sister called her parents when Paris was being checked out by the doctors.
"My Dad was pretty unhappy that we had not listened about the dangers of Muriwai Beach. He was telling my sister about it that morning. My Mum broke down when she arrived and then she stayed the night in the hospital with me.
"They were just so relieved that I was ok."
"
That moment changed my perspective on life. I only worry about the things that matter, life is too short.
"
- Paris Schlooz
Paris made a full recovery and was able to complete her first exam the following week. She is now studying a Bachelor of Communications at AUT.
"That moment changed my perspective on life. I learned to not sweat the small stuff anymore. I only worry about the things that matter. Life is too short."
Advice for staying safe in the water
Paris says the best advice she would offer is: "Don't rush in - take time to assess the conditions".
"Since that day I have never looked at the ocean the same. It is about seeing the rips and knowing there are big waves, so you know what is out there," she says.
"It was honestly so stupid that we did that. The only people who were out in the water were surfers. We made a dumb mistake. It was the start of summer and we wanted to go to the beach, but we didn't think it through. You need to be cautious because the ocean is dangerous."
Daniel Gerrard is the Water Safety New Zealand CEO. He says it's the responsibility of all New Zealanders to ensure everyone stays safe.
"Be prepared, know the risks and your limits, and watch out for yourself and others," he says.
Daniel says people often underestimate the risks and overestimate their ability.
"Most drownings and water-related injuries are preventable if we all take a moment to consider the risks."
ACC are the naming rights sponsor of the ACC Water Skills for Life programme. Daniel says the programme teaches kids how to have fun and keep themselves safe in and around water.
"Knowing how to swim is not enough, Water Skills for Life teaches other lifelong water safety and survival skills," he says. "While we still teach the fundamentals of swimming, we also want to address the fundamentals of being safe around the water."
Water Safety New Zealand - Water Safety Code
Be prepared
Check the weather, your gear and the water conditions.
Look after yourself and others
Adults, not children or teenagers, should always supervise little people and children around water.
Be aware of the dangers
Check for rips and currents, snags and rocks and don't consume alcohol before a swim, dive or going fishing.
Know your limits
Do you know how to swim? If not, stay out. Remember, you will never be able to swim in the ocean as well as in a pool and cold water will make you tired.