Our clients, Sport
Susan Evans: Getting back on the horse after a lower leg amputation
Susan Evans: E eke hoiho ana anō i muri mai i te poronga o tētahi waewae
3 minute read
After a crash that almost took her life, Susan Evans' leg was amputated. She's returning to an active lifestyle and the things she loves.
The crash that almost took Susan Evans' life was described as something from the movies.
In 2015, a reckless driver going more than 150km/h hit the car Susan and her three daughters were travelling in, head on. They were on their way to a pony club event, towing a horse float. The car and float both rolled.
Roadside heroes pulled them from the car before it exploded into flames.
Susan's injuries from the accident were literally top to toe. Her face was de-gloved, her diaphragm was torn open, she had a compression fracture to the L5 vertebra and her ankle was dislocated and badly crushed.
She spent several months in hospital and then at home with a hospital bed and wheelchair before she began to walk again. Her ankle was salvaged as best it could be at the time, but her recovery ended up going backwards. Susan made the decision to amputate two years after the accident.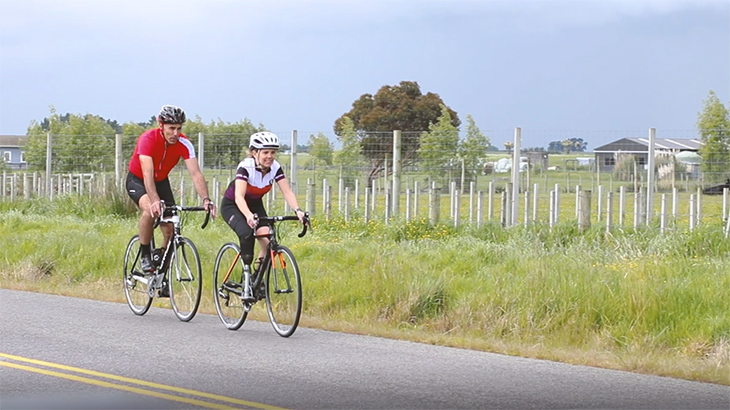 Getting involved in Para sport
Soon after her amputation, Susan attended one of the ACC Paralympics New Zealand Open Days.
"It was a great opportunity to see what was available and what the possibilities were. I was fortunate to meet a couple of Paralympic medallists, such as Sophie Pascoe and Kate Horan. They were really encouraging."
From there, Susan signed up for a Para cycling open camp before she knew if she could even ride a bike again. But she started from there and loved it.
"Getting back into sport has helped my rehab by giving me a strong focus and a reason to get as fit and active as I can. It's beneficial for my health and wellbeing."
For her family, the ability for Susan to get back into sport has meant a return to normality. Maintaining an active lifestyle is an important part of her family and they enjoy doing a lot of activities together. Susan says it's great being able to get back out there on the mountain bike or skis with her family.
People can get involved in Para sport at any level and it can provide a sense of community. If you know of someone that would be interested in finding out more about Para sport opportunities, you can refer them to Paralympics New Zealand (PNZ) and encourage them to register their interest.
We've partnered with PNZ since 2015 to help improve rehabilitation outcomes and quality of life for our clients. We want to motivate and inspire people to live active lives, via positive role models and providing opportunities to try Para sport.
"
Don't be afraid to give it a go because you don't know what you can do until you've tried it. 
"
- Susan Evans, Para athlete
Susan's journey
After a long rehabilitation process, Susan is returning to an active lifestyle and quite literally getting back on the horse.
She says ACC gave her the tools to be as independent and active as she could.
"I've been fortunate to have a really good team of medical professionals along with friends and family in the community behind me."
Since her amputation, Susan has been able to get back into skiing with the help of adaptive snow sports, swimming as part of her rehab, participating in community running events and horse riding, which she describes as her 'happy place'.
She says the Para sport community is a positive and encouraging environment where everyone helps each other to do the best they can.
"I loved going to the first Para cycling open camp and being referred to as athletes. That was huge."
If you're thinking of getting involved in Para sport, Susan says give it a go.
"Don't be afraid to give it a go because you don't know what you can do until you've tried it.
"The opportunities are huge. It's a great environment to be part of. It's motivating and helps your wellbeing."
Susan's story shows inspiration, perseverance, and the will to get back to doing the things she loves.
This video and article are part of a series highlighting how everyday New Zealanders embraced Para sport after a serious injury. The first in the series explored Paralympian Corey Peters' story.