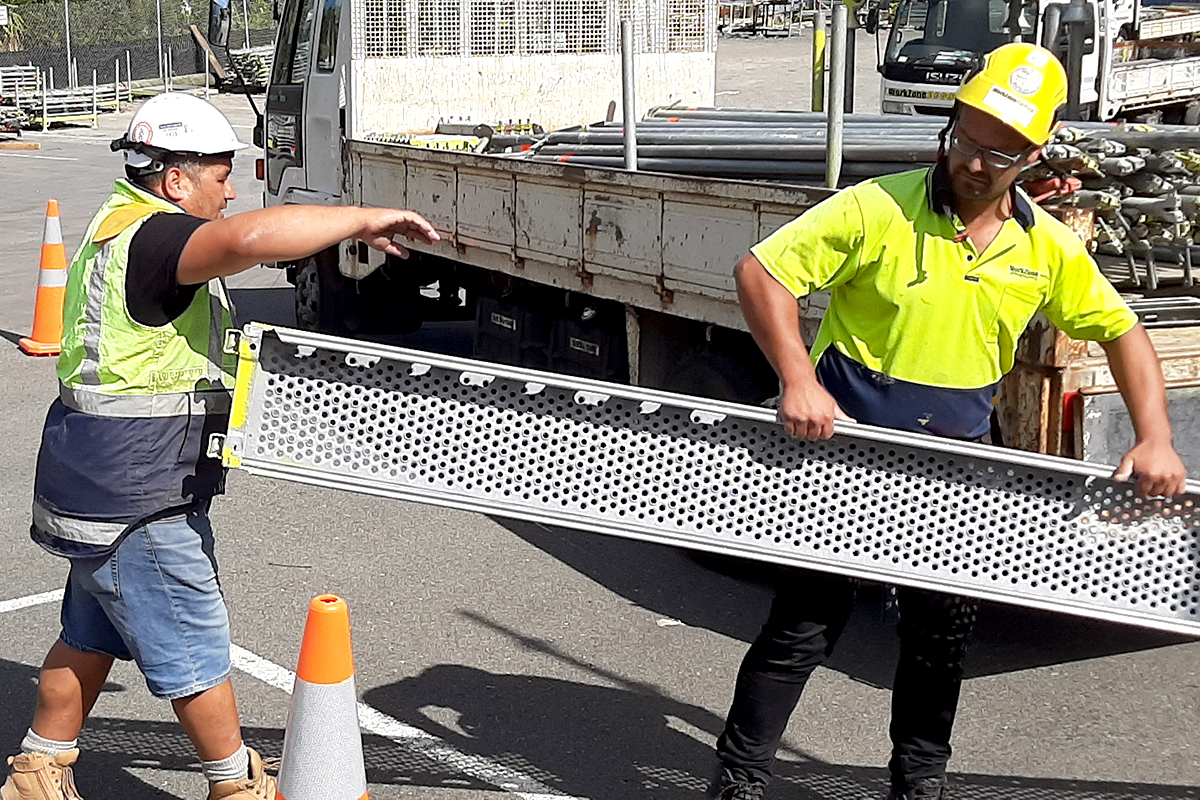 Construction jobs are on the rise – and injuries are too, so we're partnering with an industry-backed trust to help workers stay safe.
Scaffolder Jono van Echten had suffered through 10 years of back injuries before his back gave way just before the first COVID-19 lockdown in 2020.
"I couldn't feel my legs and I thought I was paralysed. I thought, this might be it.
"I was scared because I have a four-year-old son," he says.
Jono is part of the hidden cost of New Zealand's building boom - one of 48,650 injured construction workers that ACC supported last year at a cost of $153 million.
"Scaffolding is a bit rough on the body. It's heavy equipment, but we lift and carry with good techniques. Doing it all day, six days a week, you need to do it right. Sometimes a slip or being off-balance means you get a tweak or a strain. It's common on a building site or lugging up a Wellington hill," Jono says.
"I think we condition and harden ourselves, but at the same time, it's the things you don't expect that may do you in. In my case lifting a laundry basket."
"
You've only got one body, you've got to look after it.
"
- Jono van Echten, scaffolder
Injury claims have risen 7.5% in the past five years while costs have surged almost 38%. In that time, 29 people died on building sites, making construction sites the deadliest workplaces after agriculture, forestry and fishing.
There were 39,881 new homes consented in the 12 months ended 31 January – up 32% from five years ago and just 144 fewer than the record set in 1974, according to Stats NZ. Construction jobs rose by 21,000 to 278,300 last year, based on the Household Labour Force Survey.
Jono, who says his back is still 'niggly', now works as a scaffold inspector for Workzone Scaffolds in Lower Hutt, part of NZ Scaffolding Group. His back injuries have forced him to listen to his body. He's taken up ocean swimming, yoga, and stretching. He's trying to eat better.
"When I first came into the game there was a big macho culture. But it only takes one injury to stuff you up really bad. You've only got one body, you've got to look after it," the 33-year-old says.
Helping workers and their whānau
The high injury rate is a key reason why ACC has entered a new partnership with Construction Health and Safety New Zealand (CHASNZ), an industry-backed charitable trust dedicated to improving health and safety in the construction industry.
The $3.5 million investment over two years, as the first stage of a five-year partnership, will allow CHASNZ to ramp up health promotion and protection initiatives, to reduce the harm caused by occupational illness and injury in the construction sector.
"Many of the injuries are preventable," says Virginia Burton-Konia, ACC Injury Prevention Manager – Workplace Safety.
"Partnering with CHASNZ enables the construction sector to make workplaces significantly safer. Workers and their whānau benefit from fewer injuries and fatalities, and businesses benefit from increased productivity and enhanced reputations as being businesses that care for their people."
Chris Alderson, chief executive of CHASNZ, says the partnership aims to create a change in health and safety culture and performance over the next five years.
"We're working with industry to address the need for a sustainable change to reduce the current level of accidents and illnesses in the workplace.
"We really need to re-think how we approach Health and Safety as an intrinsic part of doing better business".
Some 70% of claims from scaffolders are for sprains and strains – injured shoulders, backs, knees and ankles. Workzone Scaffolds has developed a health and safety 'toolbox' as part of increased efforts to ensure its workers are in good shape mentally and physically.
Parent company NZ Scaffolding Group is part of a new taskforce looking at muscular-skeletal injuries among scaffolders. It involves CHASNZ, WorkSafe, ACC and Scaffolding, Access and Rigging New Zealand (SARNZ). The taskforce hopes to develop a template that can be used across the construction sector.
ACC helped Jono get back to work. He now thinks twice about the risks of the job and encourages his workmates to do the same.
"Your body is your business and if your body is stuffed you can't run your business," he says.