After a routine dive, Todd Russell came to the surface in the Cook Strait to find he was stranded. His dive training helped him write a story of survival.
Diver Todd Russell is stranded in the middle of the notoriously unpredictable Cook Strait.
Alone in the choppy water, he is equipped only with a wetsuit, flippers, a buoyancy control device (BCD) and his bright orange safety sausage.
Twilight is closing in and he is struggling to breathe as the wild seas engulf him.
"I was inhaling a lot of water and throwing up a lot," he says. "I'd be gasping for air in the moments I wasn't being sick, which was happening over and over again."
It's just two days before the Christmas of 2019 and Todd is starting to think about how the festive period will forever be ruined for his family if he is not able to survive this ordeal. He is determined to pull through and spend another Kiwi summer with his loved ones.
"There was a moment where I thought, 'I'm not going to die out here - that's just not happening'."
Fortunately, Todd has just completed an ACC-funded dive safety training programme, and the knowledge gained saved his life.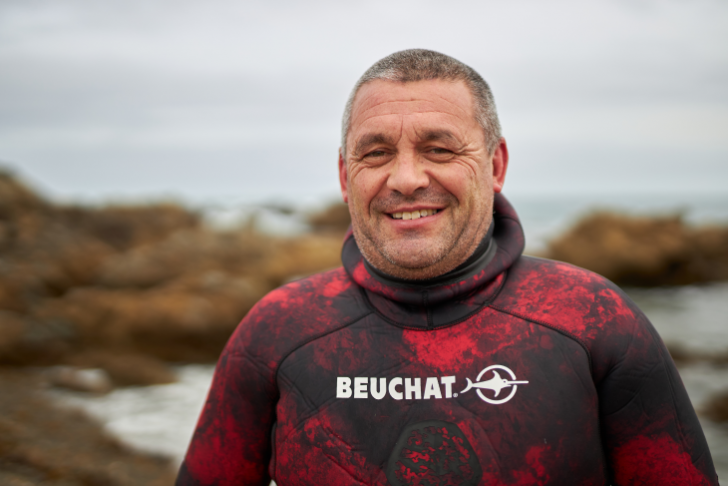 Knowing what to do
Todd, who lives just a stone's throw from the diver's haven of Island Bay in Wellington, was drawn to the water from a young age.
"I was a pretty good swimmer at primary school, and I've been in and out of the water all my life," he says.
That bond with moana led him to free diving, which then progressed to strapping on the tanks for scuba diving.
"The tanks allowed me to spend longer underwater – but even then it isn't enough," he admits. "It's a whole different world under there and sometimes I just don't want to come out – the longer I can spend under there, the better."
But diving comes with risk – there were 665 injury claims accepted by ACC last summer from those exploring the depths. These injuries came a cost of nearly $3.6 million.
Eager to avoid that fate, Todd signed up for a dive training course, run by Dive Wellington and Water Safety NZ with funding from ACC.
"I felt as though I needed to learn more about what I was wearing, how everything worked and what I was supposed to be doing," he says. "If I'm 30 metres deep and I don't know how my gear works then it's not going to be a pretty ending."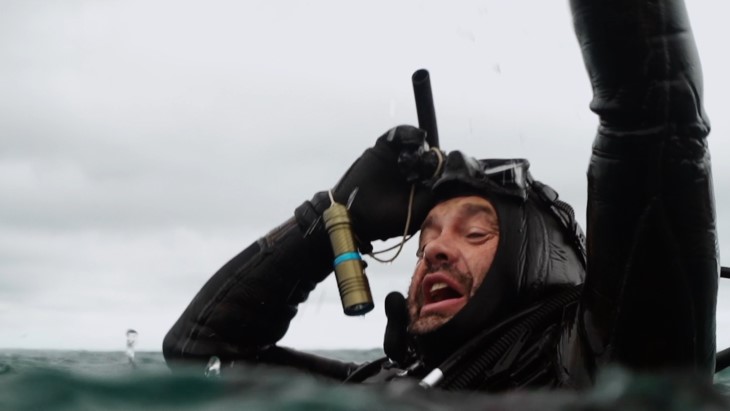 "
There was a moment where I thought, 'I'm not going to die out here - that's just not happening'.
"
- Todd Russell
Swept out to sea
Todd completed the training with his son Cooper and was keen to put what he had learned into action. Little did he know how soon he would need it.
"I got invited to go for a pre-Christmas dive with some other people that were on the course," he says.
"But I found myself separated from the other divers and being swept out to sea pretty rapidly to a point where I lost sight of the boat."
A few minutes later, Todd was speeding past the rocks at Sinclair Head – the last landmark before the water opens up into the expanse of the Cook Strait.
It was then that his training kicked in and he made a decision that may well have saved his life.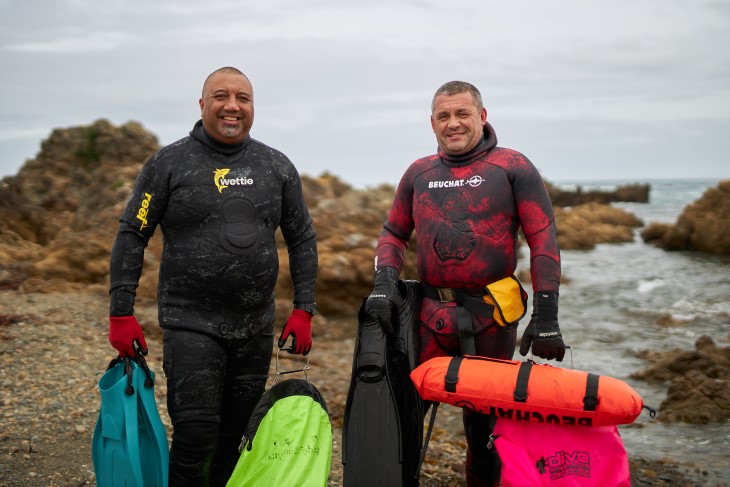 "I had this thought that I was going to ditch everything so I just had my flippers and wetsuit on and I was going to swim like crazy to get to that rock," he says.
"I decided pretty quickly that it was a stupid idea. If I'd have dropped my BCD, tanks and everything and swam for that rock and missed it, I wouldn't have lasted ten minutes – not in that ocean at that time."
So Todd decided to follow what he had been taught and kept his gear on, before dropping his weight belt, curling up in a rescue position and inflating his BCD.
"I thought, 'Well, I've got some pretty experienced people on the boat, hopefully they find me – they'll work out where I've gone with the tides or whatever'."
'People are going to judge me'
Ironically, skipper of the trip was ex-Navy ships diver Rob Hewitt, who has his own miraculous survival story.
Rob was remarkably rescued after spending four days lost at sea in 2006.
"Now I'm seeing everything from a rescuer's lens, from their point of view," Rob says.
"The first thing I'm thinking is that people are going to judge me and I need to get that out of my head because it's not about me – it's about Todd, who's lost in the water.
"I knew we've only had a short amount of time so, within a few minutes, we made the decision to call a mayday.
"I was confident in the training that had been given by Dive Wellington but the seas were getting quite high, quite heavy.
"Then the police said, 'You need to go ashore so we can start taking reports'. And that was the hardest thing because now I knew what my crew felt like when they had to leave the scene."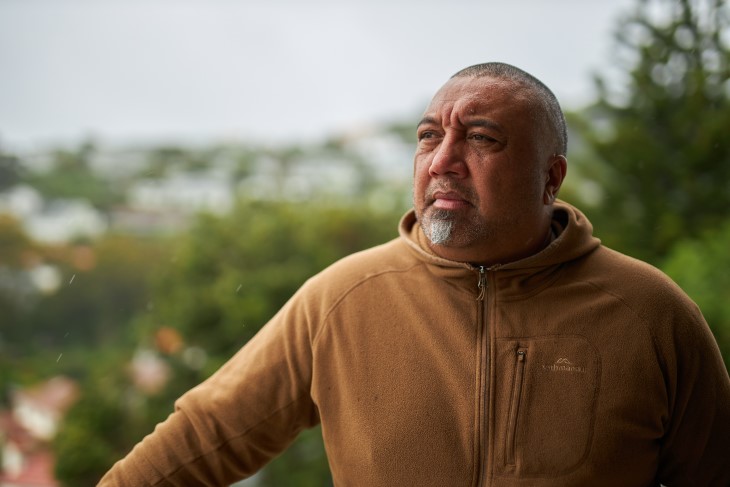 It's a miracle
The Westpac Rescue Helicopter and three rescue boats – helmed by the Police, Coastguard and airport personnel respectively – were all sent out to track down Todd.
But it was like looking for a needle in a haystack.
"There were some ups and downs there watching the helicopter fly away and then come back again, and then being further and further away from where I was," Todd says.
"I honestly thought I was just going to curl up and spend the night in the Cook Strait." Any hope of finding Todd before the sun went down was fading fast. But then another aspect of his training led to a rescue that was appearing more unlikely by the second.
"I was watching the boats disappear, but I was holding up my safety sausage – which is an inflatable, bright orange thing," he explains.
"One of the police officers saw a little glint of orange out the back window of the boat, so they turned around, saw it was me and picked me up."
Todd was overcome with relief and joy – and he wasn't the only one. "The thing I remember most about that moment was how happy the police were," he says.
"It was twilight, they were running out of options and had been searching the shoreline, clearly for remnants of a diver or a corpse. So to find me about four miles out in the ocean, two days before Christmas – they were just ecstatic."
Back on shore, Rob and the rest of the party were just as relieved.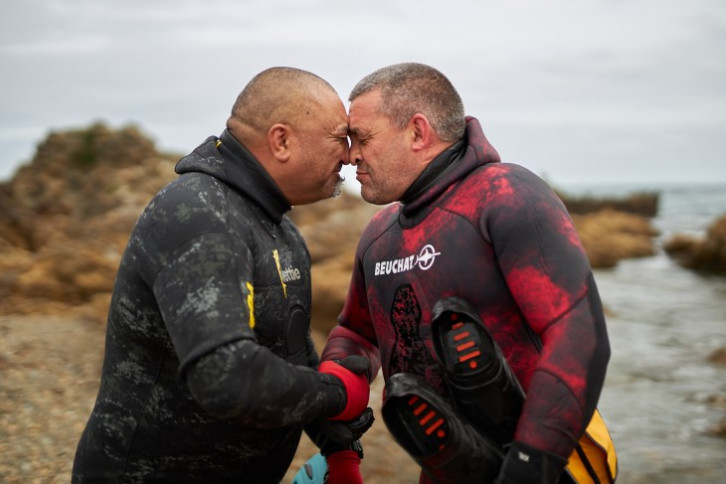 "We were in the police station and this officer came running in with a big smile on his face," Rob recalls.
"Then he comes running through and says, 'It's a miracle, we've found him'. I just sat there speechless. Being a survivor myself, I was just grateful I had some tools to help Todd and his whānau get through this."
The lovely Christmas that nearly wasn't
While Todd was fighting for his life, wife Kat Reweti-Russell and their children were blissfully unaware of the precarious nature of his predicament.
Rob had tried to contact Kat but she was at a Christmas party and wasn't answering her phone.
Ironically, Kat and her friends had seen the rescue helicopter flying back and forth over their heads and were wondering what was going on – it wasn't until later that evening she found out they were searching for Todd.
"I was quite emotional when I got to ED and saw him there with mild hypothermia," she says.
"Then my mind naturally went to the kids and how I would've been able to tell them if things had been bad.
"But my main takeaway was how grateful I felt to all the people who were involved in helping find him and then also how sad I felt for people who had lost their loved ones in the sea and weren't able to have the nice Christmas we did two days' later."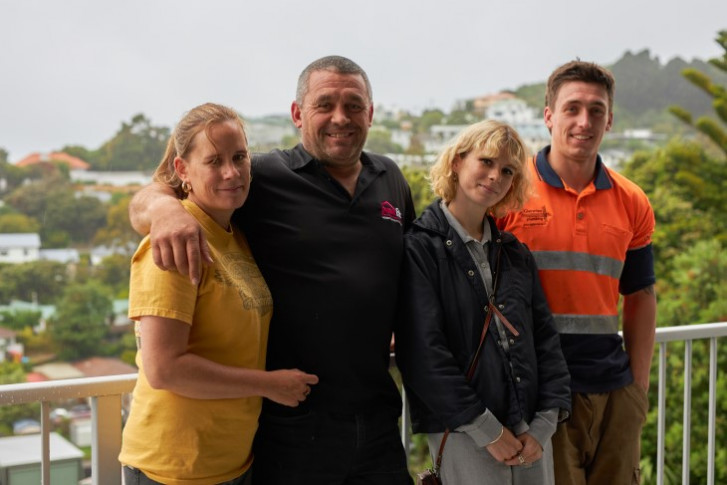 Turning around the sobering stats
Having fun in the wai is a way of life in our beautiful motu and we want all New Zealanders to enjoy everything our beaches, rivers and lakes have to offer.
But Todd is far from alone in getting into trouble. Last year we helped more than 38,000 New Zealanders recover from water-related injuries.
Drowning is the leading cause of recreational death in Aotearoa and, alarmingly, you are twice as likely to drown in New Zealand than you are in Australia.
On average, around one in four New Zealanders who drown are Māori.
"If we look at the stats for our Māori and Pacific fatalities in and around the water, diving and rock fishing are the number one cause," says Rob, who now helps save lives as a Māori kaihautū (leader) for Water Safety NZ.
"
If we look at the stats for our Māori and Pacific fatalities in and around the water, diving and rock fishing are the number one cause.
"
- Rob Hewitt, Māori kaihautū (leader) - Water Safety NZ
"The reason is that Māori and our Pacific whānau don't go to the water to sunbathe – we go to the water to dive to get kai. So we're not the fellas swimming between the flags, we're the ones out where the life savers are saying not to go."
With that in mind, Water Safety NZ and ACC have joined forces to help keep Māori and all other New Zealanders safe in the water.
"We've created a programme called Kia Maanu Kia Ora and within that we have the likes of Dive Wellington, Dive Otago and Dive Tutukaka, who go to the marae and run the course on the marae for them," Rob says.
"We teach them how to do the diving practices, but we do it in their waters that they feel safe in.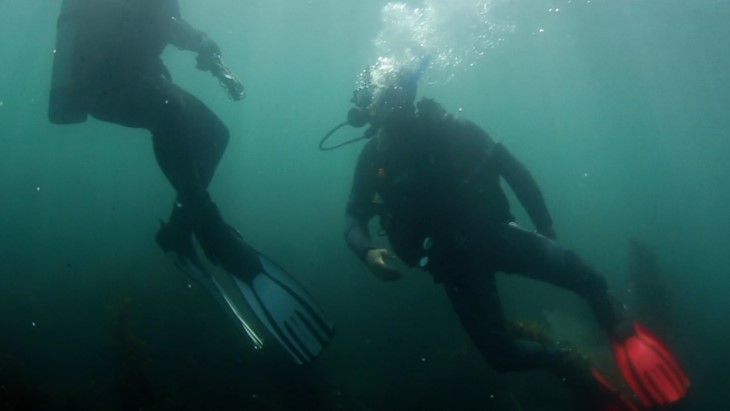 "So what we're trying to do is wrap a Māori concept around a Pakeha certificate. I think the product of that is Todd's survival."
Todd's brush with death has not put him off the water. "I felt a bit funny about it for a couple of weeks but that wore off pretty quickly," he says.
"I've been in the ocean on a weekly basis ever since – it's my happy place. I'm eternally gratefully for the guys that found me and plucked me out."
Kia Maanu Kia Ora is one of several water safety programmes supported by ACC.
More information on water safety programmes we support and how we can support you and your whānau if you have a water-related injury is available on the ACC website:
We're here for you in and around water this summer
Water Safety NZ – Water Safety Code
Be prepared
Check the weather, your gear and the water conditions.
Look after yourself and others
Adults, not children or teenagers, should always supervise little people and children around water.
Be aware of the dangers
Check for rips and currents, snags and rocks and don't consume alcohol before a swim, dive or going fishing.
Know your limits
Do you know how to swim? If not, stay out. Remember, you will never be able to swim in the ocean as well as in a pool and cold water will make you tired.
More information at Water Safety NZ.
Donate to the Westpac Rescue Helicopter – you never know when you might need it