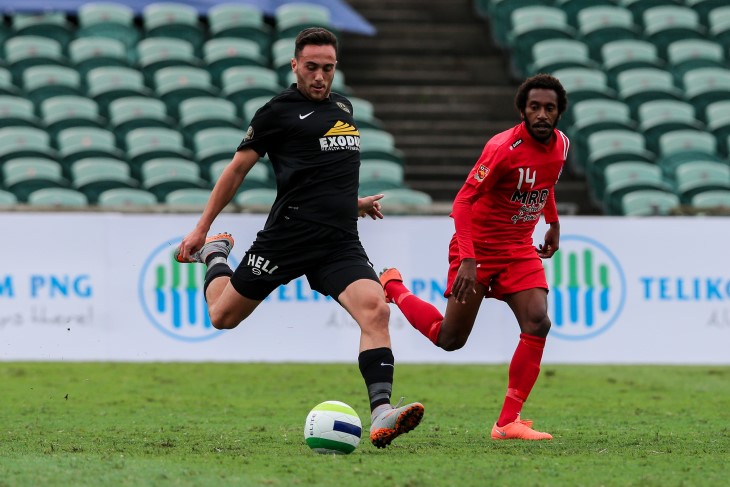 After suffering a serious concussion at the top of his game, Tom Jackson made a difficult decision about his future while recovering.
Tom Jackson is sitting in the Wellington Olympic FC changing sheds listening to his coach's post-training speech and he can't take anything in.
The striker, who at his peak won back-to-back ISPS Handa Premiership titles with Team Wellington, suffered a severe blow to his head in training and is not right.
"Everything was a blur. I was fighting hard to stay in the moment," says Tom.
The 30-year-old was playing a game to finish training when he lost the ball and tried to win it back. The defender sliced his clearance and it hit Tom flush in his head from point blank range.
"It sent me flying off the ground. The next thing I knew I was lying in a heap and thinking 'Oh Jesus'. I knew straight away I wasn't in a good space. I was dazed and confused, and I just didn't feel right."
Tom had suffered two serious concussions previously and knew that wasn't a good sign.
"I went to bed that night hoping that some rest would see my right, but deep down I knew that it wouldn't. I woke up the next morning and it was much worse."
That morning was the start of his rehabilitation which took four months. "The first thing I thought about was work and I felt guilty because I knew I wouldn't be back in a few days."
The long road to recovery
The irony is not lost on Tom. He spends his days working for ACC, helping prevent injuries for New Zealanders and he suffered a traumatic brain injury (TBI) of his own. It's been an eye-opening experience.
"It was not fun by any stretch of the imagination," says Tom, who is now back at work fulltime.
"I was off work, by myself at home for long periods of time. I wasn't able to do much. I couldn't leave the house. There were a couple of times during his recovery which underlined the need to be patient.
The first was a few days after the concussion where he had to have two naps during his daughter's first birthday party. The other, he went for a quiet slow walk and he came home exhausted.
Tom says his rehabilitation would have been longer had he not prioritised his wellbeing.
"It's a strange feeling being happy with being back to normal. There is a huge sense of relief. When I was coming to the end of my graduated return to work plan that was when it finally started to sink in that I am finally kicking this. There were times when I thought I might not ever fully recover."
Tom is not alone. In the past 11 years ACC has spent more than $7m helping people recover from a concussion suffered while playing football.
In 2020, in a season affected by COVID-19, there were 552 football related concussions which came at a cost of $1.14m to help people recover.
"
I couldn't watch TV or go on my phone because they are really draining for your brain. I had to allow my brain time to heal.
"
- Tom Jackson
Nat Hardaker, an ACC Injury Prevention Leader, says it's important all players follow the four Rs of Concussion Management.
The four R's include Recognise (the signs and symptoms of concussion), Remove (the person from play or work) Refer (to a medical doctor to confirm diagnosis and provide treatment/advice) and Recover (before returning to work or play).
"If you or someone else has a suspected concussion, it's important to be seen by a doctor or emergency department immediately so you can be assessed and treated before returning to sport, work or school," says Hardaker.
The role of a good employer
In all, Tom was off work for four months. He was off work completely for four weeks before he started a graduated return to work programme which he says was important.
"I know I'm lucky to be working at ACC and how I was managed in my return to work," he says.
"But it shouldn't be luck. All employers around the country should be flexible and supportive and willing to work with someone who has been diagnosed with a concussion. It shouldn't be that only some people are fortunate enough to recover and have the time off because their employer supports them."
Tom says his manager – Injury Prevention Leader Kirsten Malpas – did not put any pressure on him to get back to work straight away and worked with him to increase his hours when he was ready.
"Our team recognise that concussion is not a linear process, like most other injuries are. Recovering from concussion can have lots of ups and downs. My manager was cognisant that at any moment I might need to take a step back."
Tom, Kirsten and his vocational physio Natalie Baker (TBI Health) had ongoing discussions for the next steps for his work, including the number of hours each week, the location and type of work to ensure his recovery stayed on track.
Hanging up the boots
While he was recovering, Tom made the tough decision to hang up his football boots.
"It's not a call I made lightly, but it's one that I have made for the right reasons around my circumstances for my family and so I can continue doing a job that I love.
"I have a love and passion for playing football, but I've done it for a long enough time to be happy with what I have achieved, and not feel too bad about hanging up the boots."
Tom will always have special memories of winning the national title twice with Team Wellington.

"The pinnacle was winning the second title," he says. "Not only for me personally. That was the year I won the Golden Boot in the National League which I was incredibly proud of, it was a title that we thoroughly deserved.
"That season we played some attacking and enthralling football. It was fun to be part of that."
His coach at the time, José Manuel Figueira, says Tom was an integral part of those years with Team Wellington.
"He was a rare breed of all round striker," says José. "He could lead the attacking line, his work-rate was excellent, his hold up play to bring others into the game was very good and he had the ability to score all different types of goals.
"
As a team we knew that when Tom was on the pitch, we were going to score goals.
"
- José Manuel Figueira
José described Tom as a leader both on and off the pitch.
"For me it is a real shame to see Tom retire from the game. I think with Tom's personality he could definitely still offer the game, but especially younger players and strikers - some great advice and individual training."
Advice for overcoming concussion
Tom will apply what he's learnt during his recovery to his work in injury prevention.
He has learned advice for those who have suffered a concussion and also those managing people who have suffered a blow to head.
"Know your own body. For those who have suffered a concussion or a blow to the head. Be honest with yourself and be honest with those around you, and what your symptoms might be. Early management could be the difference between a quick recovery and a long process where you can spiral into some dark, negative places," he says.
"To the coaches and employers who have someone in their team who has suffered a blow to the head. Allow them the time and space they need to fully recover. Not only will that journey be quicker because of it, it will also be an easier process for you and the person going forward."
ACC encourages all sports to practice the Four Rs of Concussion Management
Recognise (the signs and symptoms of concussion)
Remove (the person from play)
Refer (to a medical doctor to confirm diagnosis and provide treatment)
Recover (before returning to play)
For more on concussion management visit ACC SportSmart.