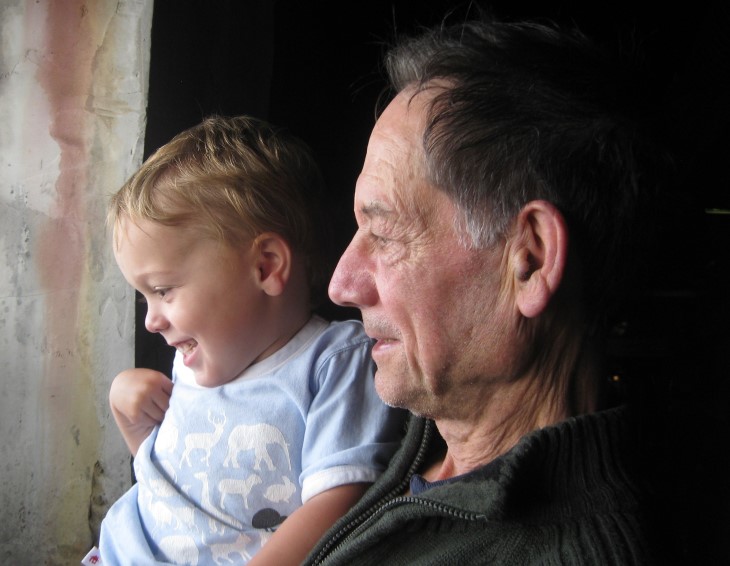 When an experienced engineer fell from a superyacht onto a concrete floor, many years as a hard-working employee came crashing to an end.
"I just want to know if I can go home tonight?"
Those were the hopeful words Trevor Markham said to the doctor looking after him in the emergency department at Auckland's North Shore Hospital. Just a few hours earlier, he had fallen nearly five metres onto a concrete floor at his workplace.
Still in shock, Trevor hadn't grasped how serious his injuries were and that his life had changed in an instant.
The 62-year-old engineer would soon learn he had suffered a broken neck and many fractures to his spine and pelvis. He also had several broken ribs and severe bruising.
Clearly, he wasn't going anywhere anytime soon.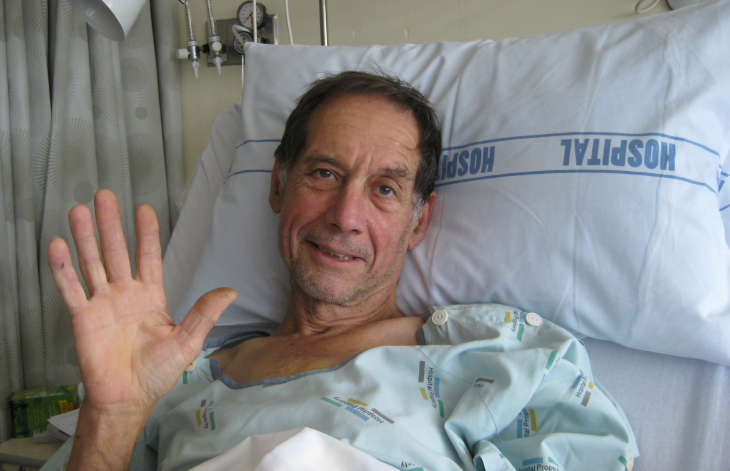 He was set to spend days confined to a hospital bed and had months of frustration ahead of him.
"I spent two weeks in the orthopaedic ward where I received amazing care but every day I asked to go home," Trevor says.
"I was determined to go home as soon as I could and this became my main focus at the time."
"You're not fine, mate"
The day of his near-fatal fall had started the same as any other.
Trevor, a father of two who had recently become a grandfather, made his usual trip from Mt Eden to Alloy Yachts, a boat building company in West Auckland.
Well into his fifth decade in the workforce, his thoughts were beginning to turn towards retirement.
But that stage of his life would arrive sooner than expected due to the fateful events that were about to unfold.
As he had done many times before, Trevor was helping put the finishing touches on a multi-million-dollar superyacht in a huge boatshed.
He and a workmate were setting up a handrail on a flight of steps going up to the next level.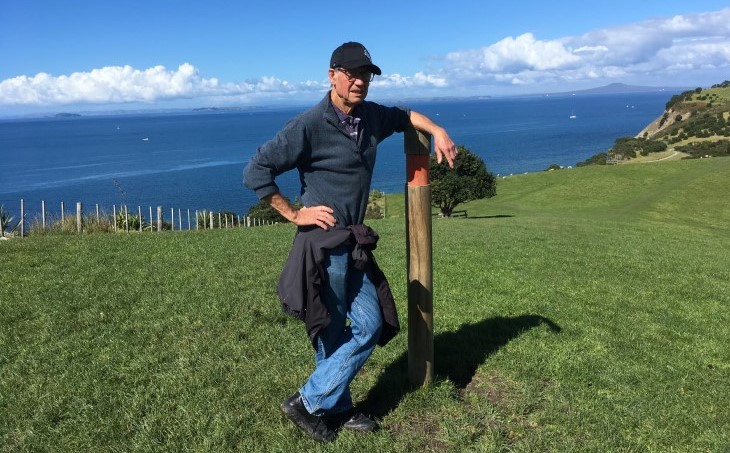 "As I stepped off the last step on to the deck of the boat, I put my hand on the upright for the handrail. I didn't realise it hadn't been secured properly and it snapped off when I put weight on it, which caused me to stumble forward and lose my balance," he says.
"I remember falling down with my arms out, seeing my glasses in my left hand and looking at the floor. I felt a tremendous jolt as I landed. I heard people shouting. Luckily, my head hit my arm as I landed which saved me from head injuries."
The first person who arrived at his side made sure not to move him until an ambulance got there.
"Later, he told me the first thing I said was, 'Are my glasses okay?' They were new and expensive so I was worried about them. He said, 'The glasses are fine mate but you're not!'"
On his way to the hospital, Trevor can remember grimacing with every bump in the road but his stoic nature was still coming through.
"The paramedic asked what my pain level was on a scale of one to ten. I said it was about a six. He said, 'No mate, it will definitely be more like a ten' and gave me another injection."
A long road to recovery
Once his injuries had been diagnosed, he was transferred to the orthopaedic ward. It soon began to dawn on Trevor just how tough his road to recovery would be.
"
I was told I would recover and was determined I would. But I must admit there were times when I didn't think I would get there.
"
- Trevor Markham
He had to wear a fibreglass cage before getting out of bed to avoid twisting his torso. Physiotherapists worked with him every day to walk with a high walking frame.
"They said if I could get up to two steps with crutches I could be discharged so I worked very hard to achieve this."
Although grateful to have received such excellent care in hospital, he felt a great sense of relief when he finally returned home.
His home life for the time being was far from normal though.
As he could not tackle going upstairs, the bed he shared with his wife had to be moved into the lounge downstairs. He had to sleep sitting up and could only walk with the use of a frame, travelling only short distances.
As the frame couldn't fit in the bathroom, he had to be washed outside on the deck.
"Luckily, it was summer at the time!"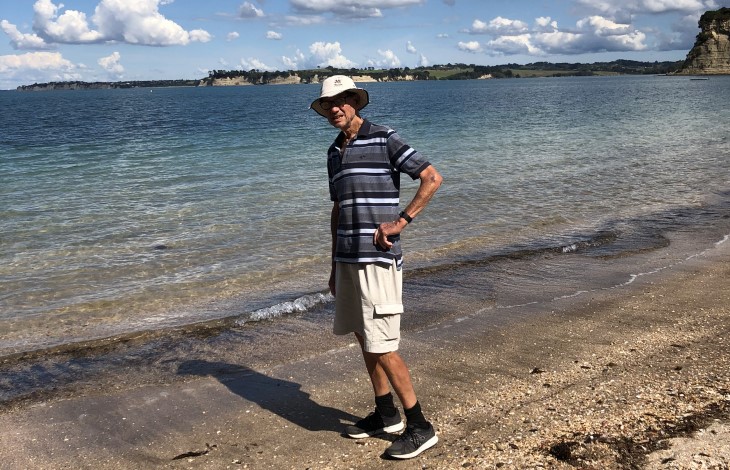 A tremendous relief
Sprightly for his age and very independent, Trevor struggled with the sudden loss of his mobility.
"I found it frustrating not to be able to play with my young grandson, who couldn't understand why," he says.
"I was in constant pain. I have always liked to help others in practical ways and I didn't like not being able to do this, especially if I could see they were struggling.
"I was also very worried about how we were going to manage financially if I wasn't able to return to work soon."
The support provided by ACC did much to ease these worries.
As well as paying 80% of Trevor's previous earnings, ACC supplied ramps for the front and back doors, walking frames, a wheelchair and a high toilet seat.
Physiotherapy costs were also taken care of. Housework help was provided to wife Janice, who was working fulltime and caring for her elderly father in the same family home.
"This was all a tremendous relief and I'm sure it aided my mental recovery," Trevor says.
"I was always worried I may have to go back to work before I was ready. I was 62 when I suffered my injuries and was very grateful to remain on ACC payments for nearly two-and-a-half years. I then turned 65 and started receiving superannuation."
Getting back to being useful
A few months after falling from the superyacht, he tried to return to work but couldn't stand for long and realised he wasn't up to the physical nature of the job.
"I eventually started doing a little volunteer work as a handyman in a childcare centre just to do something useful. In hindsight, my recovery took a full two years which is what I was told initially."
His volunteer work turned into a small part-time handyman business. This allowed Trevor to work at his own pace for a few more years before fully retiring at 68.
Now 71, he leads an enviable lifestyle on the beautiful Whangaparaoa Peninsula, just north of Auckland.
He still has flashbacks about the fall and is more cautious around heights and uneven surfaces.
"I keep active, although I do still suffer from back pain at times," he says.
"But I'm very grateful I'm able to enjoy my retirement and walking on the beach. I can also enjoy fishing, woodturning and helping neighbours and family with handyman tasks."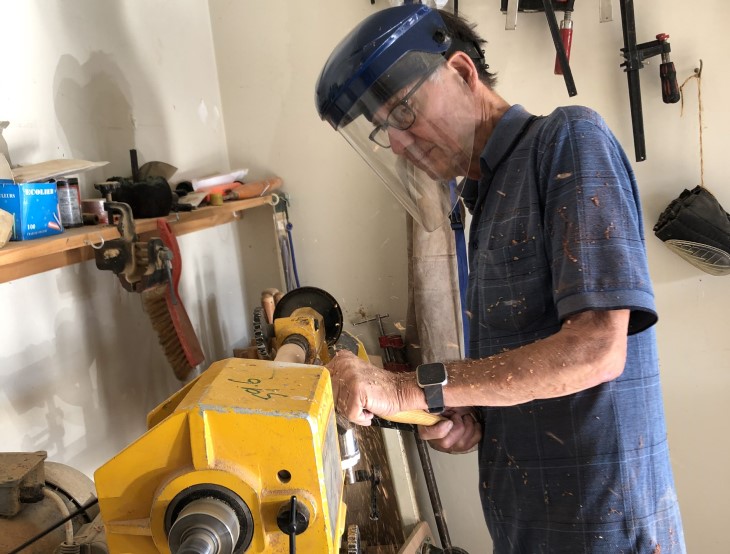 He is also pleased that the worst day of his life eventually had a silver lining.
"The accident made the workplace more safety aware and attitudes changed. The company introduced better health and safety policies so some good came out of it."
Workplace i
njuries
and ill-health
There were 66 work

place

fatalities in New Zealand during 2020
Over 30,000 work-related injuries resulted in more than a week away from work from September 2019 to August 2020

Nearly 2,000 of those injuries came as a result of a fall from height and nearly 4,500 from falls on the same level

The most common workplace injury was muscular stress wh

en

lifting, carrying or putting down objects

Work-related health deaths are estimated at 750-900 per year

There are an estimated 5,000-6,000 hospitalisations each year due to work-related ill-health
ACC works to help New Zealand businesses improve their health and safety performance. Workplaces that are healthy and safe are more productive, save money and improve the quality of life in our communities.
Together with WorkSafe, we offer resources and tools to help you stay healthy and safe in your workplace and industry.