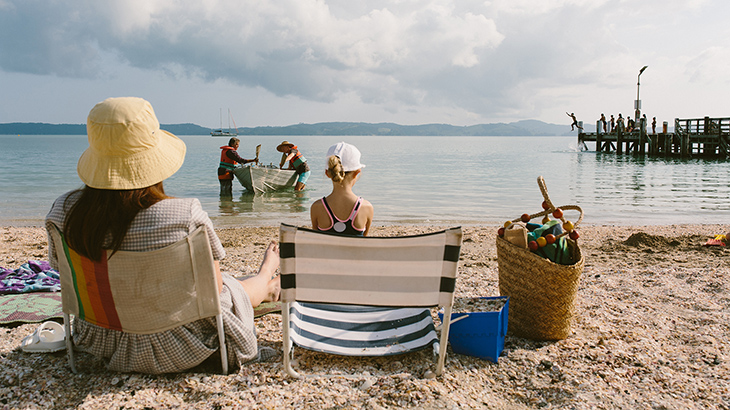 We're kicking off a public awareness campaign focusing on water safety and sport. Our Chief Customer Officer explains why water safety is so close to her heart.
Our mum had turned away for just seconds, but that was all it took for my four-year-old sister to fall off a bank into the Tutaekuri River.
Trapped underwater, she remembers banging two rocks together in a desperate cry for help. Luckily, one of the dads at the picnic saw the fall and jumped in to save her. But the story has stayed with the family as a reminder of just how quickly things can turn ugly around water.
I had my own fair share of close calls growing up in Hawke's Bay, where my fondest memories involved the ocean and the long golden stretches of Waimarama Beach - boating, swimming and exploring the rocks. I learned early on not to underestimate the risks around water.
As Chief Customer Officer at ACC, I now know more than most about the two sides of the great Kiwi summer. We receive around 90 new claims a day for injuries in and around water. Last year we supported 36,515 people with water-related injuries.
More broadly, we accepted 2 million injury claims last year. These numbers are sobering, but our research tells us that almost half of New Zealand and nearly 60% of Māori have low awareness of ACC's role and services – meaning some people are likely to be missing out on the help they need when things go wrong.
Do you know anyone that has had an accident around water?
It demonstrates a very real need for us to start raising awareness of ACC and the support that's available.
Whether it's teaching kids to make smart decisions around water, or young people to have healthy relationships, our ultimate ambition is to improve health outcomes for people across Aotearoa.
The first step is making sure people know we're here to help.
To address this gap in understanding, we're investing up to $3.35 million over the next six months on a public awareness campaign.
Starting this month, you'll be seeing and hearing more from us about some of the lesser known things we're involved in from injury prevention to care and recovery.
We begin by exploring the role of ACC in water safety, and sport, with a future focus on healthy relationships and workplace injuries.
You'll see our awareness campaign online, in print, outdoors, and playing on the radio. We're using locals, rather than professional actors, in videos which show there's two sides to the everyday situations we find ourselves in.
It's all about encouraging awareness of our surroundings and watching out for each other to prevent injuries. And, ensuring we all know where to find support if the unexpected happens.
At ACC we're huge supporters of people getting out and embracing the Kiwi way of life and following their passion, whether that's mountain biking, doing bombs off the local wharf, exploring Aotearoa's great walks or a game of rugby with mates.
We want people to enjoy life knowing that ACC is supporting them to stay injury free and to get back to everyday life when things go wrong.
Emma Powell is Chief Customer Officer at ACC