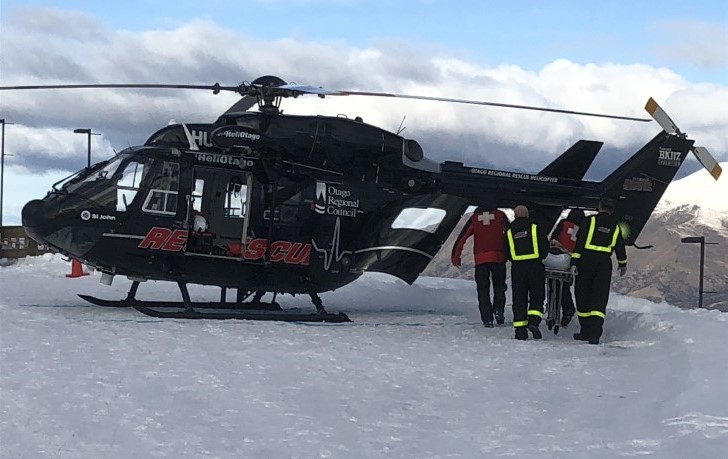 When snowboarder Carlton Johnstone dismounted from a chairlift, he hit an icy patch and fell hard. Within hours he had surgery to fix a fracture to his hip.
Central Otago snowboarder Carlton Johnstone is lying on his couch reflecting on a 'freak accident' that saw him require urgent surgery and two large metal rods inserted into his hip joint.
The 48-year-old pastor from St John's Presbyterian Church in Arrowtown was in 'absolute agony' when a straightforward dismount from the Coronet Express chairlift went awry.
"It all happened so quickly. It was a huge shock. I've never wiped out coming off that chairlift, so it was a new experience I guess," he says with a laugh.
Carlton pushed off down the slope, with one foot out of his bindings. When he hit an icy section, his board went from under him and he fell onto the slope causing an impact fracture.
The experienced snowboarder lay on the snow in a state of shock.
"I've had a number of major injuries from other sports – on the scale of pain, it was probably a nine or 10 out of 10. I was nauseous and close to passing out. It was pretty intense."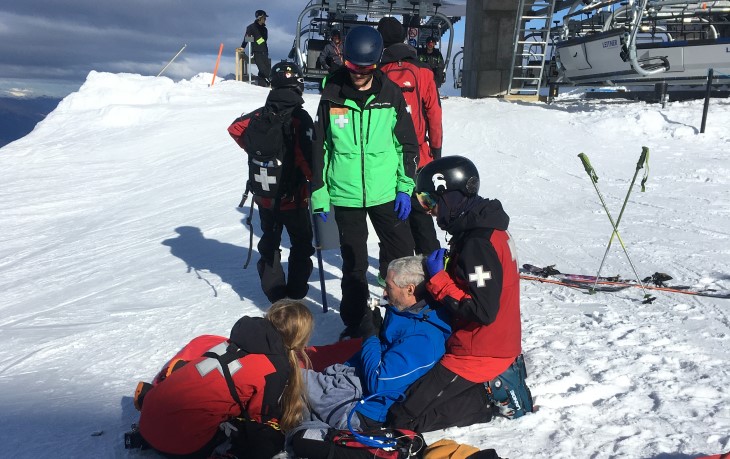 Carlton was quickly surrounded by his 10-year-old son Max and wife Sarah and then the Coronet Peak medical team. One held his leg because he couldn't straighten it, another held up his back and kept him comfortable while he was given morphine and oxygen to numb the pain.
"They were exceptional," he says. "They got me down the mountain and did an assessment. I was flown to Invercargill Hospital, the paramedics stayed with me for the flight. It all happened really quickly and before I knew it, I was heading into surgery."
Accidents happen often on the slopes and when the mountain is crowded there's a higher risk of injury.
"Coming off the chairlift, it's easy for a snowboarder to get tangled up in the skis or the poles of a skier next to them and take them out. It can happen really quickly."
Making our slopes safer
We had 17,935 active claims last year by skiers and snowboarders who had injured themselves on the slopes, coming at a cost of $29.4m to help them recover.
Skiing and snowboarding injuries made up 3.25% of all sports and recreation injuries in 2019.
With their skiing destinations, Otago (6,052), Manawatu-Whanganui (2,197), and Canterbury (2,135) were the leading regions for injuries on the slopes in 2019.
This year, we're hoping to see that number decrease with the launch of the National Incident Database (NID) app. It is a custom app designed for the ski industry to help them record, track, and respond to near misses and injuries as soon as possible after they happen.
Kirsten Malpas, ACC Injury Prevention Leader, says we were approached by Ski Areas Association of New Zealand (SAANZ) to help fund the development of the app.
"Being able to see where injuries are happening is a great way for ski field managers to respond and make decisions that can improve safety," she says.
"With the new app, operators can get precise information and see trends that might be occurring over a daily, weekly or even seasonal timeframe. This is the first time they've had access to that fine level of detail."
The app allows ski patrols and medical clinics to record information about injuries and near misses, including where they're happening and who they're happening to.
The information can be used to help prevent future injuries. For example, if a field operator sees there have been several near misses on a particular run, all by inexperienced skiers, they can revise the rating of that run.
Carlton says the app is a great idea.
"I imagine the staff on the mountain could see something like it's quite icy around the Coronet Express chairlift, take extra care. So, depending on people's levels, they can manage that risk.
"It's always good to know if there have been accidents in a certain part of the slopes – it raises a few red flags on how you might approach it. I don't blame anyone – it was just a freak accident."
The long road to recovery
Carlton completed his ACC claim form online and within hours he received a call from his case manager, ACC Recovery Coordinator Dawn Gray.
"She called me the same day and was planning what it would look like and what I needed to do and the assistance I would receive. She had great experience and understood what I was going through."
Carlton will be off his feet for six weeks with partial weight-bearing. After that time, he'll have an assessment at the fracture clinic and design the next stage of his recovery process.
He says the flow-on effect from a serious injury is huge.
"There's a lot of pressure on Sarah. She's had pretty disrupted sleep looking after me and is up early with the kids. She's taken leave without pay and some sick leave. It's been a challenging time."
Carlton says his team at church are doing a great job of coping without him and adds the financial support from ACC is so important for his family.
"With two kids at home and all of our general weekly expenses do not stop so having that support is really significant. It gives us the peace of mind to carry on living so I can focus on my recovery."
Despite the significant injury, Carlton is already planning his return to the mountain.
"I've set the goal of being back at 100% by next season. I have a lot of rehab, strength and physio work ahead of me, but it's great to have a goal to work towards. I love it up there on the mountain and I can't wait to be back."