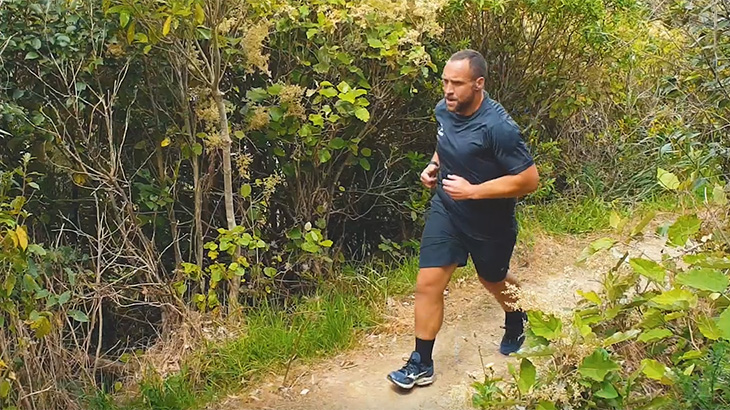 Sport, Opinion
IronMāori: Judd Baker's journey to hauora (wellness)
Ko IronMāori: Ko te ara o Judd Baker ki te hauora
4 minute read
Judd Baker had a tumultuous IronMāori event in 2018. But in 2019, he's prepped and ready to smash the half on 30 November.
Kia ora
Ko Rangikohu te maunga (My mountain Rangikohu)
Ko Rangikohu te marae (My marae is Rangikohu)
Ko Ōwhata te awa (My river is Ōwhata)
Ko Fred rāua ko Jenny tōku mātua (Fred and Jenny are my parents)
Ko Judd tōku ingoa (My name is Judd)
Kia ora
Prepare well, train gradually
Video transcript for IronMāori 2019 - Judd Baker prepares well, trains gradually
IronMāori is an amazing event. For me, I want to be at a fitness level to enjoy the event, so I need to train regularly.
Swimming is the hardest thing for me to train for. I'm not very elegant in the pool. Swimming doesn't come naturally to me. It's one of those skills that even if you don't have a natural ability, it's quite enjoyable to learn a new skill. The swim is probably the smallest component, but it still requires a lot of practice on your technique and building up a base over a long period of time.
I was apprehensive about the bike this year – I had to buy a new bike after last year's incident. I've been a bit anxious about riding on the roads again, but one day I just decided I had to do it because I'd be cycling 90kms at an event and I needed to get used to it.
You need to have a good quality bike and build up your base. You won't be able to do the race distance the first time you jump on a bike, so it's about getting started and building up. Use a mixture of courses – you're going to encounter uphill and downhill on a course. I mainly started with the indoor trainer in winter then hit the road.
For me, running is the one I enjoy the most – I find it quite easy to train for. The best thing to do is find a good run group you can have a conversation with. The miles will just whizz by.
Running is going to take the most out of you, so starting small is important. I couldn't do 3km at a time when I started, but I've built that up slowly.
The hardest thing is signing up. But if you sign up early, you can start to prepare early and build a good base for the race. Find some good people to train with and everything will be a lot easier.
The biggest part is signing up. Sign up early to get your mind and body right. You want to go into an event like this and have a level of fitness to enjoy the event. I never had any idea that I would enjoy training and doing events as much as I do. People are put off by the hard work, but you get rewarded every day.
There're only positives in signing up to an event like this. If you're interested in taking up an event, or being a lot more active, signing up and getting started are the hard parts, but before you know it you'll love it and you'll want to do it.
Focusing on health and being fit
Video transcript for IronMāori 2019 - Judd Baker focuses on health
I'm taking part in IronMāori this year because last year the quarter didn't go so well for me.
Things were going well – I'd gotten out of the water quicker than I thought. But, I was 20km into the bike ride and heard some strange noises from my bike. The bike was shot – the wheel wouldn't turn. I knew at that point IronMāori was over. But a nice guy picked me up and drove me back to the changeover.
I did finish the race – I ended up waiting for a friend and we jumped out on the course together and finished the run. In the end it was quite satisfying. I took a lot away from that.
This year, I've already done the quarter, and next week I'm taking part in the half.
For me, I've been building a good base fitness since the start of the year. It's about enjoying myself, which means I want to have a certain level of fitness for the event. So, training has started gradually, and it's picked up in recent months.
For recovery, I take my time out after each training session – to relax at home, eat some good food, and look after myself.
The biggest role my whānau play is allowing me to go and train for a couple of hours at the weekend. I'm lucky my wife is supportive of my endeavours and she wants the best for me. She knows I love sport.
Participating in IronMāori and endurance sport has really changed me as a person. I'm far more focused on my health and being fit. I'm blessed and privileged that I can show my children a fit and health dad. The driver for our entire whānau is our children. All of this is about setting a good example for them.