Fun in the water can turn dangerous in an instant. Here's some tips on how to keep you and your tamariki safe this summer.
Eight-year-old Alec Wilson glanced up the beach at his mum and stepdad, who were toasting the summer with a glass of wine. The sunlight sparkled on the blue waves as he readied himself to catch the next one on his boogie board. After jumping on, he expected a smooth ride back into shore.
Instead, a big wave tipped him off his board and he was grasped by a strong undertow. It quickly dragged him out further and further, as he struggled to fight back to the beach and keep his head above water.
"It was really surprising how fast the undertow was able to take hold and pull me out to sea," says the now 24-year-old Alec. "How quickly things felt out of my control is one of the main things I remember."
Luckily for Alec, an off-duty lifeguard was nearby surfing. He noticed the young boy struggling and managed to reach him and pull him up by his hair just before he sank under the water for a final time.
"He saved my life. I'm lucky to be here," says Alec.
Did you get swimming lessons as a child?
Fun in the water can turn dangerous in the blink of an eye
Alec's story shows just how fast children can go from having fun in the water to fighting for their lives. Whether it be the ocean, a lake, a river or the pool.
Sadly, in an island nation where there's often water nearby – his story isn't unique.
Last year, 10 to 14-year-olds had the highest number of ACC claims for water-related injuries. And there were almost 6,000 water-related claims for children aged 0 to 14.
Water skills can save lives
Learning water skills from a young age reduces the risk of serious injury and death. The Water Skills for Life programme, funded by ACC, is one programme that's teaching these important skills.
Water Skills for Life wasn't around when Alec was young. If it had been, he might have understood the risks of beach swimming and made different decisions. He may have known how to conserve energy by floating and how to signal for help without a flotation aid. Water Skills for Life teaches both of these skills along with many others.
In 2019, we helped
200,000
tamariki learn Water Skills for Life.
There were
392
non-fatal drowning-related injuries in 2018.
We helped
36,515
people recover from water related injuries last year.
Water Skills for Life programme
Children aged from 5 to 13 can participate in Water Skills for Life training, which is taught either at school or at a local pool by a swim instructor. Based on 27 core skills, it establishes fundamental competencies for life-long water safety. It helps kids keep themselves safe and keep an eye on their mates in the water.
Tairoki Tahau-Hodges is an instructor with the programme, working for the Dash Swim School in Cannon's Creek, Porirua.
Tairoki understands the power and unpredictability of open water and is passionate about passing on to tamariki the knowledge and skills to stay safe around it while still having fun.
"Growing up as a Māori boy in Titahi Bay, I was surrounded by water and beaches – always paddling, swimming, going to the beach, diving."
And it's no longer just about swimming lessons. Kids are taught a lot more than that these days.
"While we still teach the fundamentals of swimming, we also want to address the fundamentals of being safe around the water. So that's skills like learning how to float on your back, on your front, getting into a huddle position if you're with a group, making sure you're wearing a life jacket on the boat and knowing how to use one in the water, learning how to scull and tread water. All those skills we teach in Water Skills for Life."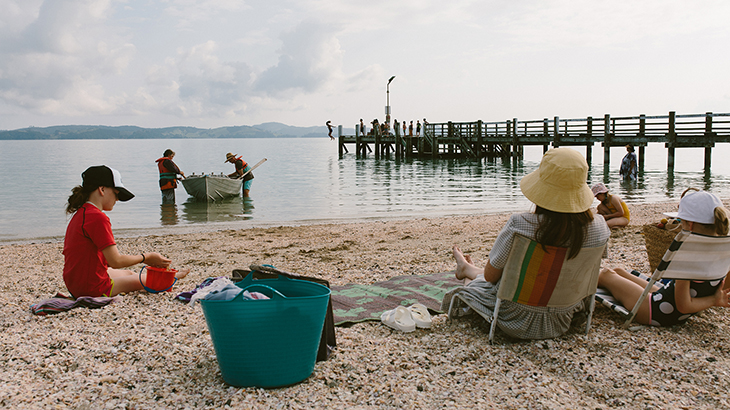 Tairoki's tips for parents and their kids
With many families and tamariki flocking to Aotearoa's many swimming spots, Tairoki shared with us his top tips for enjoying the water safely.
Parents - don't expect kids to 'look after themselves'
Drowning or having an accident in the water can happen in under a minute. It could happen while you're looking for the sunblock in your bag or playing on your phone. Constant adult supervision is key to ensuring kids aren't getting into trouble.
Tairoki says, "Stay off your phone and watch your kids. And if you see a child bobbing or bouncing along in the water, that's a sign that they can't reach the bottom and aren't confident – so you should be in the water with them."
Find out more about what to look out for on the Water Safety New Zealand website.
Be aware of hazards
If you're going on holiday with small children, check properties for water hazards and make sure pool gates and latches are in good working order.
If you're going to the beach, always choose one with a lifeguard and swim between the flags
Encourage adults to keep children within arm's reach – beaches and surf are ever-changing.
Life jackets for everyone, not just kids if you're in a boat
Don't overestimate your ability. Even grownups can find themselves in a bad situation, quickly, when it comes to the ocean. Set a good example for kids by always wearing appropriate safety gear including life jackets when you're in a boat.