What to do when an employee is injured
When you're told about an injury by us or your employee, we know there can be some uncertainty about what you need to do next.
Know the key things to do to support an employee's recovery at work.
Watch: How to help your employee recover at work
Video transcript for

How to help your employee recover at work

Text appears on a blue background.

'How to help your employee can recover at work'

We see Cameron sitting down with his hand and wrist in a black brace. He's flexing his hand to check how it's healing.

Narrator: Unfortunately, there can be times for every business when one of your employees is injured and unable to work.

The camera zooms out and we can see that Cameron is in a large warehouse with a row of five chairs and a row of six stools behind them. His employer, Rua, walks in from the left and greets him with a fist pump and hug. He places a sign at his feet that says 'Cameron Bruce's Recovery Team'.

Narrator: If this happens, it takes a team to get them back to work as soon as they're able.

We see two workmates with high-vis vests greet Cameron and take a seat around him.

Text appears:

Recovering at work

means skills aren't missed
helps keep up morale
is good for physical and mental health.

Narrator: Even if they can't do their regular job, there's usually something they can do, and that means their skills and knowledge aren't missed, morale stays up, and it's good for their physical and mental wellbeing.

Text appears

Have a kōrero with your employee and make a recovery at work plan.

Narrator: You can assist them by having a kōrero about their injury, treatment, and rehabilitation, and by making a recovery plan together. There are guides on our website to help with that.

We see more of Cam's team including his workmates and health providers.

Text appears:

We may be able to help with

transport to and from work,
equipment
weekly compensation.

Narrator: Depending on how that goes and what they're able to do, we may be able to help with things like transport to and from work, and the equipment they'll need to do their job.

We can also pay up to 80 percent of their income as weekly compensation, so you'll only pay for the productive hours they can work.

We see more the of the team coming into the scene, talking and warmly greeting Cameron.

Narrator: So remember to keep in touch with your employee. That way, you'll know what's going on and can make decisions that are in everyone's best interests.

We see Cameron's team taking their place around him, ready for their team photo. A photographer takes the team photo.

There's a camera flash and then we see the team photo presented in a blue photo frame. Then we see the team getting ready to get back to work.

Take a look at the Recovery at Work resources to find out how you can help, because teamwork makes recovery work.

Text appears:

Kia mahitahi, kia whakaora

Teamwork makes recovery work

And we see the ACC logo.
Communicate regularly
It takes teamwork to support an injured person's recovery. Being positive and engaged throughout an employee's recovery at work is linked to an earlier return.
Get involved early and talk with an injured employee about how they are, and what support they need. This can help reduce their stress and make them feel valued.
With non-complex injuries we won't always contact you if your employee is injured. So it's important you talk to them about their injury and work closely with them to plan their recovery.
This list gives you some things to think about when talking to your employee about their injury:
make sure your employee gets treatment as soon as possible – if they haven't already
ask them about the injury and how they're doing
make sure they discuss a claim for the accident through their health provider
make sure they get a medical certificate from their doctor. This outlines the type of work and the hours they can do while recovering from their injury
you may need to ask your employee for a copy of their claim form and medical certificate. You may also need their consent to speak to us about their recovery
discuss suitable duties and keeping the role open
discuss how you and ACC could help them. This might include getting to and from work or adjusting the work environment or duties. It might also include financial support while they are recovering.
Your employee is responsible for keeping you informed of their injury and situation.
Use the resources
We've created resources for you to support your injured employee.
Conversation guide for supervisors and team leaders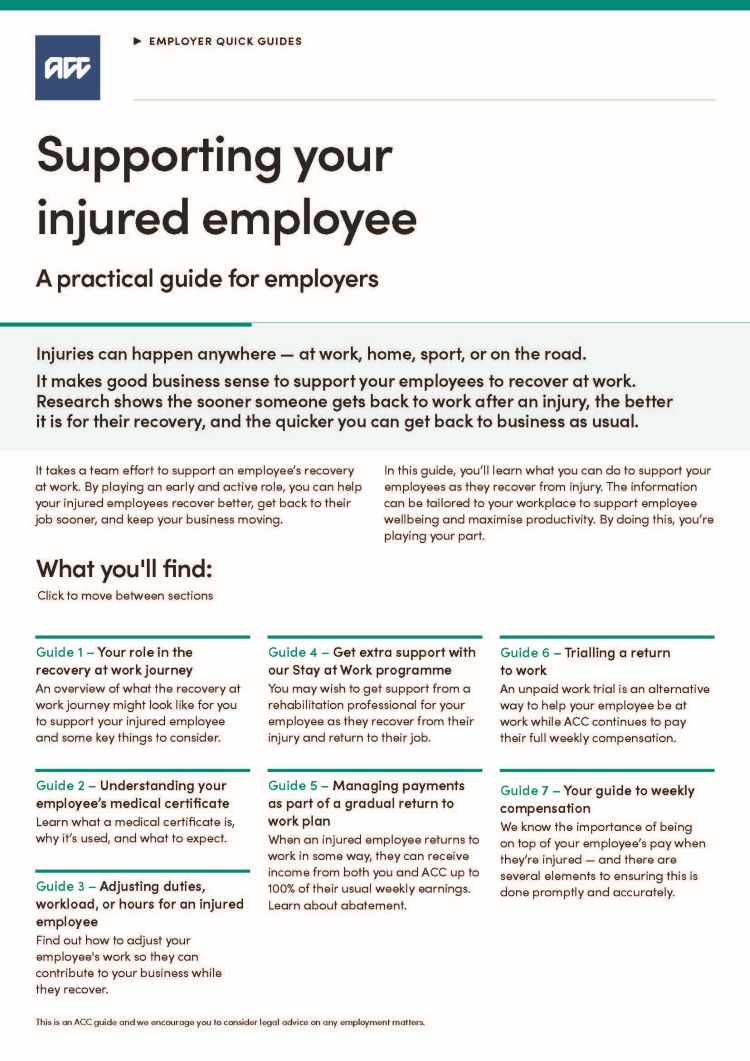 Supporting your injured employee – guide for employers
In this guide, you'll learn what you can do to support your employees as they recover from injury. The information can be tailored to your workplace to support employee wellbeing and maximise productivity.
Find more resources to support recovery at work
Share information
Give your employee information about the workplace, their job, and available duties to pass on to their health provider. This is so the provider understands what the employee could do safely at work when they write their medical certificate. When appropriate, they can issue a Fit for Selected Work certificate.
If you need more information, ask your employee for their consent to contact us or their health provider about the injury. If you're seeking information from us about your employee, you'll be asked to verify your identity.
Understand their medical certificate
Your employee's health provider will issue the relevant medical certificate as part of lodging an ACC claim. The medical certificate will give details of the injury. This includes the impact the injury has on the employee's function and ability to work.
There are three certifications which could apply:
fit for selected work
fully unfit
fully fit.
For more information, check out our quick guide.
Understanding your employee's medical certificate quick guide
When we work together to support an injured person, we create the best conditions for them to recover and get back to independence.
Create a recovery at work plan together
Work with your employee to develop a plan of how they can be at work safely as they recover from their injury. As a starting point, talk through the tasks and demands of their usual work — what they can do comfortably and what they should avoid doing for now. Think about how you can modify their work environment, duties, or work hours in the short-term.
Write down duties, actions, responsibilities, and timeframes so everyone is clear who is doing what, and when.
This plan should be in line with the advice from their health provider and is usually outlined in their medical certificate.
Use our recovery at work plan template to get you started.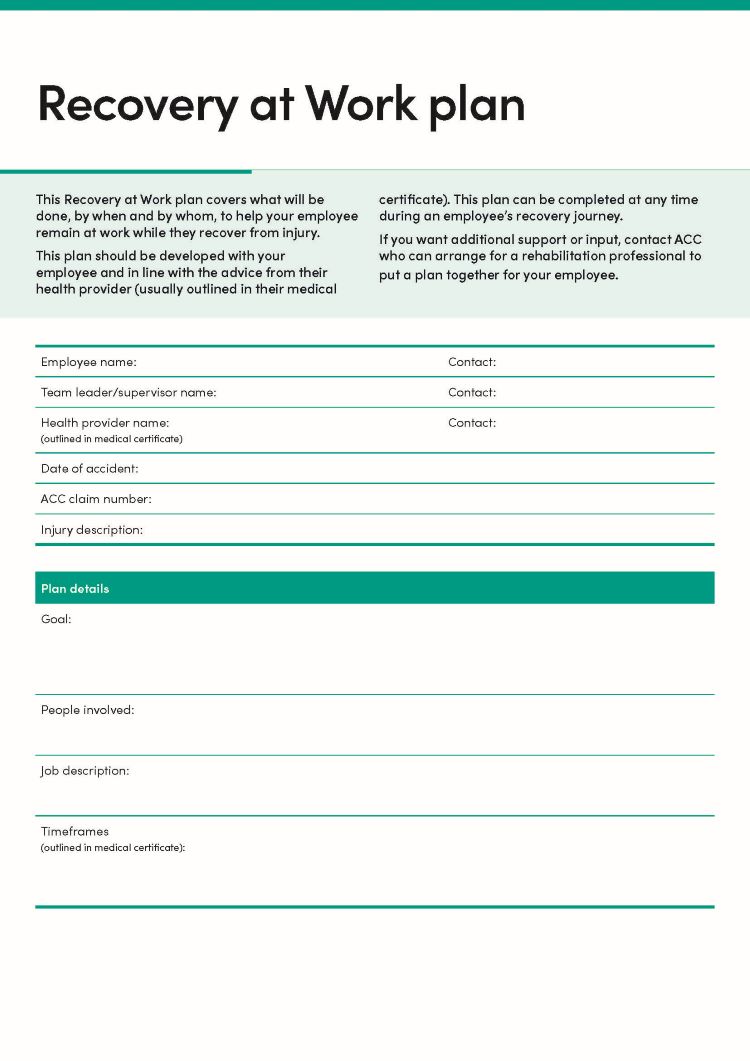 Recovery at work plan template
Use this template to help you get started on planning your employee's recovery at work. Write down duties, actions, responsibilities, and timeframes so everyone is clear who is doing what, and when.
Adapt to your employee's current needs
Identifying and offering suitable duties is an important way to help your employee be at work safely during their recovery, to maintain their work habits and routines. While it can take a little time and effort on your part, it will help your employee get back to work sooner and make a productive contribution while they recover.
You can help your employee by:
looking at other tasks they can do while recovering
allowing them to work fewer hours or alternative days
finding ways they can work from home or at a different worksite that fits their needs
making simple modifications to your workplace
letting other staff know about the situation and how they can help with some of the tasks.
We've developed a quick guide that outlines potential adjustments to work for you to consider.
Adjusting duties, workload, or hours for an injured employee
Get additional help
If your injured employee needs a higher level of support, one of our recovery teams will likely be involved in helping them. A recovery team member will contact you and your employee to work out how best to support their recovery journey.
If their needs aren't straightforward, you may want additional support with planning their recovery at work. Talk to us about a Stay at Work programme which offers help from a rehabilitation professional.
Stay at Work programme employer quick guide (PDF 579 KB)
Find a stay at work supplier in your area (PDF 180 KB)
Pay your employee if they need time off
If your employee needs time off work and we're covering their injury, we pay up to 80% of their average income after the first week. You may need to cover the first week depending on where they were injured.

Learn about income for your employee while they recover
Use MyACC
If your injured employee is receiving weekly compensation from us, you can access information about their work-related claim online. This is through MyACC for Business, using the information in the 'Recovery at work' tab.
Learn more about accessing information via MyACC for Business
MyACC for injured people
Encourage your injured employee to self-manage their recovery with MyACC. MyACC is our online service for injured people. It's the easiest way for your employee to self-manage their recovery. They can:
check their payments from us
let us know information about their return to work, including income
earned while recovering at work
upload medical certificates
request weekly compensation
request reimbursements for travel or medication.
Learn about managing an injury, support, and recovery online with MyACC
Last published: 25 July 2023